We are your local lawn and landscaping company in Wylie, TX
Serving residential properties in Wylie since 2005.
The city of Wylie is nestled right up against Lavon Lake and just north of Lake Ray Hubbard. Whether it's enjoying the day at the lake, visiting the big cat sanctuary, eating lunch in one of the many parks, or taking a stroll down Ballard Ave, there are endless ways to spend your time outdoors in Wylie!
Our team members dedicate their days to ensuring that your time outdoors is spent enjoying lush grass, healthy trees, and a pest-free environment. We have been serving your neighbors in Wylie since 2005, offering a wide variety of services like fertilization, aeration, tree and shrub care, irrigation repair, and pest control. We are so confident in the success of our services that we offer a personal, 100% iron-clad, risk-free, double money-back guarantee. Give us a call at 972-516-0001 to schedule any of our lawn and landscaping services for your residential property!
---
Care & Maintenance Services for Your Lawn & Landscape
Instead of spending your weekends pushing a lawnmower or standing at the store wondering what fertilizer to choose, why don't you leave it up to the professionals? We offer lawn care as well as lawn and landscape maintenance services to the homes in Wylie so that you can spend your Saturdays relaxing and doing the things you love!
When you sign up for our fertilizer and weed control program, our crew will visit your property 8 times per year. The treatments include premium slow-release fertilizer, pre-emergent weed control, and post-emergent weed control. Unlike many of our competitors, we have a range of different fertilizers that we choose from because we understand that fertilization is not a one-size-fits-all solution. Based on your soil's health, we'll pick the right product to fit your needs. We can also tackle almost any weed and will not ever charge you extra just because you have a particularly pesky weed on your property. The best part about our fertilization and weed control program is that we guarantee results. If your lawn needs additional treatment to achieve the results we promise, we'll apply these extra treatments at no cost to you.
Aeration is another lawn care service that we offer to clients who are experiencing compacted soil. Our core aeration process will remove soil cores from your lawn to break up the thatch that is blocking essential nutrients from reaching the roots of your grass. This will not only help your grass grow thicker and stronger, but it will also help maximize water usage by resulting in less runoff and evaporation.
Our mowing program was created specifically for the lawns in the Wylie, TX area. We start this program in March by mowing bi-weekly as our lawns start to emerge from winter dormancy. As we get further into the spring season, we'll switch to weekly mowing in April. Grass in Wylie is growing at a fast pace from about April until October, so we make sure to keep up with the growth by visiting every single week. Once October rolls around, the grass growth slows, so we'll cut back to mowing bi-weekly to avoid unnecessarily cutting your grass. Around mid-November, we'll end the program for the year and start back up in March! Our mowing program is only available to customers who are also part of either our fertilization and weed control program, our mosquito control program, our home pest control program, or our tree & shrub health care program.
In the fall, we can also take care of your leaf piles with our leaf removal service. Our crew has blowers and tarps that we'll use to direct all of your leaves toward your curb. It doesn't stop there, though! We also have a vacuum truck that will suck up all of the leaves so that your property is left completely leaf-free.
At CitiTurf, we also have a lot of landscape bed services. These include trimming and pruning, mulch installation, and annual flower installation. You'll have two options when you sign up for our trimming and pruning service: a one-time service or a reoccurring service. Our team is second-to-none when it comes to trimming. We have been trained on and have extensive experience with the different plants that are found in Wylie. Based on this knowledge, we know exactly how each plant should be trimmed and pruned and when to do it. As for mulch installation, we offer cedar, shredded hardwood, black, and red options. We'll install your choice of mulch to your landscape beds so that it not only increases your curb appeal but also protects your plants from extreme temperatures, weed growth, soil erosion, and much more. Lastly, our annual flower installation service will bring your property to life with color. We can help you choose the perfect flowers that not only fit your style preferences but also thrive in the conditions of your landscape. Once the flowers are chosen, our crew will install them with a little bit of compost with fertilizer in it to give your new flowers a boost. Then, our experts will advise you on exactly how to care for your annual flowers to ensure that they get everything they need to bloom beautifully.
Check out a complete list of our lawn & landscape care and maintenance services below:
Our company also provides top-rated irrigation repair services on any and all irrigation systems.
---
We eliminate pests like fleas, ticks, bed bugs, termites, and much more.
Got pests? Fleas, ticks, mosquitoes, ants, cockroaches, and chiggers make up a small list of the pests we deal with in the Wylie area. Our company offers thorough pest control treatments that can be applied both inside and outside your home. We not only offer a warranty on all of our pest control services, but we also back them with our 100% iron-clad, risk-free, double-money back guarantee.
Our perimeter pest control program includes 4 treatments per year. We'll spray 3 feet up the foundation of your home as well as 5-10 feet out onto your lawn. This creates a barrier that stops insects from finding their way indoors. During these visits, we can also spray inside your home to take care of any active infestations that you are experiencing. If you are still seeing pest activity 7-10 days after our treatment, give us a call. We'll return to your home and re-spray at no cost to you.
When you sign up for our mosquito control program, we'll visit once a month starting in April and ending in October. Depending on the size of your property, we'll either use a backpack fogger or a hose to apply the treatment. We cover your entire lawn as well as common mosquito hiding spots such as within your shrubs. This keeps your property protected throughout the entirety of mosquito season. While we cannot stop mosquitoes from flying onto your property, these treatments will result in a night and day difference - guaranteed!
Our flea and tick program is a one-time treatment. This can be sprayed both outdoors and indoors to ensure your pets and family are safe from these pesky insects. We can apply this treatment at any time of the year, but it is important to know that the flea and tick peak season in Wylie is from April to October, so it is best to do it annually before peak season begins!
If you find bed bugs in your home, call our team. We'll conduct a thorough search throughout your home, find which rooms have been affected, and get to work. First, we'll advise you to take all soft items and put them in your dryer on the highest heat setting for 30 minutes. Hard items will be sprayed. Our team will spray every inch of the rooms that we have pinpointed, including under baseboards and under the faceplates of your light switches. We'll apply our bed bug control product around your nightstands, dressers, beds, etc. After our thorough treatment is complete, we'll set up a time for us to check back in two weeks later. If we find bed bugs during our checkup, we will repeat the treatment and schedule another checkup.
Our company also offers termite control services. If you suspect you have termite damage, our crew will conduct an inspection to find where the issue is coming from. We'll take a thorough look both inside and outside your home. If we find a termite infestation, we'll treat the area to eliminate the termites. You can opt to have us come back each year to inspect your home for termite damage. By doing so, in most cases, you'll receive a lifetime warranty on the home. If we find termites during any of our annual inspections, we'll treat them for free.
Check out a complete list of our pest control services below:
---
Our Tree & Shrub Care Services Include Diagnosis, Fertilization, Iron Treatments & More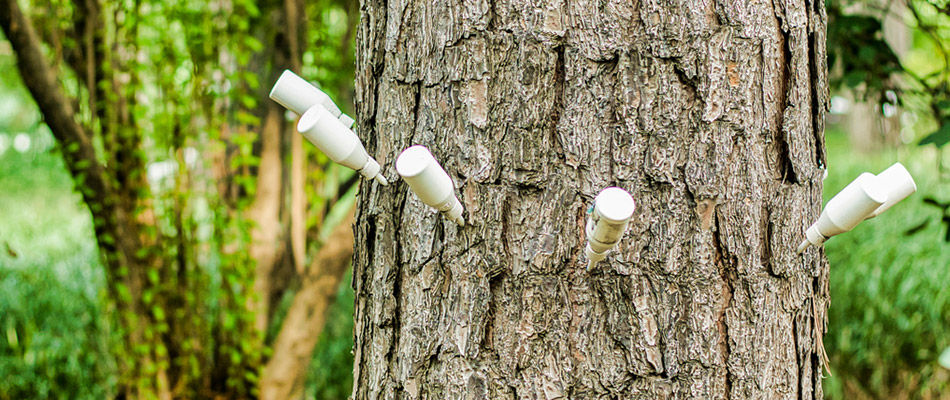 Signing up for our tree and shrub fertilization program will provide your larger vegetation with the care and nutrients it needs to grow healthy and strong. This program includes one treatment of fertilizer, which is all your plants need to stay nourished all year long. This fertilizer starts off as a quick-release product, ensuring that your trees and shrubs get the nutrients they need immediately. After about 3 months, the product will taper off into a slow-release fertilizer. This will then allow your plants to uptake the fertilizer as needed for the remainder of the year. After the initial application and throughout the rest of the year, our team will schedule two checkups. At these checkups, we'll inspect your trees and shrubs for insect infestations or disease issues. If any problems are identified, we'll treat them as soon as possible with our insect and disease control treatments. Our team also has a specific fertilizer program for palm trees that is tailored to their specific needs.
Our company also offers iron treatments for your trees and shrubs. If you've noticed that your leaves are starting to yellow a little bit, yet their veins are remaining a green color, it is likely that your plants need an iron boost. This treatment is a one-time service. Depending on what time of the year the iron treatment is scheduled, we'll either use a soil probe or a trunk injection to give your trees an iron boost. You can schedule this service independently from our other services - no need to be enrolled in our tree and shrub care program!
It can be easy to know that something is not right with your trees, but quite difficult to know exactly what the culprit is. Not sure what's wrong with your trees or shrubs? No problem! We offer a diagnosis and consulting service to help you identify the problem and offer curative solutions. Our ISA-certified arborist is extensively trained to handle almost any problem your trees and shrubs might be dealing with. We'll inspect your trees, identify the issue, and come up with a solution that will help nurse your trees back to health.
Check out a complete list of our tree and shrub care services below:
---
Find out what award-winning lawn and landscape services are really like! Call today.
At CitiTurf, we are dedicated to providing exceptional lawn and landscape services to the Wylie community. By scheduling with us, you can rest easy knowing that every single one of our services is backed by our personal 100%, iron-clad, risk-free, double money-back guarantee. If your home is located in Wylie, Texas, or in a nearby area like Plano or Allen, give us a call today at 972-516-0001. We can't wait to show you why our services are award-winning!