Tree & Shrub Fertilizing Services in Plano, Allen, Frisco, McKinney, TX & Surrounding Areas
Our fertilization package features an annual deep root treatment, deep root feeding, and ensuing checkups.
Do you want your trees and shrubs to remain strong and healthy? If so, we can help you protect them. At CitiTurf, we provide professional tree and shrub fertilizing services to residents in Plano, Allen, Frisco, McKinney, Murphy, Wylie, and surrounding cities in Texas. Our tree and shrub fertilization package features a deep root treatment that delivers critical nutrients to build root mass while enhancing your plant life's resiliency.
After the initial treatment, we perform two checkups to monitor the health of your trees and shrubs. If we notice they require treatment for fungus or insects, we spray them with the appropriate curative solution to preserve their health. Signs that your shrubs and trees are starving for the nourishment fertilization provides include cracked bark, wilting leaves, and leaf loss.
---
How do we fertilize your trees and shrubs?
Many people are familiar with the general process used to fertilize lawns. It involves spreading either liquid or granular fertilizer over the top of your grass throughout the year so that it can absorb into the soil and reach your turf's root system. Tree and shrub fertilization involves a slightly different approach; we deliver nutrients to your trees via a deep root treatment. This treatment is then absorbed by your plant's roots and starts to work its magic!
Our tree and shrub fertilization treatments are available year-round, but we recommend doing them in the winter when your plants are dormant.
---
What do we use to fertilize your trees and shrubs?
Our fertilization treatments provide key nutrients and other resources that build root mass while strengthening the resiliency of your trees and shrubs. We use a fertilizer blend that features nitrogen, potassium, and phosphorous, along with a systemic insecticide intended to kill insects that feed on your plants. Nitrogen, phosphorous, and potassium work together to stimulate healthy, sustained growth. They also enhance your plants' ability to withstand drought, disease, and other stressors. Our fertilizer releases quickly for 3 months after application and then releases gradually over the rest of the year. This way, it provides continual nourishment to support your trees and shrubs through every season.
---
We check up on your trees and shrubs.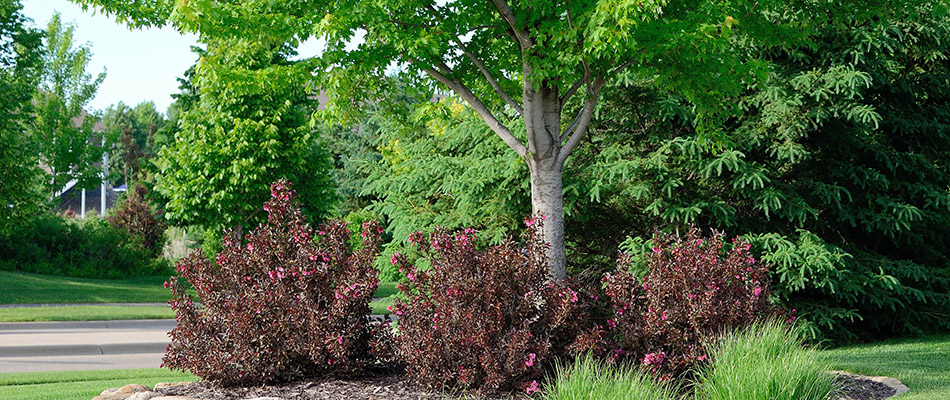 Our work does not stop after we supply your trees and shrubs with fertilizer. After our initial treatment, we conduct 2 checkups to monitor their health. If we notice fungus or insects during our visits, we will spray liquid fungicide or insecticide to eliminate them and ensure the continued health of your trees and shrubs. You are free to call us whenever you notice the presence of fungus or insects on your plants; we will work to resolve the issue quickly.
---
Signs Your Trees & Shrubs Need Nourishment
The heat and lack of rainfall common to summers in Texas make it tough on your trees and shrubs. Without sufficient water, their roots begin to die and they become more susceptible to diseases and insects. That's why almost every tree and shrub in our area benefits from fertilization. Signs that your plants are starving for nourishment include:
Cracked bark
Wilting leaves
Leaf loss
Small trees display these signs more quickly than more established ones. In older trees, signs may not manifest for 2-3 years.
---
Sign up for our tree and shrub fertilizer services today! Call CitiTurf.
If you want to invest in the long-term health of your trees and shrubs, then sign up today for our tree and shrub fertilizer services! Our team can help your plants flourish and fend off threats with our deep root fertilization treatment. We have proudly served residential homeowners in and around Plano, Allen, Frisco, McKinney, and Murphy, TX since 2005. Let us protect your trees and shrubs. Call us today at 972-516-0001 to get a quote!