Flea & Tick Control Services in Plano, Allen, Frisco, McKinney, TX & Nearby Areas
Our licensed technicians use a safe and effective approach for flea and tick control.
Nobody wants fleas and ticks taking residence on their lawn or in their home. That's especially true if you own dogs or cats, which are at risk of picking up these unwanted pests while roaming around your yard. At CitiTurf, we can help you protect your family and pets with our flea and tick control services.
Our licensed technicians apply premium pesticide treatments both inside and outside your home to ensure comprehensive coverage throughout flea and tick season. We offer our flea and tick control services to residents in and around Plano, Allen, Frisco, McKinney, Murphy, and Wylie, TX. Call us today at 972-516-0001 to get a quote!
---
How do we treat your property for fleas and ticks?
When you sign up for our flea and tick control services, we send a licensed technician to apply a premium pesticide treatment on your property. We spray both indoors and outdoors to ensure thorough coverage and eliminate pests in all locations. Our team treats the outside of your home with a premium pesticide blend that targets fleas and ticks residing in your lawn and landscape. While indoors, we apply an aerosol insecticide that includes an insect growth regulator to your carpet that kills active fleas and prevents future infestations. We make sure to perform our treatments with care so that we can eradicate pests as efficiently as possible and safeguard your home moving forward.
---
How long do our flea and tick treatments last?
The premium controlled-release pesticide that we use on the outside of your property remains effective for 3 to 4 months from the date of application, while our indoor insecticide remains potent for the duration of flea and tick season. Most of our clients require only 1 annual flea and tick control treatment to eliminate unwanted pests and keep them at bay. We offer our services throughout the year, but our most common application months are between April and October when fleas and ticks routinely appear.
Our flea and tick control services are backed by a 30-day warranty.
---
Why You Should Treat Your Property for Fleas & Ticks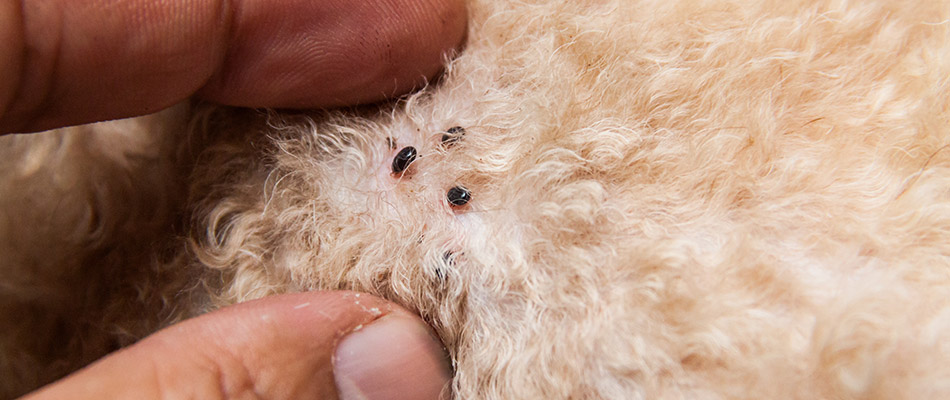 Fleas and ticks both flourish in warm, humid conditions, making Plano, TX and nearby areas popular breeding grounds. Both pests pose threats to the safety of your family and pets. Your dog or cat can pick up fleas and ticks in your yard and then carry them inside your home, creating an unsafe environment. While ticks can be visibly identified in your pet's fur, fleas are harder to spot. Signs your dog or cat may have fleas include:
Hair loss
Irritated, itchy skin
Presence of flea dirt on the coat
Flea eggs
Tapeworms and more
Fleas and ticks feed on the blood of hosts, whether animals or humans, and can cause numerous health complications, including disease transmission. Don't give them a chance to impact your family. By treating your property for fleas and ticks, you can protect your loved ones from these dangerous pests.
---
Sign up for our flea and tick control services today!
Our team at CitiTurf is prepared to help. We provide professional flea and tick control services to residents in Plano, Allen, Frisco, McKinney, Murphy, Wylie, and nearby areas in Texas with a 30-day warranty and personal 100% iron-clad, risk-free, double money-back guarantee.
Don't let these parasites affect your quality of life. Call us today at 972-516-0001 to schedule flea and tick control treatments with one of our other core services: Home Pest Control, Fertilization and Weed Control, Tree and Shrub Fertilization, and Mosquito Control.