Lawn & Landscape Maintenance in Plano, Allen, Frisco, McKinney, TX & Nearby Areas
Our services include lawn mowing, trimming and pruning, annual flower installation, and more.
What if There's Too Much Shade in My Yard?
Actually, our landscaping services are perfect for shady areas! We'll help you select the perfect plants for those darker, cooler areas, plus give you the best choices for those full-sun patches, too.
How Do I Know if My Sprinkler System Is Good Enough?
For your live installations, you'll need follow our watering plan. Worried about your irrigation system? Let our irrigation specialists perform a checkup for you!
Are you tired of spending your free time toiling outside in the Texas heat? If so, you're not alone. With the help of CitiTurf, nearly 10,000 of your fellow Texans have already traded in the tedium of lawn mowing and plant trimming for more relaxing activities, such as swimming and shopping. Since 2005, we have provided professional lawn and landscape maintenance services to residents in Plano, Allen, Frisco, McKinney, Murphy, Wylie, Sachse, and nearby areas in Texas.
Our services include lawn mowing, plant trimming and pruning, annual flower and mulch installation, yard cleanups, and leaf removal, all of which help keep your property in premier condition. We are strongly committed to the quality of our work and back all of our services with a personal 100%, iron-clad, risk-free, double-money back guarantee. If you are looking to remove the burden of routine yard work, call us today at 972-516-0001 to schedule our services!
---
Lawn Mowing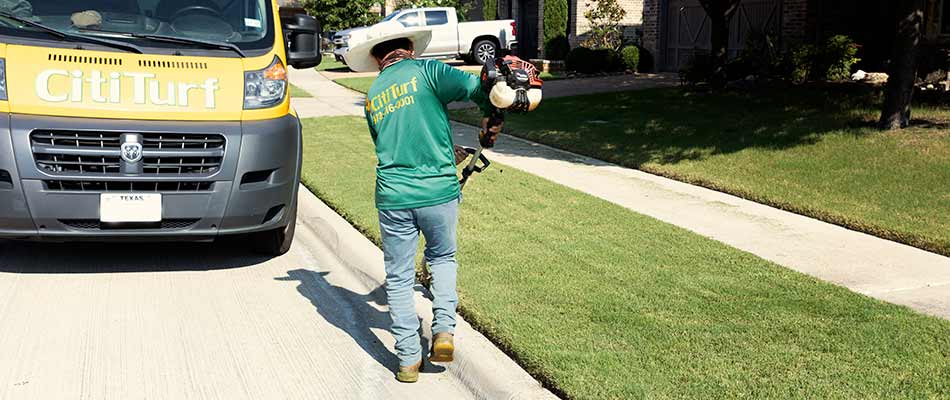 We offer our lawn mowing services from March through the second week of November and follow a cutting schedule created specifically for grass in our area. We mow your yard bi-weekly in March, increase the frequency to weekly from April to mid-October, and then return to bi-weekly mows until the season ends in mid-November. Our lawn mowing services also include weed-eating, edging, and blowing debris. Please note that we have limited openings in our annual mowing program and can only add new clients if you are enrolled in one of three other services: fertilization and weed control, home pest control, or tree and shrub health care. All of our mowing customers must have one of these services.
---
Trimming & Pruning
Your plants and trees need routine maintenance if you want them to flourish and stay healthy. At CitiTurf, we perform both trimming and pruning services on plants, shrubs, hedges, and trees that are up to 12 feet tall as part of our full yard cleanups to keep your vegetation at peak condition. While trimming focuses on refining the shape and size of your plant life to enhance its visual appeal, pruning targets the removal of dead or diseased limbs to preserve its health and well-being. Our highly trained crew knows how to cut and care for all of the most common plants and trees found in our area, including junipers, hollies, and crepe myrtles.
Our ISA-certified arborist will help identify any issues arising among your trees and shrubs.
---
Annual Flowers
We install annual flowers in the fall and spring to infuse your landscape with gorgeous, seasonal colors. Our team can help you choose the flowers that best complement your existing vegetation and coordinate their placement in your landscape beds to showcase their splendor. The most popular spring annuals in north Texas include vincas and pentas, while the most popular fall annuals include pansies and dianthus. Once you select your flowers, we deliver them to your home and handle all facets of the installation process. That includes adding compost with fertilizer to jump-start growth.
---
Mulch Installation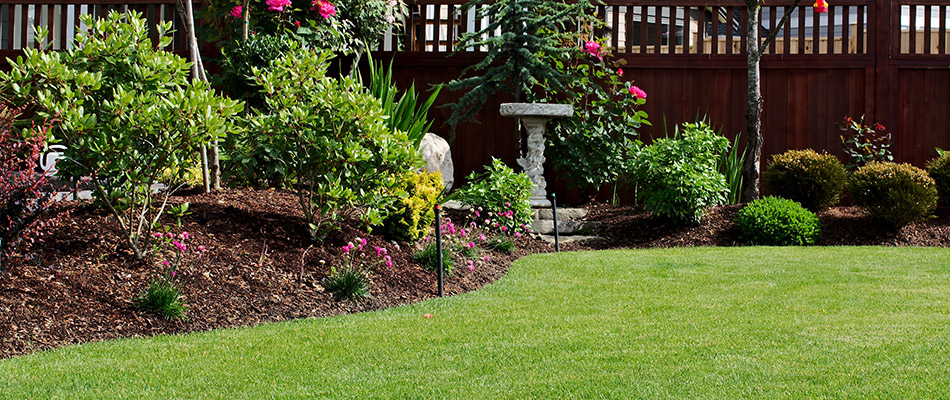 We offer mulch installation services to bolster your landscape beds. While some properties require mulch refreshments two or more times per year, most properties enjoy all of the benefits with just one application in the spring. We carry many varieties of mulch, including cedar, shredded hardwood, black, and red, and can help you determine the kind that pairs best with your property. Our comprehensive mulch service includes pickup, delivery, and full installation.
---
Yard Cleanups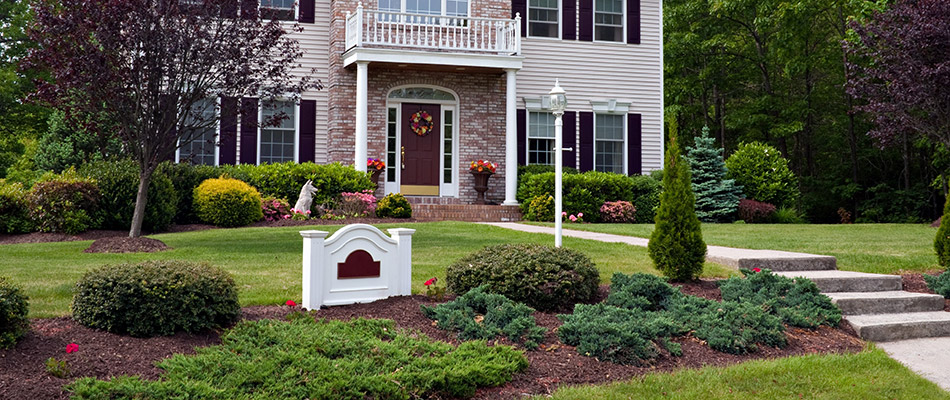 Sometimes your property needs more attention than usual to get back into shape. That's when our yard cleanup services are right for you. When you hire us to clean up your yard, we remove all debris and weeds from your landscape beds and then turn our attention to your plants and trees. Our team trims and prunes all of your plants, shrubs, hedges, and trees that are up to 12 feet tall and we also haul away the clippings. Before we depart, we make sure your property is tidy and looking better than it has in a long time.
---
Leaf Removal
It's no secret that leaves can pile up quickly in your yard as fall hits full stride. But what's more of a secret is the detrimental impact those leaves can have on your lawn. Layers of leaves prevent your grass from receiving essential resources, like sunlight, while inviting pests and diseases. At CitiTurf, we have all of the equipment, including vacuum trucks and tarps, to collect and remove leaves from your property. A leaf-free lawn is better positioned to confront and survive the winter months ahead.
---
Irrigation Repair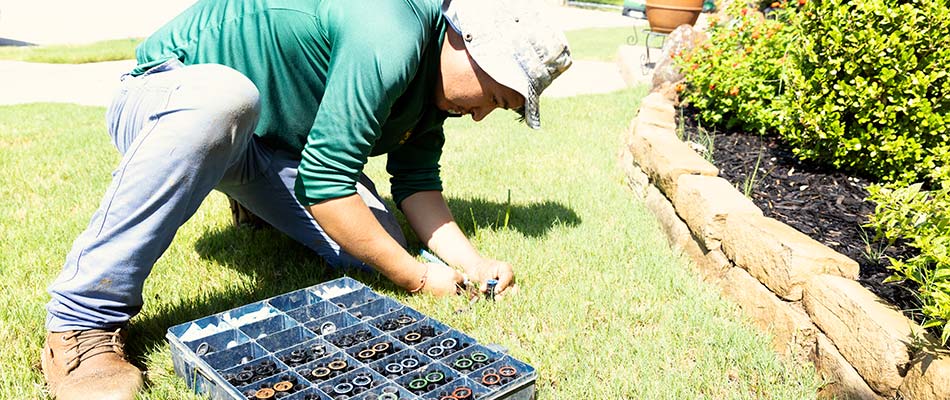 Our team has licensed irrigation technicians that can handle all of your irrigation repair needs. Some common irrigation issues that we typically handle are broken pipes, damaged heads, broken valves, and much more. If you're not quite sure what is wrong with your irrigation system, our crew can troubleshoot and get to the root of the issue. Our parts and labor come with a full warranty for 1 year. No need to worry about whether we can handle your type of irrigation system - we are trained and equipped to handle any and all types!
---
Sign up for our lawn and landscape maintenance services today!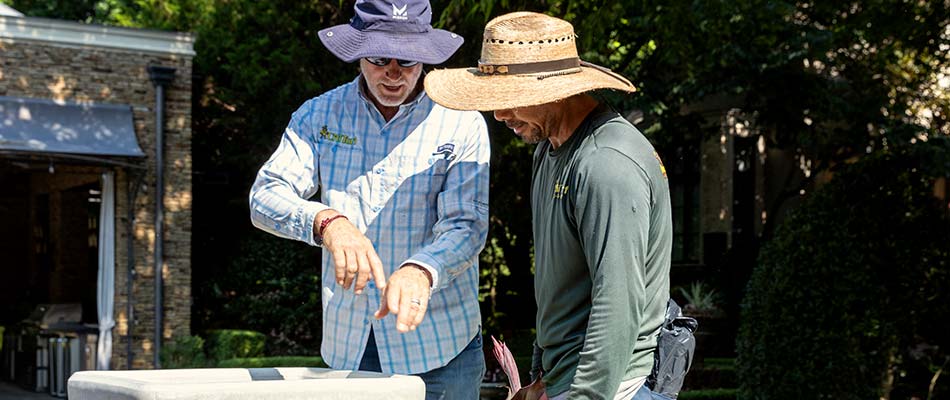 If you no longer want to bother with the consistent hassle of keeping your property fresh and manicured, then our team at CitiTurf is here to help. Since 2005, we have provided professional lawn and landscape maintenance services in Plano, Allen, Frisco, McKinney, Murphy, and nearby areas in Texas with a personal 100%, iron-clad, risk-free, double-money back guarantee. Whether you need your lawn mowed or plants trimmed, we have you covered. Call us today at 972-516-0001 to sign up for our services!