Lawn & Landscaping Services in Frisco, TX
Our services are backed by our personal 100% iron-clad, risk-free, double money-back guarantee.
With so many thriving businesses and things to do around the area, it's no wonder Frisco, Texas was honored as the fastest-growing city in the United States in 2017. Whether you have lived here for years or are just passing through, there is never a lack of new things to experience.
Perhaps our favorite part about Frisco is that it once received the designation of Tree City USA by the National Arbor Day Foundation. As tree enthusiasts ourselves, we are extremely proud to serve a community that protects its forests. At CitiTurf, we not only provide extensive tree and shrub care, but we also offer lawn care, lawn maintenance, and pest control services. No matter which service you choose, you can rely on our personal 100% iron-clad, risk-free, double money-back guarantee.
---
Our lawn care and lawn health services include fertilization, weed control, aeration, and more.
Give your lawn the time and attention it needs with our fertilization and weed control program. We will pay a visit to your home 8 times throughout the year to add a fertilizer treatment and eradicate your weed problem. When it comes to fertilizer, we don't use a one-size-fits-all approach. Instead, we carry a variety of different fertilizers, and our technicians will choose which ones to use depending on the specific needs of your lawn. No matter which fertilizer we use, you can be sure that it will be chalked full of nutrients to ensure your lawn has everything that it needs to grow healthy and strong. The three main nutrients that are included in all of our fertilizers are nitrogen, phosphorous, and potassium. These three nutrients help your grass by strengthening its root system, helping it fight off disease, and stimulating chlorophyll production. We use slow-release fertilizers to provide your lawn with the nutrients that they need over an extended amount of time.
Unlike many lawn care companies, we will never charge you extra depending on the type of weed we are treating. Some companies charge extra to take care of tough weeds like nut-grass or dallisgrass - we do not! We utilize both pre-emergent and post-emergent weed control treatments to target weeds from every angle. Our pre-emergent weed control creates a barrier on your lawn that is designed to prevent weeds from sprouting through the surface of your soil. If any weeds manage to slip past our pre-emergent treatments, don't worry! We'll take care of any existing weeds by spraying our post-emergent treatments on them. These treatments will eliminate any existing weeds on your lawn, so you can enjoy a property that is weed-free!
Your soil can become compacted over time from heavy foot traffic, rain, the weight of lawn mowers, and several other reasons. When this happens, it makes it hard for nutrients, water, sunlight, and air to penetrate your soil and reach the roots of your grass. That's where our core aeration service comes in! When you sign up for this service, we will remove small cores of soil from your lawn. This process will loosen the compacted soil on your lawn, making it easier for nutrients and other resources to reach the roots of your grass. When your grass has access to these nutrients and resources, it will be able to grow stronger, and you'll end up with a healthier lawn. We off this service in both the spring and fall and we recommend signing up for this service once per year.
If not taken care of in a timely manner, lawn diseases and funguses can spread throughout your lawn, causing significant damage. If you start to notice brown spots or patchy areas on your lawn, you could be dealing with a lawn disease. Luckily, we can help you combat& lawn fungus and disease issues in the Frisco area including leaf spot and dollar spot. Our experts can identify the problem you are dealing with a spray a curative solution on your lawn to stop the fungus or disease in its tracks!
---
Turn your neighbors' heads with our lawn and landscape maintenance services.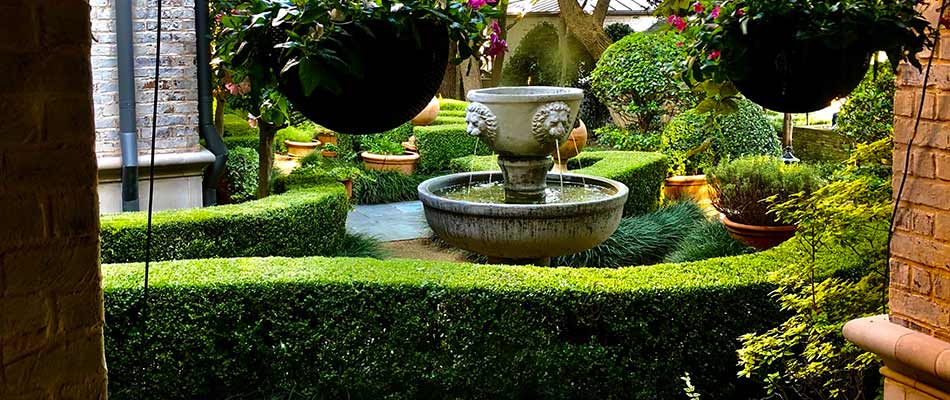 Our lawn maintenance services will transform your property from good to great. Mowing your lawn regularly is essential to keeping your property looking nice and manicured. Our lawn mowing service runs from March through the second week of November. During these months, we will mow your lawn either weekly or bi-weekly depending on the time of year. Our lawn mowing professionals are familiar with all of the grass types in the Frisco, TX area, and will be adjust the height of the mower to ensure your grass is being cut to the optimal height. What's more, this service also includes string-trimming so we get to all of those hard-to-reach areas, edging to create neat borders between your lawn and hardscapes, and blowing to clear grass clippings off of all of your hard surfaces.
Your plants are just as important to your landscape as your grass is, and we can help keep them in excellent condition with our trimming and pruning service. When trimming your plants, our focus will be to improve their aesthetics. We will trim your plants to give them a neat and manicured appearance that will increase the curb appeal of your property. When it comes to pruning, we offer this service to preserve the health of your plants. We will cut off any diseased or dying parts of your plant to prevent them from spreading to the rest of your plant. Not all plants need to be pruned, and pruning at the wrong time can actually be detrimental to their health, so we will only prune your plants if they need it. You can schedule our trimming and pruning service as a one-time service, or you can set up a reoccurring service.
Nothing can boost the curb appeal of your property quite like annual flowers can! We offer annual flower installation in both the spring and fall, to give your landscape beds some seasonal color. In the spring, we can add flowers like vincas, begonias, pentas, and zinnias, to brighten your landscape beds. In the fall, some popular flowers that thrive in the Frisco, TX area include pansies and dianthus. No matter the season, you can be sure that our landscaping experts will work with you to help you select flowers that will perfectly complement your existing plants.
Mulch plays an important role in both the health of your plants and the overall aesthetics of your landscape beds. Mulch helps to reduce soil erosion, retain moisture, regulate soil temperature, and prevent weed growth, making it an ideal ground cover. In addition to the health benefits that it offers, it also will drastically improve the aesthetics of your landscape beds. We offer a variety of mulch types, so you can choose an option that's just right for you. We recommend that you schedule our mulch installation service annually because mulch decomposes over time and will need to be replaced to ensure it is providing all of the benefits that it should.
Throughout the year, your lawn can get pretty messy from debris falling onto it to your plants growing too long and looking unkempt. We can help you get your property back to looking its best through our yard cleanup service. This service includes collecting all of the debris from your yard, bagging it up, and removing it from your property. This service also includes the trimming and pruning of your plants. We will trim all of your plants, and prune any that need it in order to keep your plants healthy and looking their best. While you can schedule this service any time throughout the year, the two most popular times to schedule this service are in the spring and fall.
The fall season is synonymous with falling leaves. As beautiful as these leaves are, they can create serious problems on your lawn if they are left there for an extended period of time. For instance, leaves can smother your grass, create a home for pests, harbor mold and fungus, and drag down your property's curb appeal. We offer a leaf removal service that will take care of these leaves for you. When you schedule this service, we will collect all of the leaves on your property and gather them on your curb. Then, we will suck them up using our vacuum truck and transport them off of your property.
---
Protect your lawn, your family, and your home from pests.
Pests are the last thing you want to deal with as a homeowner. Not only are they annoying, but they can cause damage and harm to your family members, your lawn, and your home. We want to help protect you all year long from pests like grubs, fleas, ticks, bed bugs, termites, spiders, ants, chiggers, and more.
Grubs are destructive pests that can destroy your lawn by feeding on the roots of your grass. To combat grubs, we offer a preventative grub control service that is designed to eliminate grubs before they can start causing any damage. However, if you forgot to schedule this service and are currently dealing with a grub infestation, we've got your back! We also offer a curative grub control service that will eliminate existing grubs from your property!
Fleas and ticks can be a real problem here in Frisco, TX and they can pose a threat to you, your loved ones, and your pets. At CitiTurf we offer a thorough flea and tick control service that is designed to eliminate these pests from your property. To make sure that we eliminate all of these pests from your property, we will apply our flea and tick control product both indoors and outdoors to ensure thorough coverage. You can schedule this service at any time, and you'll likely only need one treatment per year to keep your property free of fleas and ticks.
Our perimeter pest control service is designed to keep pests from getting inside of your home. We will spray our insecticide 3 feet up the side of your home and 5-10 feet out from the base of your home to create a barrier of protection. In addition to just spraying your home, we will also remove any wasp nests, spider webs, or any mounds that we notice. This service includes 4 treatments, spread out every 3 months. This way, we can provide you with year-round protection. What's more, if you notice pests inside your home, we can also spray our treatment inside as well!
Our mosquito control service is designed to minimize the number of mosquitoes on your property so you can enjoy your outdoor areas in peace. We offer our mosquito control service from April until October, which is peak mosquito season here in Frisco. We apply our treatments once per month during these months to ensure that there is never a lapse in coverage. If you notice a lot of mosquitoes on your property in between treatments, we will come back out to your property to spray again at no additional charge!
If you're dealing with pests inside of your home, we can put a stop to them with our interior pest control service. We will inspect your home for signs of pest activity, and then apply our powerful pest control treatment to areas where pests are a problem. Areas that we frequently treat include your baseboards, under your sink, under your appliances in your kitchen, and more. Not only will these treatments get rid of existing pests, but it's also effective in preventing new pests from coming inside of your home.
If you're dealing with bed bugs, we are the company to call! We offer a thorough bed bug control treatment to eliminate these pests from your home. We will inspect your home and identify any areas that are infested. Then, we will remove the faceplates from your light switches and apply our treatments there. We will also apply our treatments around your nightstands, dressers, and any other furniture you have in the room. We will have you dry any clothes, blankets, pillows, or other soft items on high heat for at least 30 minutes to kill any bed bugs or eggs that are on those items.
Chiggers can be a real nuisance if they get a foothold in your lawn, or even worse, your home! Luckily, we know just how to handle chiggers! When we come to your property, we will spray our chigger control treatment on your lawn, as well as inside of your home. Then, we will come back 2 weeks later to reapply our treatment. This should take care of your chigger problem and allow you to enjoy your property without the fear of getting bit by these pests.
Termites can cause extensive damage to your home if they are not dealt with in a timely manner. At CitiTurf, we offer a terminate control service that will eliminate these pests from your property. We will perform an inspection of your home, and if we find evidence of a termite infestation we will apply our treatment to get rid of them ASAP. While we offer this service as a one-time treatment, we also offer yearly inspections. If you sign up for yearly inspections, it will come with a lifetime warranty, and if we find any new termite colonies, we will treat them for free.
You can rely on our personal 100% iron-clad, risk-free, double money-back guarantee.
---
Our Tree & Shrub Services Include Fertilization, Iron Treatments, & More
At CitiTurf, we understand that the average homeowner might not know what exactly is wrong with their tree or shrub and what is needed to get it back to optimum health. If this is the case, start with our diagnosis and consulting service. Our team members use their extensive knowledge to identify the problem and come up with a solution to nurse your trees and shrubs back to health.
Keeping your trees and shrubs in optimal condition requires giving them the nutrients that they need to thrive. That's where our tree and shrub fertilization service comes in. We will deliver nutrients straight to the roots of your plants via a deep root treatment. This treatment will provide your plants with enough nutrients to last them throughout the entire year! This service also consists of 2 checkups where we will monitor their health. If we find any signs of insects or fungus, we can administer insecticide or fungicide to provide continued support for your trees and shrubs.
Your trees need a sufficient amount of iron in order to photosynthesize and produce the chlorophyll that they need to keep their leaves green. If your trees are suffering from an iron deficiency, we can help with our iron treatments. We have two methods for performing iron treatments: trunk injections or soil probes. While we usually only need to perform one or the other, we can perform both if your trees are really struggling. Once we deliver the treatments, your trees will have all the iron that they need to produce healthy, bright leaves.
Bark scales are tiny insects that love to infest crepe myrtle trees and feed on their sap. These insects can cause significant damage to your crepe myrtle trees if they are not eliminated in a timely fashion. We combat these tiny insects using both topical and systematic insecticide treatments. Our topical treatments are fast-acting and will kill bark scale on contact. Our systematic treatments are absorbed by your trees through the roots and will kill bark scale when they feed on the sap. We offer this treatment at any tie throughout the year.
If you have palm trees on your property, you'll want to keep them healthy and looking their best. That's why we offer a palm tree fertilizing service. We will drill holes around the trunk of your palm trees and apply a granular fertilizer. This fertilizer will provide your palm trees with the essential nutrients that it needs to thrive. If you have a larger palm tree, we can apply fertilizer via trunk injection.
---
We Also Offer Irrigation Repairs
Manually watering your lawn in the Texas heat can be a daunting task. That is why many homeowners in Frisco opt for an irrigation system. As time goes on, it's not unlikely that your irrigation system will eventually need a tune-up. This could be calcium buildup, a broken sprinkler head, a broken rain sensor, or a variety of other issues. Our team can help identify the problem and get your irrigation system working good-as-new.
---
Call us today to schedule any of our lawn and landscaping services.
Our company has been providing lawn and landscaping services to the Frisco, TX community since 2005. We pride ourselves on our work and guarantee your satisfaction. If your home is located in Frisco or in a nearby area like Plano or Allen, give our team a call today at 972-516-0001 to schedule with us. We can't wait to serve you!