Lawn & Landscaping Services in Frisco, TX
Our services are backed by our personal 100% iron-clad, risk-free, double money-back guarantee.
With so many thriving businesses and things to do around the area, it's no wonder Frisco, Texas was honored as the fastest-growing city in the United States in 2017. Whether you have lived here for years or are just passing through, there is never a lack of new things to experience.
Perhaps our favorite part about Frisco is that it once received the designation of Tree City USA by the National Arbor Day Foundation. As tree enthusiasts ourselves, we are extremely proud to serve a community that protects its forests. At CitiTurf, we not only provide extensive tree and shrub care, but we also offer lawn care, lawn maintenance, and pest control services. No matter which service you choose, you can rely on our personal 100% iron-clad, risk-free, double money-back guarantee.
---
Our lawn care and lawn health services include fertilization, weed control, aeration, and more.
Give your lawn the time and attention it needs with our fertilization and weed control program. We will pay a visit to your home 8 times throughout the year to add a fertilizer treatment and eradicate your weed problem. Unlike many lawn care companies, we will never charge you extra depending on the type of weed we are treating. Some companies charge extra to take care of tough weeds like nut-grass or dallisgrass - we do not!
We also offer core aeration during the spring season. Core aeration will loosen up your compacted soil and give the roots of your grass better access to air, water, and essential nutrients. This will help strengthen your lawn and prepare it for the upcoming seasons. Pair our core aeration service with our fertilization and weed control program for the best results.
Lastly, we can help you combat common lawn fungus and disease issues in the Frisco area including leaf spot and dollar spot. Our experts can identify the problem and offer curative solutions.
---
Turn your neighbors' heads with our lawn and landscape maintenance services.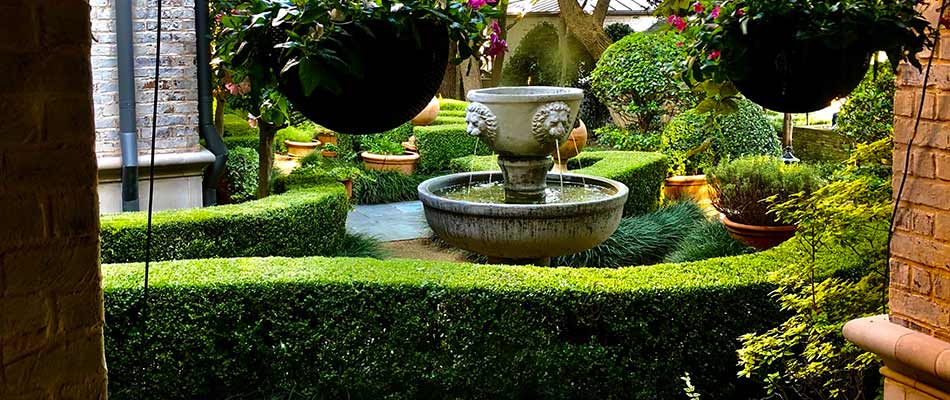 Our lawn maintenance services will transform your property from good to great. We offer lawn mowing, trimming and pruning, annual flower installation, mulch installation, yard cleanups, and leaf removal. Forget spending your precious Saturdays doing yard work! Leave the manual labor up to us. Our crew will leave your property so pristine that it will turn your neighbors' heads.
---
Protect your lawn, your family, and your home from pests.
Pests are the last thing you want to deal with as a homeowner. Not only are they annoying, but they can cause damage and harm to your family members, your lawn, and your home. We want to help protect you all year long from pests like grubs, fleas, ticks, bed bugs, termites, spiders, ants, chiggers, and more. Our company is able to treat your lawn as well as inside your home with our premium products.
You can rely on our personal 100% iron-clad, risk-free, double money-back guarantee.
---
Our Tree & Shrub Services Include Fertilization, Iron Treatments, & More
Your trees and shrubs need just as much TLC as your lawn does. That is why we offer fertilization treatments as well as protection against tree and shrub diseases and insect infestations. We can also give your trees a boost of iron as a supplement, as our soil typically does not provide enough iron on its own.
At CitiTurf, we understand that the average homeowner might not know what exactly is wrong with their tree or shrub and what is needed to get it back to optimum health. If this is the case, start with our diagnosis and consulting service. Our team members use their extensive knowledge to identify the problem and come up with a solution to nurse your trees and shrubs back to health.
---
We Also Offer Irrigation Repairs
Manually watering your lawn in the Texas heat can be a daunting task. That is why many homeowners in Frisco opt for an irrigation system. As time goes on, it's not unlikely that your irrigation system will eventually need a tune-up. This could be calcium buildup, a broken sprinkler head, a broken rain sensor, or a variety of other issues. Our team can help identify the problem and get your irrigation system working good-as-new.
---
Call us today to schedule any of our lawn and landscaping services.
Our company has been providing lawn and landscaping services to the Frisco, TX community since 2005. We pride ourselves on our work and guarantee your satisfaction. If your home is located in Frisco or in a nearby area like Plano or Allen, give our team a call today at 972-516-0001 to schedule with us. We can't wait to serve you!