Annual Flower Installations in the Plano, Allen, Frisco & McKinney, TX Areas
Our premium annual flower installation services are available in the spring and fall seasons.
Are you looking to enliven your landscape this season? If so, then our team at CitiTurf has the solution for you. We install all types of annual flowers in the spring and fall at residential properties in Plano, Allen, Frisco, McKinney, TX, and nearby areas. Annual flowers bloom quickly and add vibrant, seasonal colors to brighten your landscape.
When you sign up for our annual flower installation services, we help you choose the flowers that are best for your property and design their arrangement in your landscape beds. We then deliver, compost, and plant them for you to enjoy. Our top spring annuals include vincas, pentas, begonias, and zinnias, while our top fall annuals include pansies and dianthus. All of them are beautiful flowers that make your property look more stunning than it already is. If you are interested in our annual flower installation services, then call us today at 972-516-0001 to schedule a consultation.
---
When do we plant annual flowers?
We plant annual flowers in both the spring and fall. In the spring, we start to install annuals once warmer weather arrives in our area and raises the soil temperature. Spring annuals do not do well in the cold but flourish in warmer conditions. On the other hand, fall annuals thrive in cooler conditions but do not do well in the heat. That's why we wait to plant them until cooler weather comes in the fall and lowers the soil temperature. Carefully timing the installation of your annual flowers helps ensure their health and bolsters their blooming potential. We want you to be able to enjoy their beauty for as long as possible once they are in the ground.
---
What's included with our annual flower service?
When you sign up for our annual flower installation service, our landscape experts work with you every step of the way and take care of all the heavy lifting. The first thing we do is visit your property to survey your existing landscape and help you select the flowers that will best complement the plants, shrubs, and trees that you already have in place. We also design the arrangement of your new annuals to ensure they receive sufficient sunlight and optimize their visual impact. Selectively placing them ensures color balance and maximizes their appeal.
Once we help you determine flower selection and placement, we take it from there. Our team picks up and delivers the flowers to your home and then begins the planting process. We dig small holes to the ideal depth for your chosen flowers, install the flowers in the holes, and then refill them with nutrient-packed compost that is laced with fertilizer to accelerate your flowers' growth.
After we finish planting your gorgeous new annuals, we leave you with instructions about how to care for them properly and facilitate their development.
---
What kind of annual flowers do we plant?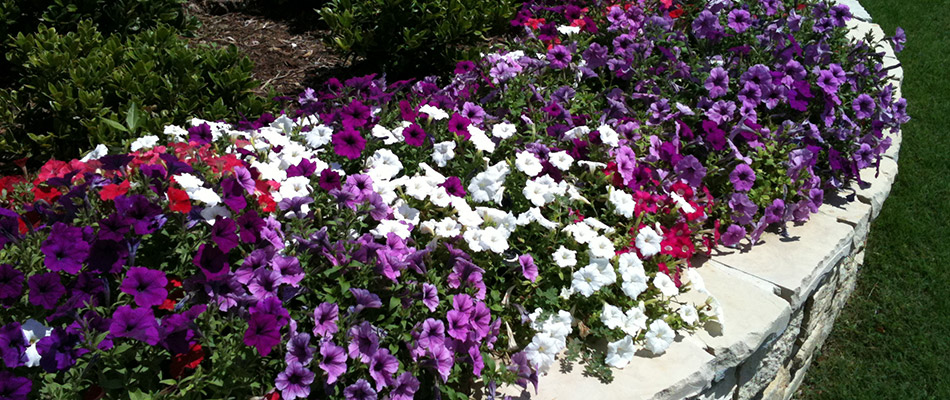 Since there are spring annuals and fall annuals, the kind of flowers we plant in your landscape beds varies by season. Whether it's spring or fall, we work with you to choose the annuals that will best suit your property.
Top Spring Annuals
Vincas
Pentas
Begonias
Zinnias
Top Fall Annuals
In addition to these popular options, we can plant many other annual flowers, including salvias, hibiscuses, marigolds, and petunias. There is no shortage of annuals available to homeowners in our area!
---
Call us today to schedule an annual flower consultation!
If you want to brighten your landscape with fresh colors, then planting annual flowers is the way to go! At CitiTurf, we install annual flowers in the spring and fall at residential properties in Plano, Allen, Frisco, McKinney, Murphy, Wylie, and nearby areas in Texas. We have proudly served local residents since 2005 and back all of our work, including annual flower installations, with a personal 100% iron-clad, risk-free, double-money back guarantee. Our goal is to give you an attractive landscape that brings you joy and makes your life better. If that sounds good to you, then call us today at 972-516-0001 to schedule your annual flower installation with one of our other services: home pest control, fertilization and weed control, tree and shrub control, or mosquito control.