Professional Lawn Care Services in Wylie, TX
We've been helping lawns flourish since 2005!
With a nickname like "Wide Awake Wylie," it's no surprise that the city of Wylie, TX is home to a vibrant community. Wylie earned the nickname in its early days as more visitors and commerce activity arrived on the railroad running through the area, and shop owners decided to stay open extra late to facilitate more business. The same historic downtown area is still bustling with unique shops, restaurants, and vendors – the perfect place to take a Saturday stroll!
Our company provides top-tier lawn care solutions to "Wide Awake Wylie" and nearby cities so that residents can rest easy knowing their lawns are in good hands. Our services include fertilization, weed control, aeration, lawn insect and disease control, and tree and shrub care. Get in touch with our office by calling 972-516-0001 today to schedule your next service!
---
Lawn Fertilization
We can fertilize your lawn with nutrients like nitrogen, potassium, and phosphorus.
Our eight-visit fertilization program will help unlock your lawn's true potential! We'll space out the eight visits throughout the year so that your lawn has the consistent support it needs to thrive. With nutrients like nitrogen, phosphorus, and potassium in our fertilizer, your grass will start developing vibrant color, a stronger root system, and better overall defenses against threats like drought and disease. Our technicians will adjust the type of fertilizer your lawn is getting throughout the year to administer the optimal proportion of nutrients, addressing season-specific challenges that your grass is facing to apply the right type of support at the right time.
Our professionals are meticulous in their application, ensuring that every blade of grass will receive the benefits of fertilization! We'll use either walk-behind broadcasters or riding fertilizer spreaders depending on the size of your property for the most efficient coverage. Either way, you'll see results from our fertilization – and trust us, your lawn will thank you!
---
Weed Control
Our weed control service will stamp down dayflower, quackgrass, bittercress, and more.
To stamp down pesky weeds, we've developed weed control services customized to the needs of lawns in our area. We've seen from years of experience that far and large, the most effective offense is a good defense, so our program includes three pre-emergent weed control treatments that will stop weeds before they even get rolling. We'll visit your property five additional times throughout the year to squash any weeds that pop up, ensuring that you're covered from both sides!
Our treatments address common grassy and broadleaf weeds like:
Dayflower
Quackgrass
Annual ryegrass
Crowfoot grass
Hairy bittercress
Pigweed
Spurge
Chickweed
Purslane
...and more!
With protection from these common culprits and many more, your lawn will have the nutrients and space it needs to grow happy and healthy! Our defense-fortifying treatments are generally spaced out every one to two months, but we shrink that window in peak season to stay on top of grassy weeds so they don't get a foothold in your lawn. You can rely on our team to be one step ahead of weeds at all times.
While some companies charge extra to treat nutgrass, dallisgrass, and Poa annua, these are included in our program at no extra cost!
---
Lawn Aeration
Our core aeration service will help break up compacted soil on your lawn.
Clay soil is very common in our area, and unfortunately, is very prone to developing compaction. Our core aeration service is the remedy for this issue and will break up compacted soil on your lawn! Our mechanical process will pull up plugs, or "cores," from your lawn, leaving behind little holes throughout the lawn. Don't panic! These holes are actually beneficial to your grass, creating pathways for water and other nutrients to use to nourish deep roots. With bolstered roots, your grass can grow healthier above the surface, resulting in a more beautiful lawn for you to show off!
The cores from our aeration service will break down and feed nutrients back into your soil.
---
Lawn Insects
We offer curative treatments for lawn insects like chinch bugs, Bermuda mites, and more.
Our team can help protect your grass from lawn insects that would love to make a meal of it! We help combat chinch bugs, Bermuda mites, armyworms, and more with our curative insecticide treatments. Once you spot these critters or the tell-tale signs of bug damage on your lawn, our professionals will rise to the call. We'll carefully review the damage to identify which lawn insect is infesting your lawn so that we can ensure our treatment will eradicate the issue for you.
We also offer curative treatments for grubs as well as preventative grub control services to keep these insects from ever infesting your lawn! We'll use a premium insecticide that will penetrate your soil, targeting grub eggs before they hatch so that you never even see them. The window for this treatment is correlated with the earliest stage of their development so that we can catch them before they ever damage your lawn!
---
Lawn Diseases
We can treat lawn diseases like brown patch, gray leaf spot, take-all root rot, and more.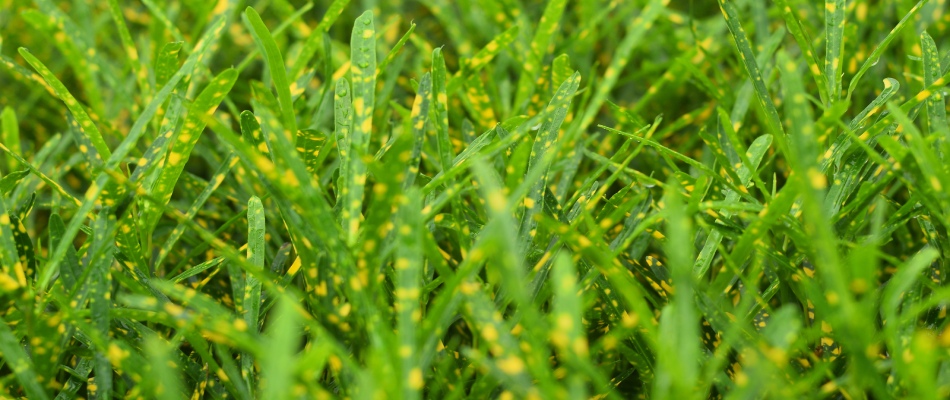 Our professional technicians are experts in the common lawn diseases in our area and how to best combat them. Whether you know what your lawn is struggling with not, our team can help! We'll first identify the disease at hand and then come up with the best possible treatment plan to tackle the issue head-on.
Common diseases we see in the area are:
While these are common diseases, we've seen – and defeated – many more to save lawns! If for some reason after we treat your lawn for a disease, it returns in the same season, we'll apply our treatment again to ensure that we put an end to it.
---
Tree & Shrub Care
Our Tree & Shrub Care Services
We can extend the exceptional care we provide to your trees and shrubs as well! Our fertilization program will start these landscaping plants off on the best foot with a deep root fertilization treatment that will nourish them over an entire year. We'll visit your property two more times over the course of that year to perform health checkups on your trees and shrubs, ensuring that we catch any issues early!
We'll look for tree and shrub insects like bagworms, webworms, spider mites, emerald ash borers, and more so that we have the opportunity to stop them before they do more damage to your plants. Our team can also treat a variety of tree and shrub diseases! For any issue that can be handled with a treatment from a backpack sprayer, we'll take care of it as part of your program. We offer additional services as well to tackle more in-depth issues!
Our team is also able to fertilize your palm trees with a long-lasting, granular fertilizer or a trunk injection that nourishes the tree with nitrogen, phosphorus, potassium, and other nutrients.
We offer iron treatments to rejuvenate your trees and shrubs and combat iron deficiency!
---
Call our team today to schedule any of our lawn care services!
At CitiTurf, we are nothing if not a people-driven organization. We believe in putting people first, prioritizing customer satisfaction above all else. There's never a decision made that we don't consider the impact on our customers – and if it's not going to improve their experience or results, it's no longer on the table. This attitude has helped us create a broad range of top-notch services and a team that is passionate about producing the best results possible for our customers! Our lawn care services are available to Wylie, TX and nearby cities. If you're a homeowner in the area and ready to see your lawn thrive, call our team at 972-516-0001 today to schedule your next service!