Sprinkler Repair Services for Properties in Wylie, TX
Our parts and labor are backed by a 1-year warranty.
Wylie, TX is a city located northeast of the big city of Dallas. Its original name was Nickelville back in the 1800s and, at one point, Wylie was known as the "Onion Capital of the World." It's a city rich in history and sweet onions!
These days, the residents of Wylie spend their time boating, fishing, and relaxing at Lavon Lake and Lake Ray Hubbard. Aside from enjoying the lake views, there are so many things to do around Wylie. From parks to wineries to nature preserves with zip lines, you'll never get bored here! That's why we absolutely love working in the Wylie community.
Our company proudly offers sprinkler repair services to residential properties in the Wylie, TX area. We can fix any and all irrigation systems and brands. No matter the issue or repair needed, our team is up for the job. We can also help you redesign your system for more efficient watering! During our repair service, we'll perform a full system checkup to ensure we don't miss any worn-out or damaged parts that need to be fixed or replaced. Our parts and labor are backed by our 1-year warranty, so you can rest assured that you'll be receiving guaranteed results.
---
Irrigation Checkup
Our sprinkler repair service begins with a full system checkup.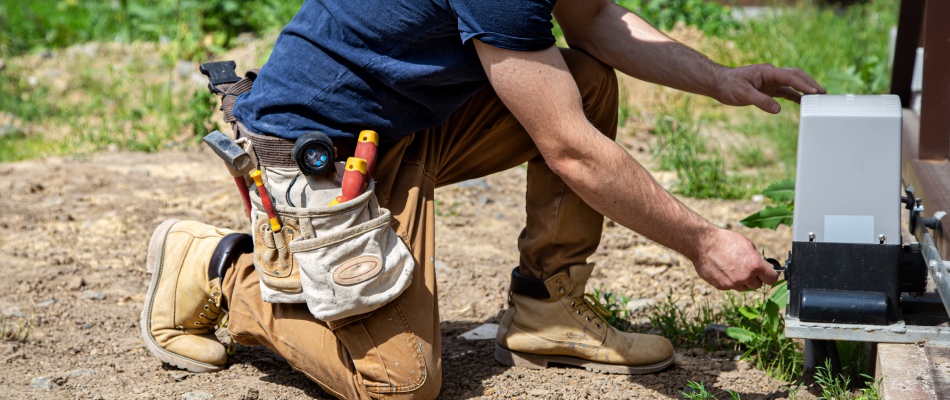 Before we head straight for repairing your sprinkler system, we'll start our service by performing a full system checkup. This checkup helps us avoid missing any issues and leaving you with an irrigation system that is still not up to par to handle the heat we experience here in Wylie.
To begin the checkup, we'll take a look at all of the individual zones on your property. We'll make sure that the grass and plants are getting just enough water - not too much and not too little. If we notice any zones that aren't getting water in all sections, we'll take a look at the nozzles and adjust them as necessary. As time goes on, these nozzles can move out of alignment. We're here to make sure everything stays where it is supposed to! Next, we'll take a look at the system as a whole to make sure that there are no worn-down parts in need of a replacement or parts that are in need of repair.
The last step of our sprinkler system checkup includes setting up your controller. Our irrigation techs will help you set the controller to tell the irrigation system when to turn on and when to turn off. These settings depend on the needs of each zone as well as the time of the year. After your controller is all set, you'll be able to enjoy a completely hands-off irrigation system that is up and running smoothly!
When our checkup is complete, we'll have a game plan for what needs to be repaired and/or replaced.
---
Irrigation Upgrade
Our sprinkler services include troubleshooting, part replacement, system redesign, and more.
No matter the issue with your irrigation system, we have the solution. If you have no idea what is wrong with your irrigation system but you know that your lawn isn't getting the right amount of water and your water bill is abnormally high, we'll help you figure out the issue! Our irrigation experts can troubleshoot and let you know where your irrigation system needs some extra attention.
As far as irrigation parts go, we'll repair or replace everything and anything. Some of these parts include:
Pipes
Valves
Sprinkler heads
Nozzles
Timers
Rain sensors
And more
Our sprinkler services don't stop there. We can:
Reroute your irrigation system in preparation for a new swimming pool
Locate cut cables with our wire locators
Install smart controllers with Wi-Fi so that you can change any setting from your phone and inside the comfort of your own home
Redesign your irrigation system for efficient watering and balanced precipitation rates
Our irrigation system redesigning service reduces water waste and lowers your water bill.
---
1-Year Warranty
Our Sprinkler Repairs & Replacements Come With a 1-Year Warranty
If we repair or replace any parts within your sprinkler system, we offer a 1-year warranty on those parts as well as our labor. We are confident in our team's ability to get your system up and running perfectly. So, if a part that we fixed or replaced starts acting up again within a 1-year time frame, we'll return and promptly fix the issue at no cost to you. Although we are not able to warranty the irrigation system as a whole because we did not install it, you can rest assured that the work we do on your irrigation system is guaranteed to solve the issue or we'll return to make sure it does.
---
Irrigation Repair
We can repair any and all sprinkler systems.
There are many different types of sprinkler systems as well as many different brands around Wylie, TX. Our company has been proudly serving this community since 2005. You can say that we've seen and repaired our fair share of sprinkler systems! While some of our competitors only focus on a few brands or types, we are proud to say that we can handle any and all irrigation systems.
This is due to the extensive, ongoing training that we provide to our team. It is important that our crew is always up to date on the latest and greatest irrigation types and brands. This keeps us continuously learning and doing our best for our clients.
---
Is your sprinkler system struggling? We can help! Call to schedule our sprinkler repair services.
Some sprinkler system issues can be subtle and only show their face in the form of an abnormally high water bill. Others are a little more obvious, like a gushing water spout. No matter if you can pinpoint exactly where the problem is coming from or if you need our experts to troubleshoot the issue, we're the team for you.
We have irrigation technicians on our team that are constantly learning more about every type of irrigation system out there. No matter which type or brand you have, we're up for the challenge. Additionally, all of our repairs come with 1-year warranties on our parts and our labor. We want you to rest easy knowing that we will solve your sprinkler problem and get you on the road to a well-irrigated property.
Our company proudly serves residential properties located in Wylie, TX. Contact us today by calling 972-516-0001 and schedule our sprinkler repair services!