Professional leaf removal service for properties in and around Plano, Allen, Frisco, and McKinney, TX.
Leaf removal will allow your lawn to breathe.
The fall season brings with it numerous benefits, including cool weather and beautiful color changes in the leaves. While the color changes in the leaves are nice to look at when they are still on the tree, fallen leaves can quickly become a chore once they land on your lawn. While removing leaves isn't a task anyone looks forward to, it needs to be done. That's because a heavy blanket of leaves can smother your grass and prevent it from receiving the essential nutrients it needs to thrive, in addition to bringing down the curb appeal of your lawn
Luckily, if you live in or around the Plano, Allen, Frisco, and McKinney, TX areas, you don't have to spend your weekends raking. Instead, just give us a call to take advantage of our leaf removal service. We use vacuum trucks to remove the leaves from your property, so you won't have to stare at a large pile of them on your curb. And, we even offer yard cleanups that you can pair with our leaf removal services to make sure your yard is ready for winter.
---
What Our Leaf Removal Service Includes & Why It Is Important
At CitiTurf, we aim to make your life easier with our leaf removal service. Whether your property is large or small, we have the tools to get the job done right. For smaller properties, we will first clear leaves from an area of your yard and place a tarp in the cleared section. Then, we will blow or rake your leaves onto the tarp and carry it to the curb so they can be hauled away. For larger properties, we will use blowers to blow your leaves into large piles by your curb for removal.
This service is very important as leaves that are left sitting on your grass can:
Deprive your grass of nutrients - A thick layer of leaves will block your grass from absorbing the nutrients it needs to prepare for the winter.
Create a home for pests - A layer of leaves is like a vacancy sign on your yard for pests. Insects, spiders, and snakes love leaves, which can pose a danger to anyone walking on your lawn.
Harbor mold and fungus - Mold and fungus that grow on leaves can lead to fungal diseases that are bad for the health of your grass.
Bring down your home's curb appeal - When leaves are left all over your yard, it will give off a sloppy impression and you won't be able to see your beautiful grass.
---
Our Vacuum Trucks Will Leave Your Property Leaf-Free
While clearing the leaves off your lawn is essential to your lawn's health, leaving them in giant piles on your curb does nothing for your property's appearance. Luckily, you'll never have to worry about that when you partner with us. We have top-of-the-line vacuum trucks that we use to suck up all of the leaves from these piles. This way, your property will be completely free of leaves, so you won't have to deal with staring at a pile of them.
---
Prepare Your Yard for Winter with Our Yard Cleanup Service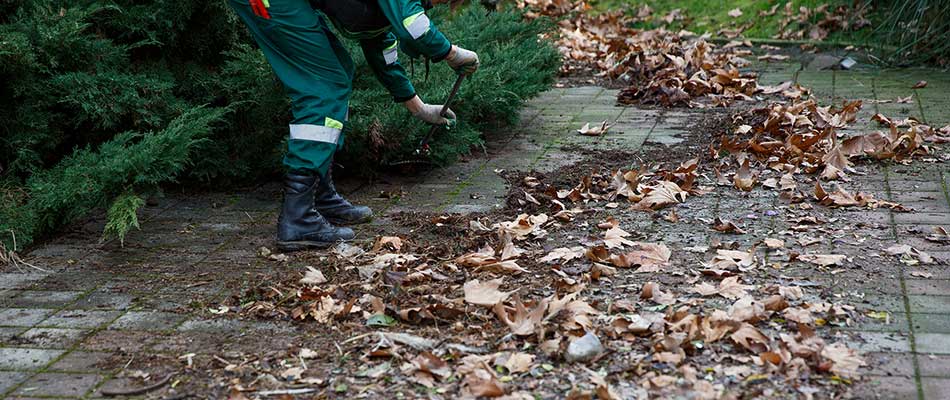 Our yard cleanup service pairs perfectly with our leaf removal service. This service consists of us completing a variety of other tasks to ensure your yard is ready when winter hits. This service includes:
Removing unwanted debris from your yard and landscape beds
Mulching your landscape beds
Trimming and pruning your plants
Weed removal
Mowing & edging
And more!
Combining leaf removal service with our yard cleanup service is the best way to ensure your yard will be ready to thrive when spring arrives.
---
Schedule your leaf removal service with us today!
If leaves are starting to fall on your yard, let us handle it for you. Put down the rake and pick up the phone so you can give us a call at 972-516-0001 today to schedule your leaf removal service. We've been in business since 2005, and in that time have earned a fantastic reputation throughout the Plano, Allen, Frisco, and McKinney, TX areas. We look forward to working with you so you can have a leaf-free yard this fall.