Lawn Mowing & Maintenance Services for Your Home in Wylie, TX
We offer lawn mowing, trimming, pruning, mulch installation, yard cleanups, and more.
Wylie, TX is just 30 miles from the bustling big city of Dallas. From a Historic Downtown area to annual festivals to 700 acres of parkland, Wylie has it all. With so much to do, no wonder it has been named Wide-Awake Wylie! The residents of Wylie don't have the time to mow their lawns or trim their plants - they're busy exploring their wonderful city!
That's where we come in. At CitiTurf, we are proud to offer our exceptional lawn mowing and maintenance services to the residential properties of Wylie. While we focus on keeping your property looking pristine, you can focus on doing the things you love! We offer services such as trimming, pruning, mulch installation, lawn mowing, yard cleanups, and more.
---
Lawn Mowing
Check lawn mowing off your to-do list for good with our lawn mowing program.
Say goodbye to sweating in the Wylie summer heat while mowing your lawn each week! Let us help you check this task off of your to-do list so you can spend your free time staying cool inside or laying by the pool! Our mowing program starts in March and runs through the middle of November. We'll start and end this program following a bi-weekly schedule because the early spring months and the late fall months are when your grass doesn't need as much attention. However, from April through October, we'll be stopping by weekly to ensure your grass doesn't get too long!
At each visit, we'll not only cut your grass but we will also:
String-trim: We'll get those hard-to-reach places where your grass is growing but our mowers can't fit! Our string-trimmers allow us to focus on every nook and cranny of your lawn.
Edge: We'll edge around the border of your lawn as well as your landscape beds to create crisp, clean lines.
Blow grass clippings: Before we leave, we'll clean up our mess. We'll use our blower to remove all grass clippings from your hardscapes like your walkways and your driveway.
---
Trimming & Pruning
Hire the experts for your trimming and pruning needs.
We're available for a one-time trimming and pruning service to give your property a curb appeal boost or you can sign up for our reoccurring program! No matter which one you choose, you can expect incredible results. Our trim crew consistently studies the plant varieties that grow in our area of Wylie. Trimming and pruning isn't just a one-size-fits-all process. Each plant is different and must be trimmed and pruned at certain times of the year. Our team is second to none and will never put the health of your plants in jeopardy.
During each trimming and pruning visit, we'll clean up debris and weeds from your landscape beds. Additionally, we will never leave your property looking messy after we remove a bunch of twigs and branches from your trees and shrubs. We'll always clean up after ourselves and make sure that no clippings are left behind.
---
Annual Flowers
We install beautiful annual flowers for your gardens in Wylie.
Annual flowers are a great way to give your landscape a pop of color at the turn of the new season. Whether it's spring or fall in Wylie, your garden could always use some new color! Chat with our experts about your style preferences and what colors you prefer. We'll take this information into account while we survey your property and get an idea of how much sun it gets. From there, we'll be able to help you make an educated decision about what annual flowers will thrive best on your property. We will always set your plants up for success!
Once the flowers are picked, we can get to work on the installation. Our crew will plant your flowers and then, lastly, we'll pack some compost into the dirt surrounding your new plants. This compost is packed with nutrients that will give your annuals the boost they need as they establish themselves into your soil.
Popular fall annuals:
Marigold
Alyssum
Daisy
Snapdragon
Popular spring annuals:
Hibiscus
Leadwort
Mealycup sage
Cockscomb
---
Mulch Installation
Hire us to install or replenish mulch in your landscape beds.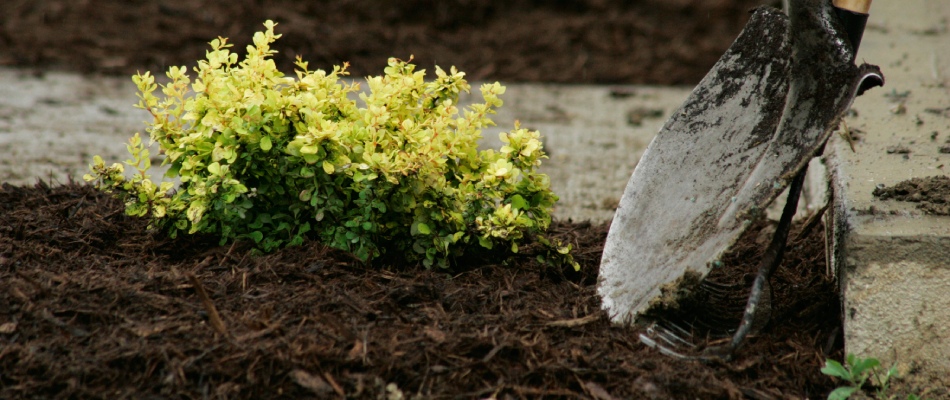 It is always a smart idea to add mulch to your landscape beds. From soil erosion prevention to weed suppression to soil temperature regulation, mulch does so much for our plants. Our team can install or replenish mulch in your landscape beds. We offer a few different types of mulch, including cedar, hardwood, black, and red.
When we install the mulch, we'll always keep your plant health in mind. You'd think that installing mulch is as easy as 1, 2, 3, however, it requires a bit of plant health knowledge! Your mulch layer must remain at a specific thickness to provide the most benefits while also avoiding smothering your plants. Additionally, we always make sure to leave a little bit of room around the base of all your plants to ensure that they have some space to breathe.
---
Leaf Removal
Don't let leaves smother your grass - schedule leaf removal.
It's important to remove leaves from your lawn, especially when they fall all at once. Heavy piles of leaves smother your grass and provide welcoming environments for pesky insects. But, who has the time to rake leaves? We do! Leave it to our team to grab our tarps, rakes, and leaf blowers and get to work removing all the leaves from your lawn when you sign up for our leaf removal service.
Our process varies depending on the size of your property. For smaller properties, we'll lay down a tarp and move the leaves onto the tarp. From there, we'll haul your leaves to the curb and use our vacuum truck to suck everything up. For larger properties, we'll use our leaf blowers to move all the leaves to the curb, and then we'll utilize our vacuum truck.
---
Yard Cleanups
Our yard cleanups will increase your curb appeal.
Yard cleanups are the best way to give your property a quick makeover. After the winter and summer seasons in particular, your lawn and landscape will need a little TLC. When you schedule our yard cleanups, we will:
Clean up and remove debris - We'll gather things like twigs, branches, and grass clippings from your lawn and landscape.
Remove weeds from your landscape beds - Weeds not only make your gardens look messy, but they steal important nutrients from your desired plants.
Trim your plants - We'll tidy up your overgrown trees, shrubs, and hedges.
Prune your plants if necessary - We'll keep an eye out for and remove any branches that have issues like disease or an insect infestation.
We offer our yard cleanups at any time of the year; however, many of our clients schedule them in the spring and fall!
---
Call us today to schedule our lawn mowing and maintenance services.
Keeping your lawn and landscape looking fresh and tidy is no easy task! We're here to take this off of your to-do list. If your home is in Wylie, TX or in a nearby area, give our team a call at 972-516-0001. Sign up for any of our lawn and landscape maintenance services, including trimming and pruning, lawn mowing, mulch installation, yard cleanups, leaf removal, and more.