We provide award-winning lawn and landscaping services to the McKinney, TX area.
Fertilization, pest control, irrigation system repairs, and more.
McKinney, Texas offers a small-town feel while located only 40 minutes from downtown Dallas. There is so much to do and see in this historic city. Downtown McKinney is home to 120 small businesses including eclectic boutiques, antique stores, museums, and amazing restaurants. These small businesses are part of what makes McKinney one of the country's fastest-growing cities.
Award-winning cities deserve award-winning services! Our company provides professional lawn and landscaping services to homeowners in and around McKinney, Texas. Some of these services include lawn mowing, fertilization, pest control, irrigation system repairs, and more. Call 972-516-0001 today to schedule with us!
---
Our Lawn Care & Maintenance Services
Nobody wants their lawn to be the eyesore on the block. That is why so many homeowners spend their free time mowing, watering, and cleaning up debris. However, lawn maintenance tasks like these seem to be a never-ending cycle. What if we told you that we could check these maintenance tasks off of your to-do list for good? Our team offers a wide variety of lawn maintenance services like mowing, yard cleanups, leaf removal, trimming, and more. We are highly trained and experienced to leave your lawn in tip-top shape every single time. Since 2005, our company has been tidying up the lawns around McKinney, giving our fellow homeowners more time in their day and peace of mind knowing their lawn is in great hands.
Although maintenance tasks are important to preserve your curb appeal, they won't guarantee your lawn's success long-term. Lawn care services such as fertilization, weed control, and aeration are all needed to provide your turf with the strength it needs to fight off harmful insects, diseases, and weeds. Our fertilization and weed control program has been crafted to protect your lawn all year long. We use a variety of granular and liquid applications to feed your lawn with the right about of nitrogen, phosphorus, and potassium while also preventing weeds from stealing these essential nutrients before they can reach the roots of your grass and other plants. Pair this program with our aeration service for the best results!
Mulch Installation
Yard Cleanups
Leaf Removal
Core Aeration
Fungus & Diseases
---
Prevent & Eliminate Insects Such As Grubs, Fleas, Ticks, Mosquitoes & More
As homeowners ourselves, we know it can be a pain to learn that your lawn or property has an insect problem. That is why our team offers both preventative and curative treatments to make your life easier. We give the homeowners of McKinney the option to prevent common, harmful insects like grubs before they even have the chance to cause damage. Preventing the problem before it begins is the smartest way to avoid future headaches. For example, curative grub treatments are able to stop and eliminate grubs from your property, however, they will not reverse the damage that has already been done. This means that you will need extra lawn care services to nurse your lawn back to health.
Besides grubs, we also handle a variety of other common pests in the McKinney area. Termites, bed bugs, fleas, ticks, mosquitoes, spiders, ants, and chiggers are just a few examples. Contact our team to learn more about how we can keep you, your loved ones, and your lawn protected from pesky insects.
Interior Pest Control
Mosquito Control
Bed Bug Control
Chigger Control
Termite Control
You can rely on our personal, 100% iron-clad, risk-free, double money-back guarantee.
---
Tree & Shrub Care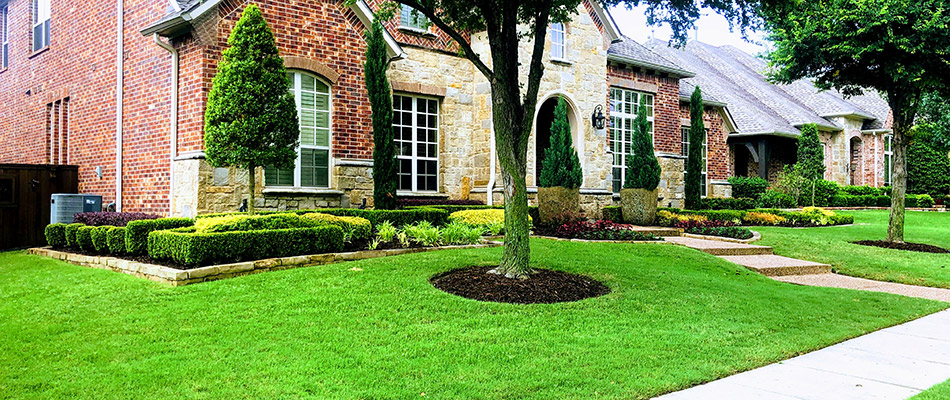 Your shrubs and trees need just as much care and attention as your grass and smaller plants do! At CitiTurf, we are licensed and experienced to take on any problem your trees and shrubs might have. We provide fertilization as well as insect and disease control to keep your trees and shrubs in the best shape possible.
Can't pinpoint the problem? We often get calls from our clients expressing concern for their shrubs or trees but they don't know what the actual issue is. Our company offers a diagnosis and consulting service where our highly knowledgable crew will inspect your tree or shrub, identify the problem, and offer solutions.
Palm Tree Fertilizing
Diagnosis & Consulting
---
Irrigation System Repairs
It is not uncommon for homeowners in Texas to resort to using an irrigation system to take over their watering duties every week. We don't blame them! However, time and excessive use tend to eventually cause problems or broken parts. No worries - our irrigation technicians are trained to handle any and all irrigation system repairs. We will always provide a thorough check to ensure that your irrigation system is back to running as good as new.
---
Contact our team for award-winning lawn and landscaping services.
Are you in the market for some lawn and landscaping services? We know just the team! Our crew at CitiTurf is here to take care of all of your lawn and landscaping needs. Whether your irrigation system needs some TLC or your grass needs cutting, we can help. If your home is located in McKinney, Texas, or in a nearby area like Plano or Allen, give us a call today at 972-516-0001. We can't wait to show you what award-winning services look like!