We provide award-winning lawn and landscaping services to the McKinney, TX area.
Fertilization, pest control, irrigation system repairs, and more.
McKinney, Texas offers a small-town feel while located only 40 minutes from downtown Dallas. There is so much to do and see in this historic city. Downtown McKinney is home to 120 small businesses including eclectic boutiques, antique stores, museums, and amazing restaurants. These small businesses are part of what makes McKinney one of the country's fastest-growing cities.
Award-winning cities deserve award-winning services! Our company provides professional lawn and landscaping services to homeowners in and around McKinney, Texas. Some of these services include lawn mowing, fertilization, pest control, irrigation system repairs, and more. Call 972-516-0001 today to schedule with us!
---
Our Lawn Care & Maintenance Services
Nobody wants their lawn to be the eyesore on the block. That is why so many homeowners spend their free time mowing, watering, applying weed control, and cleaning up debris. However, lawn care and maintenance tasks like these seem to be a never-ending cycle. What if we told you that we could check these tasks off of your to-do list for good? Well, we can! We offer a variety of lawn care and maintenance services that are designed to keep your lawn healthy and looking its best!
A well-manicured lawn is an important part of your home's overall curb appeal. At CitiTurf, we offer a lawn mowing service that will keep your property looking great throughout the growing season. Our lawn mowing service starts in March and runs until the second week of November. During this time period, we will either mow your lawn once a week or every other week, depending on the time of year. In addition to just mowing your lawn, we will also string-trim any hard-to-reach areas, and edge between your lawn and sidewalks, driveways, walkways, and landscape beds for a nice crisp look. What's more, we will also blow all of the lawn clippings off of your hardscapes as a final touch.
Your plants also play a major part in your property's curb appeal. We offer a trimming and pruning service to keep your plants in optimal health and looking their best. The purpose of trimming is to enhance the aesthetics of your plants. Our highly trained crew will pay extra care and attention as they trim your trees, shrubs, hedges, and other plants to give them a neat and manicured appearance. When it comes to pruning, it's all about your plant's health. This service consists of removing dead, diseased, or infested parts of your plant to prevent that area from spreading to the rest of your plant. We will only prune when necessary because pruning when your plants don't need it can be detrimental to their health.
We can also install annual flowers in your landscape beds to give them a seasonal pop of color. We install annual flowers in both the spring and fall seasons. In the spring some common flowers we plant in the McKinney, TX area include pentas, zinnias, begonias, and more. In the fall we can plant pansies, dianthus, and more. Our professionals can help you pick the perfect location for these flowers so that they get all of the sun that they need and will fit in perfectly with your existing plants.
Our mulch installation service will provide a variety of benefits to your landscape beds such as preventing soil erosion, preventing weed growth, retaining moisture, and regulating soil temperature. In addition to those benefits, it will also enhance the aesthetics of your landscape beds. Some common kinds of mulch that we offer include cedar, shredded hardwood, black, and red mulch. One thing to keep in mind is that mulch will decompose over time and will need to be replenished annually in order to provide the maximum amount of benefits to your landscape beds.
Yard cleanups are an important service as they will get your lawn in pristine condition. When you sign up for this service we will collect any debris in your yard, bag it, and remove it from your property. We will also remove weeds from your landscape beds so they can't steal nutrients from your plants. This service also includes trimming and pruning to keep your plants healthy and looking good. We offer this service any time throughout the year, but the most popular times are in the fall and spring.
While those fall leaves can look beautiful for a bit, they will eventually need to be removed. That's because piles of leaves on your lawn can suffocate your grass, attract pests, and harbor mold and diseases. When you sign up for our leaf removal service, we will not only gather all of your leaves to the curb, but we will also completely remove them from your property by sucking them up with our vacuum truck and transporting them off-site to dispose of them.
If you want your grass to grow strong, healthy, and green, you'll need to provide it with nutrients throughout the year. That's where our fertilization service comes in. We will apply slow-release granular fertilizer across your lawn throughout the year that will deliver essential nutrients that your lawn will need to flourish. Unlike other companies that only use one type of fertilizer, we carry multiple options. Our professionals will select which fertilizer to use depending on what they think will be best for your specific lawn.
Weeds are a problem because they not only can drag down the appearance of your property, but they also steal essential nutrients from your grass. At CitiTurf, we offer a weed control program that will eliminate weeds from your property. We attack weeds using two different methods: pre-emergent and post-emergent treatments. Our pre-emergent treatment creates a barrier on your soil that blocks newly germinated weeds from breaking through the soil. Our post-emergent treatments are designed to eliminate any existing weeds on your lawn. With this two-pronged approach to weed control, you can rest easy knowing that your lawn will be weed-free.
Over time, your soil can become compacted due to numerous things like heavy foot traffic, rainfall, and more. When this happens, it makes it hard for nutrients and resources like water and sunlight to reach the roots of your grass. Our core aeration service is designed to loosen compacted soil so that nutrients, water, sunlight, and air can more easily reach the roots of your grass. We offer this service in the spring and fall, and we recommend that you schedule this service annually to ensure the roots of your grass always have access to the nutrients and resources that they need to flourish.
We also offer fungus and disease control to stop lawn diseases in their tracks. We can identify and treat a variety of different lawn diseases including red thread, brown patch, dollar spot, and more.
---
Prevent & Eliminate Insects Such As Grubs, Fleas, Ticks, Mosquitoes & More
As homeowners ourselves, we know it can be a pain to learn that your lawn or property has an insect problem. That is why our team offers both preventative and curative treatments to make your life easier.
We offer a perimeter pest control service that will keep pests out of your home. We will spray our treatment around the perimeter of your home to create a barrier that will keep pests outside where they belong. This treatment is effective against a variety of pests including ants, spiders, cockroaches, earwigs, and much more! What's more, we can also spray our treatments inside of your home to take care of any insects that have already found their way inside. Our perimeter pest control treatment is a year-round program and we will come back every 3 months to reapply our treatments.
If you're dealing with a flea and tick problem, you need to sign up for our flea and tick control program. Our licensed technicians will apply our premium pesticide around the outside of your home to eliminate these pests. We also apply treatments to the inside of your home to get rid of any fleas and ticks that may have found their way inside. For our indoor treatment, we use a highly effective aerosol insecticide that includes an insect growth regulator that will kill existing ticks and fleas and prevent future infestations.
Grubs are damage-causing pests that feed on the roots of your grass and can kill your lawn if they are not dealt with. We believe the best way to deal with grubs is to never deal with them in the first place. That's why we offer a preventative treatment that is designed to kill any grub eggs in your soil before they hatch, so you won't ever have to deal with them. If you are dealing with a current grub infestation, don't worry! We offer a curative grub control treatment that will eliminate existing grubs from your yard.
If you are dealing with pests inside of your home, it's time to schedule our interior pest control service. We will inspect the inside of your home for any pest activity and then apply our powerful pest control treatment to any infested areas. While we are there, we will also remove any existing spider webs that we find. Finally, before we leave, we will also spray areas where pests like to frequent such as your baseboards, under kitchen appliances, and under your sinks. When we are finished, you can feel confident that your home will be pest-free.
Is it hard for you to enjoy your outdoor areas in McKinney, TX because you are constantly getting bitten by mosquitoes? If so, it's time to schedule our mosquito control service. This service consists of monthly treatments from April until October when mosquitoes are most active. We will spray our premium pesticide across your property, paying special attention to areas where mosquitoes like to live and breed. Our treatments will drastically reduce the mosquito population on your property, so you can enjoy your outdoor areas in peace.
If you're experiencing a bed bug infestation in your home, give us a call to sign up for our bed bug control service. We will inspect your home and locate all of the rooms that are infested. We will remove the faceplates from your light switches and spray our treatment there, as they love to hide in these spaces. We will also apply our treatments around your beds, dressers, or any other furniture. We will also direct you to put any clothes, sheets, blankets, or other soft items in the dryer on high heat for at least 30 minutes. This heat will kill any bed bugs or eggs that are on those items.
A chigger infestation is something that no homeowner ever wants to deal with. When you sign up for our chigger control service, we will apply treatments to the inside and outside of your home. This service involves two separate treatments, 2 weeks apart, to tackle both ends of the egg-hatching cycle of chiggers.
When you sign up for our termite control service, we will come out to your home to perform an initial inspection. If we find that you are dealing with a termite infestation, we will administer our termite treatments to eliminate them from your property, We offer this treatment as a one-time service, or you can sign up for yearly inspections. If you sign up for our yearly inspections and we ever find new termite colonies in your home, we will treat them at no additional charge.
You can rely on our personal, 100% iron-clad, risk-free, double money-back guarantee.
---
Tree & Shrub Care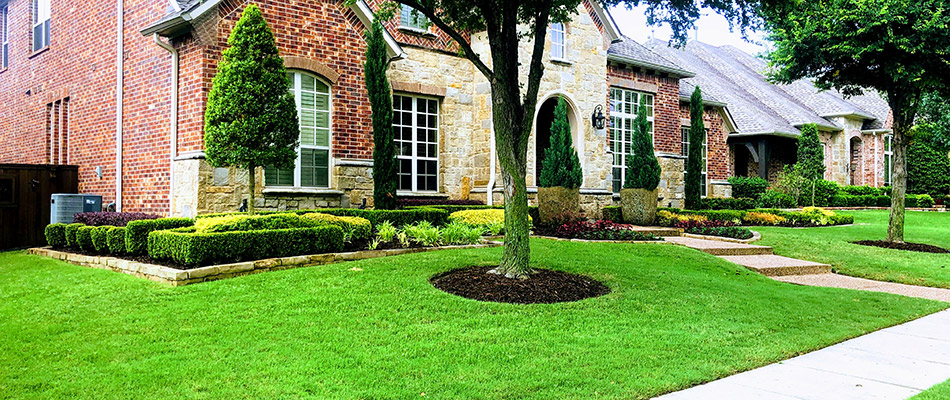 Your shrubs and trees need just as much care and attention as your grass and smaller plants do! At CitiTurf, we are licensed and experienced to take on any problem your trees and shrubs might have. We provide fertilization as well as insect and disease control to keep your trees and shrubs in the best shape possible.
Can't pinpoint the problem? We often get calls from our clients expressing concern for their shrubs or trees but they don't know what the actual issue is. Our company offers a diagnosis and consulting service where our highly knowledgable crew will inspect your tree or shrub, identify the problem, and offer solutions.
---
Irrigation System Repairs
It is not uncommon for homeowners in Texas to resort to using an irrigation system to take over their watering duties every week. We don't blame them! However, time and excessive use tend to eventually cause problems or broken parts. No worries - our irrigation technicians are trained to handle any and all irrigation system repairs. We will always provide a thorough check to ensure that your irrigation system is back to running as good as new.
---
Contact our team for award-winning lawn and landscaping services.
Are you in the market for some lawn and landscaping services? We know just the team! Our crew at CitiTurf is here to take care of all of your lawn and landscaping needs. Whether your irrigation system needs some TLC or your grass needs cutting, we can help. If your home is located in McKinney, Texas, or in a nearby area like Plano, Allen, or Frisco, give us a call today at 972-516-0001. We can't wait to show you what award-winning services look like!