We offer pro lawn mowing services for residential properties in the Plano, Allen, Frisco, and McKinney, TX areas.
Weed-eating, edging, and blowing services are included with every lawn mowing service visit.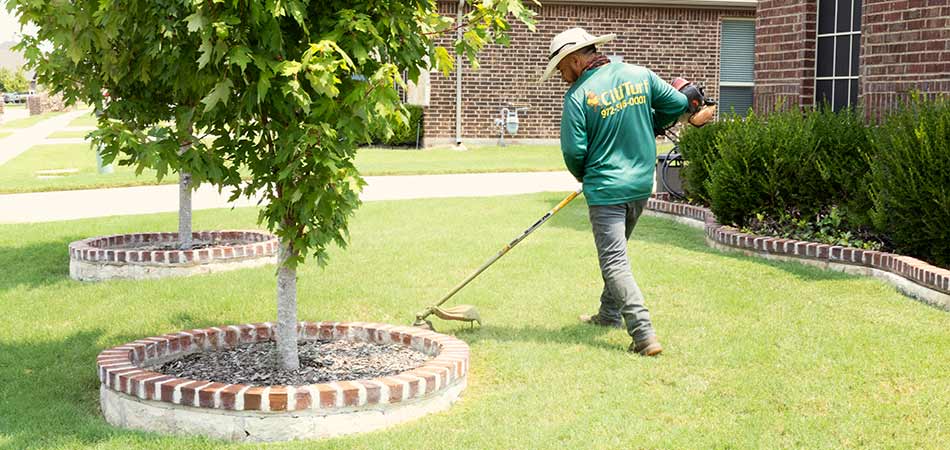 Mowing your lawn in the Texas heat is a time-consuming and energy-draining chore. Save yourself the time and effort required to maintain your lawn by allowing the highly trained team at CitiTurf to cut your grass for you. We offer professional lawn mowing services from March to November to residential properties in Plano, Allen, Frisco, McKinney, Murphy, and nearby areas in Texas. Every visit includes weed-eating, edging, and blowing services to keep your property in excellent condition.
Thousands of residential homeowners have trusted us to mow their lawn since we started our business in 2005. We are licensed, insured, and offer a 100% satisfaction guarantee on all of our services, including those you can pair with our lawn mowing service. If you are tired of cutting your grass, call 972-516-0001 today to get a quote!
---
When will we mow your yard?
At CitiTurf, our residential lawn mowing services begin annually in March and continue through the second week of November. During that time, we follow a mowing schedule designed to keep your yard healthy and looking its best:
March: Bi-weekly Mowing
April to mid-October: Weekly Mowing
Mid-October to mid-November: Bi-weekly Mowing
We do not offer bi-weekly mowing during the main growing season due to the harm it can cause your turf. But if you ever need to skip a mow, we can accommodate your request as long as you call us the day before your scheduled service. You can trust our team of highly trained professionals to arrive at your property uniformed and on time. Any schedule changes due to inclement weather or other events are efficiently communicated to you.
---
What's included with our lawn mowing service?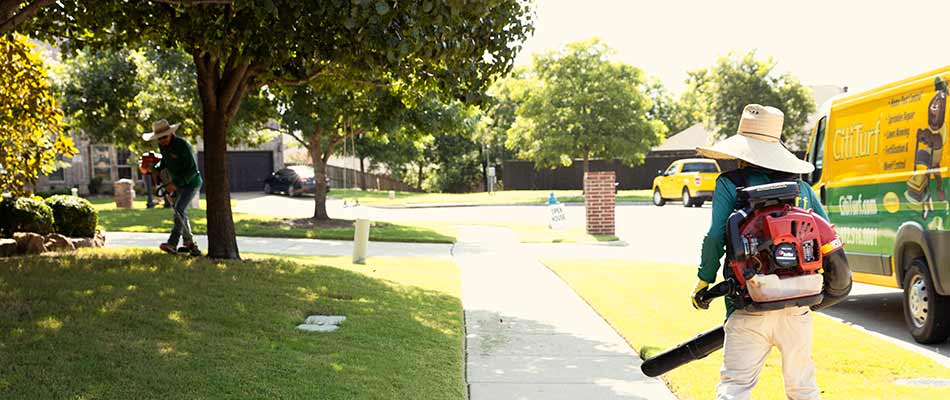 Our lawn mowing services include much more than just mowing your lawn. Every time our team visits your home, we weed-eat, edge, and blow debris to keep your property in excellent condition.
Weed-eating: We use a string trimmer to cut down weeds and tall grass that grow in hard-to-reach places, such as around trees, fencing, and landscape beds.
Edging: We use a steel-bladed edger to neaten the borders of your lawn that adjoin curbs, patios, sidewalks, and driveways.
Blowing: We use a blower to clear grass clippings from all of your hard surfaces, leaving your property free of debris.
---
We are a trusted, trained, and experienced lawn mowing company.
Close to 10,000 residential homeowners in Plano, Allen, Frisco, TX, and surrounding areas trust CitiTurf to take care of their lawn. We are grateful and proud to say that number continues to grow every year.
Since our founding in 2005, we have been committed to building our business the right way, with excellent customer service, quality assurance, and communication as three of our company cornerstones. In addition to being licensed and insured, we offer a Personal 100%, Iron-Clad, Risk-Free, "Double" Money-Back Guarantee on all of our services.
On the ground, our well-trained and highly experienced team members use state-of-the-art lawn-mowing equipment. We clean and sharpen our mowing blades each day so they perform optimally and customize the height that we mow your grass to best fit your lawn's needs. Furthermore, we rotate our mowing patterns weekly to keep your lawn fresh and prevent ruts from forming.
Our management team performs daily quality assurance checks to verify our crews continue providing the best lawn mowing services available.
---
Pair lawn mowing with our other important services.
We have a limited number of annual openings for our lawn mowing services. Each year, those spots fill up very quickly. While we do not offer mowing as a standalone service, we do offer it in tandem with our fertilization and weed control, home pest control, and tree & shrub health care services. We can only add you as a lawn mowing client if you have one of these other important services. When you contact us, our team can help you select the service that pairs best for you.
---
If you are located in Plano, Allen, Frisco, or a nearby area, hire us to cut your grass!
If you want mowing your lawn to become a thing of the past, then hire us to cut your grass! At CitiTurf, we have provided professional lawn mowing services to residential properties in Plano, Allen, Frisco, McKinney, Murphy, Wylie, and surrounding areas in Texas since 2005. We deliver consistent, quality results with a 100% satisfaction guarantee and would love to add you to our growing list of happy clients. Call us today at 972-516-0001 to schedule our mowing service with one of our other services: home pest control, fertilization and weed control, tree and shrub control, or mosquito control.