Pest Control Services in McKinney, TX
Our pest control services provide protection against spiders, fleas, mosquitoes, rodents, termites, and more!
McKinney, TX is home to an iconic historic district located in its downtown area. One of the oldest and most well-preserved of its kind, this historic district encompasses all the unique characteristics of McKinney in one succinct location, featuring art galleries, antique shops, specialty boutiques, delicious eateries, and much more. This small slice of McKinney gives a full representation of the rich culture in the city that bubbles out of each and every one of its more than 195,000 residents!
So that residents can spend the day strolling the historic district and come home to a pest-free property, we offer professional pest control solutions! Our services combat numerous bugs, ranging from fleas and ticks to spiders, rodents, mosquitoes, termites, and more. We'd love to help you next! If you're in or around the area of McKinney, call our team at 972-516-0001 today to schedule your next pest control service.
---
Perimeter Pest Control
Our perimeter pest control services put a stop to spiders, cockroaches, beetles, and more.
Our licensed pest control technicians will help protect your property from critters including spiders, cockroaches, beetles, and much more with our perimeter pest control service! We'll start by assessing your property, identifying the main issues and any areas that insects love to hide around your home like shaded bushes, piles of debris, and other nooks and crannies. For most properties, our liquid solution is the perfect application method, but we're also equipped with granular and backpack applications so that we can appropriately address any situation.
With these factors considered, our technicians will get to work, diligently applying the solution three feet up on your home and five to ten feet out on your property. Our program will span four treatments a year, spaced out every three months so that your defenses will always hold strong.
Our team will take down wasp nests and spider webs as well as treat any ant mounds on the lawn!
---
Interior Pest Control
We can protect the interior of your home from pests like roaches, ants, ticks, and more.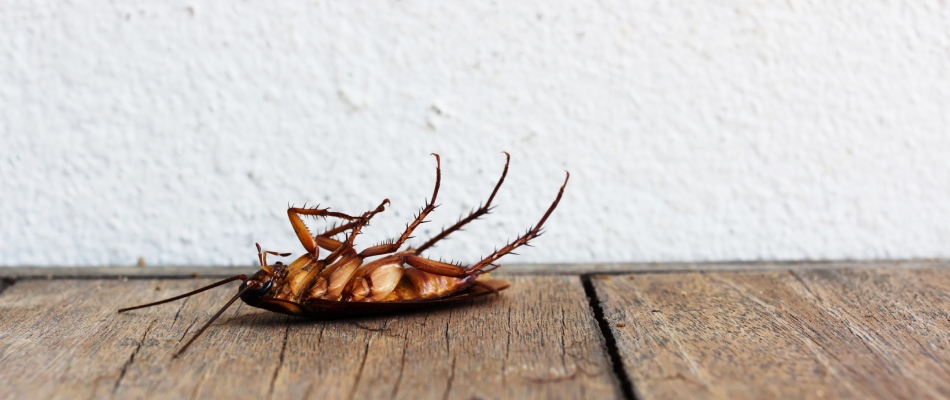 If pests have tried to become your roommates, our interior pest control can help you reclaim your home. We'll inspect your home for any type of pest activity to get a full view of what issues are present and where the problem areas may lie. Our technicians will be scouting for evidence of ants, roaches, termites, fleas, ticks, and more and are well-versed in all the subtle signs that these bugs may be present. With a game plan in place, we'll treat your home to eliminate all the pests, focusing on areas like baseboards, under your sink, beneath kitchen appliances, and in any other recesses or cavities that could be housing these unwelcome guests.
This treatment doubles as a protective layer to help prevent new pests from making their way inside!
---
Bed Bug Control
Our Bed Bug Control Service
Discovering you have bed bugs can be a nightmare, but with us at your side, treatment is a breeze. Our bed bug control service is thorough, with our experts beginning their initial investigation at the site of the bed bugs. We'll work to isolate this area from the rest of your home to put a stop to their spread and then move on to tackling the active infestation!
Our bed bug treatment will be applied along the entire perimeter of the infested room at the joint where the baseboard and floor meet, a common hiding place for these critters. We'll take off the faceplates from your electrical outlets to ensure no bugs are hiding there, applying the treatment as we go. Finally, our experts will treat around any furniture, including nightstands and dressers, to reduce the chances of any kind of reinfestation. We'll return in two weeks to re-inspect your home and ensure that the bed bugs have been fully eradicated!
---
Chigger Control
Safeguard your lawn with our chigger treatment!
Once the weather starts to warm up, you may realize that your lawn's soil has been harboring chiggers that are now actively damaging your grass. Our chigger treatment can get these pests under control, encompassing both liquid and aerosol-based treatments to leave no stone unturned. With treatments applied both inside and outside, chiggers will have nowhere left to hide! We'll make sure of it by returning two weeks after the first application to treat again, breaking the life cycle of any eggs the original chiggers may have left behind.
---
Flea & Tick Control
Our Flea & Tick Control Service
Fleas and ticks are some of the most headache-inducing pests without a doubt, but our service will see to it that both your furry family members and human loved ones are well protected from these bugs. Our coverage spans both inside and outside so that no location can harbor a flea or tick population waiting to reinfest your property. As with every treatment we do, our technicians are diligent and meticulous to ensure that we are applying with care, focusing on safety and efficacy for the best of both worlds. Our outdoor treatment will remain potent for three to four months after application to control the population of these bugs and our indoor treatment will remain effective for the entire flea and tick season!
---
Fire Ant Control
We offer both preventative and curative fire ant treatments!
Unfortunately, fire ants are a common problem in our area – but fortunately, our fire ant treatment plan is the perfect antidote. Whether you're trying to get ahead of the curve and prevent fire ants from ever getting cozy on your property or you're trying to combat an active infestation, our treatment plan will get the job done. Both situations will receive the same general application procedures, but with an active fire ant population, we'll add more curative treatments that specifically target and address the ant mounds. You can rely on our team to ensure that your property is receiving every ounce of support it needs to win out in the war against fire ants!
---
Mosquito Control
We can help control the mosquito population on your property.
Our expert technicians will help control the mosquito population on your property using a premium pesticide treatment, eliminating mosquitoes that are present and deterring future mosquitoes from declaring your property as their new home. While new mosquitoes may fly into your property, they won't get a foothold to be able to take over since we'll apply our treatment every month during their most active time of the year. We'll also apply an insect growth regulator which will help prevent mosquitoes from breeding in shady areas that may gather standing water.
---
Rodent Monitoring
Our professional team can monitor and eliminate rodents.
For full-coverage control of rodents, we utilize a variety of liquid and bait treatments that appeal to – and eliminate – rodents. These treatments are secured safely inside bait stations so only pesky rodents will have access! Our team will monitor the effectiveness of each bait station based on how much bait is used, replenishing as needed and making adjustments to ensure maximum efficacy. We offer quarterly, bi-monthly, or monthly intervals based on what works best for you and your property.
---
Termite Control
Our Termite Control Service
We all know how much trouble termites can cause, and if left untreated, the problem will only begin to snowball. Our termite control service will stop the infestation in its tracks! We'll conduct a comprehensive inspection of your home to hone in on areas where termites are hiding out and causing damage so that we can appropriately target our treatments for optimal results. We'll check areas like:
Walls
Baseboards
Trim areas
Hardwood surfaces
Underneath sinks
Around electrical boxes
Firewood piles
and more!
Our team members have a keen eye to spot evidence of termites, so no detail will go unnoticed. If we discover active termites, we'll eliminate them and dig a trench next to the foundation of your home and inject a chemical into the ground, acting as an overflow to protect your yard.
---
Call us today to schedule any of our pest control services to combat termites, ants, spiders, and more!
At CitiTurf, our focus is on performing at the highest standard possible in every treatment, regardless of whether we're battling termites, fire ants, spiders, or something else. We take every application as seriously as the last and understand our essential role in protecting your lawn and loved ones from these pesky nuisances. With us on the case, you can feel confident that you're completely covered by professionals who not only know what they're doing but are passionate about doing it to perfection! Our services are available to residential property owners in McKinney, TX and surrounding cities. To get started, call our team today at 972-516-0001 and ask to schedule any of our pest control services!