We provide lawn care services for homes in McKinney, TX.
Our lawn care services include lawn fertilization, weed control, aeration, and more!
McKinney, TX is Collin County's second-largest city, with over 182,000 people. There's a lot to enjoy here. Whether you're looking for delicious food, historic sites, or diverse cultural experiences, McKinney has a lot to offer. If you want to learn about the history of McKinney and Collin County, you can visit the Collin County Farm Museum and Collin County History Museum. If you want to experience nature in all its glory, the Heard Natural Science Museum and Wildlife Sanctuary will make you feel closer to nature than ever.
We're glad to be part of McKinney's vibrant and close-knit community by helping homeowners go home to a well-cared-for lawn. At CitiTurf, we offer professional lawn care services including lawn fertilization, weed control, core aeration, lawn disease control, and lawn insect control. We're also here to strengthen your plants with our tree and shrub care services.
---
Lawn Fertilization
Get strong, healthy grass throughout the year with our lawn fertilization treatments.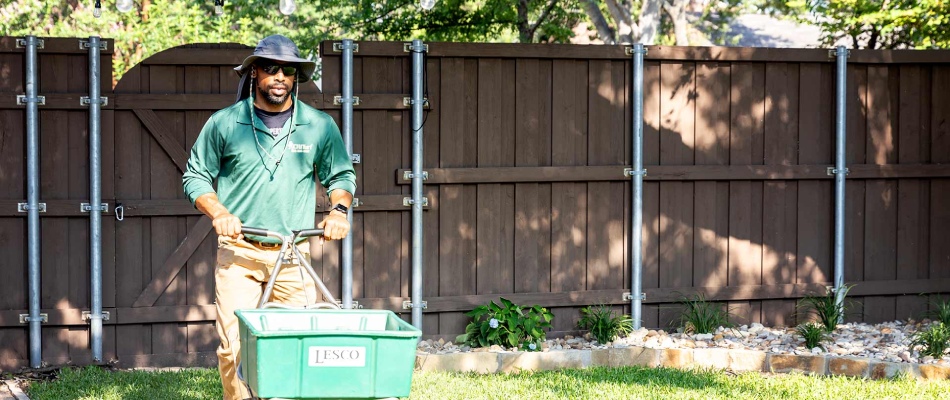 Our 8-step lawn fertilization program at CitiTurf encourages strong and vibrant grass growth. We use slow-release granular fertilizers that provide your turf with a consistent supply of essential nutrients that promote healthy growth, including nitrogen, phosphorus, and potassium. Nitrogen helps with chlorophyll production, so your grass is greener and more appealing. Phosphorus encourages deeper and stronger roots to set up your lawn for long-term success, while potassium is responsible for making your lawn more resilient to stressful conditions like drought and diseases.
When we apply our fertilizer, our crew ensures we cover all areas on your property, so all of your grass in McKinney, TX is nourished with essential nutrients. After our treatments, we'll leave a yellow slip of paper on your front door to inform you of what we did and what you need to do to support your lawn's growth.
---
Weed Control
Our weed control prevents stubborn weeds from taking over your turf.
Dealing with weeds by yourself can be such a hassle, which is why you should sign up for our weed control program. This service involves visits to your home in McKinney from our experts every 1 or 2 months to apply pre-emergent and post-emergent weed control treatments. Our pre-emergent treatments are divided into 3 applications to prevent weeds from sprouting in the first place, stopping them before they become a problem on your lawn.
While we stand by our pre-emergent treatments, some weeds in the McKinney area are more relentless than others and will continue to take over your turf. This means they might survive our initial treatments. Our post-emergent treatments will combat these weeds. There are many of these stubborn weeds in McKinney, TX, like:
Annual ryegrass
Spurge
Crowfoot grass
Asterweed
Chickweed
---
Lawn Aeration
Help the roots of your grass access more nutrients and resources with our core aeration service.
It's disheartening to see your lawn struggle despite exhausting all efforts to strengthen it. Our core aeration is the answer you're looking for. Many lawns in McKinney, TX have clay soil, which can easily become compacted. When this happens, nutrients cannot easily reach the roots of your grass as the space between the soil particles is pressed together too much. When you schedule our core aeration service, we will pull cores of soil from the ground to loosen it and reduce compaction. When we aerate your lawn, the channels where nutrients, water, air, and sunlight pass through will open, and the roots of your lawn can easily access them again. The result is a thriving green lawn reinforced by essential nutrients and resources.
We offer core aeration in the spring and fall, but most homeowners in McKinney prefer scheduling it in the spring. That's because core aeration will make it easier for your lawn to absorb nutrients from fertilizer that was applied during the spring, fueling the growth of your lawn to start the growing season. Fall is good, too. Your lawn gets a lot of traffic during the summer, and fall aeration helps relieve the stress and compaction after this season.
We recommend scheduling our core aeration service once a year.
---
Lawn Insect Control
We offer lawn insect control to combat invasive and damaging insects like grubs, chinch bugs, and more.
McKinney is home to several insects that can destroy your lawn. At CitiTurf, we offer lawn insect control to protect your grass from damaging lawn insects like chinch bugs, Bermuda mites, and armyworms. We offer an effective curative treatment to eliminate ongoing infestations on your turf and stop these invasive pests from causing more harm to your grass. As soon as you see signs of damage on your lawn, we recommend calling our team as soon as possible so we can treat your lawn and help it get back to optimal health.
We also offer grub control to protect your lawn from extensive grub damage. Our preventative treatments stop grubs before they can even become a problem. If your lawn in McKinney is taken over by grubs, we are also ready to take them on with curative treatments. However, we highly recommend taking advantage of preventative grub control because nursing your lawn back to health after grub damage can be stressful and costly.
---
Lawn Disease Control
Our lawn care pros will clear any disease off your turf with our lawn disease control!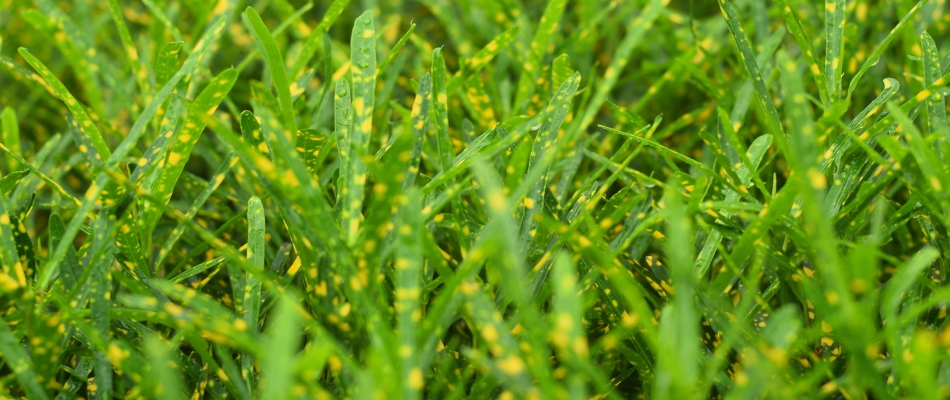 Lawn diseases can disrupt the health of your lawn and make it weak and unappealing. At CitiTurf, we offer reliable lawn disease control to target common lawn diseases in McKinney, like brown patch, gray leaf spot, dollar spot, and take-all root rot. With 17 years of experience, our lawn care professionals can determine what disease is affecting your turf and clear it off your lawn. What's more, we'll spot treat your lawn for free if the same disease that we've already treated pops up again in the same season.
---
Tree & Shrub Care
We provide tree and shrub care services to nourish and protect your plants.
Your trees and shrubs will also receive our team's unmatched care and attention! We offer the following tree and shrub care services to nourish and protect your plants in McKinney:
Tree & Shrub Fertilization: We'll give your plants essential nutrients to grow strong through deep root treatments every year.
Iron Treatments: Yellow leaves are often a sign of iron chlorosis in plants. Our iron treatments involve trunk injections or soil probes to deliver liquid iron to your plants, so they can regain their green color.
Tree & Shrub Disease Control: No sign or symptom of tree and shrub disease goes under our team's radar. We perform two monitoring visits to check your plants' health and ensure they are not under attack by any disease. If we determine that a disease is affecting your plants, we'll spray a liquid fungicide to eliminate the disease and preserve your plant's health.
Tree & Shrub Insect Control: Our treatments will protect your trees and shrubs from the damage caused by bagworms, crepe myrtles, spider mites, webworms, and emerald ash borers. Our fertilizer blend also contains a systemic insecticide to combat these pests.
We can also provide your palm trees with the nutrients they need to grow through our palm tree fertilization service.
---
Call our experts today to schedule our lawn care services!
Our team at CitiTurf offers expert lawn care services to residential properties in McKinney, TX. From fertilization to iron treatments for your trees and shrubs, we're glad to be of help. If you're looking for top-quality lawn care services that deliver reliable results, give our team a call at 972-516-0001 to schedule.