Sprinkler Repair Services in McKinney, TX
Our licensed technicians can help repair any and all irrigation systems!
Beginning as a rich agricultural center, no one could have known that the town of McKinney, TX would grow into the bustling city it is today, home to more than 195,000 diverse residents. To keep all these residents busy, McKinney is host to a number of recreational activities and events, including the annual Texas Music Revolution festival with incredible Texas and Americana artists in venues across the cultural district. If art and wine are more your speed, check out the Arts in Bloom festival, taking place in historic McKinney and featuring more than 120 juried artists posted up on tree-lined streets for an enriching experience all around. Don't fret – your furry family member hasn't been forgotten about either! The Krewe of Barkus parade is held annually, a Mardis Gras style parade showcasing all sorts of elegantly dressed pups.
We're honored to be able to provide the residents of McKinney, TX and surrounding cities with professional sprinkler repair services so they can enjoy these activities knowing that their lawn and landscape are well hydrated. Our repair service is multifaceted, including irrigation checkups, part repairs, and sprinkler system redesigns – whatever you need to get your hydration in peak condition! Call our team at 972-516-0001 today to schedule your next sprinkler repair service with our licensed technicians.
---
Irrigation Checkup
Our irrigation checkups involve a thorough review of zones, nozzle adjustments, and properly setting your controller.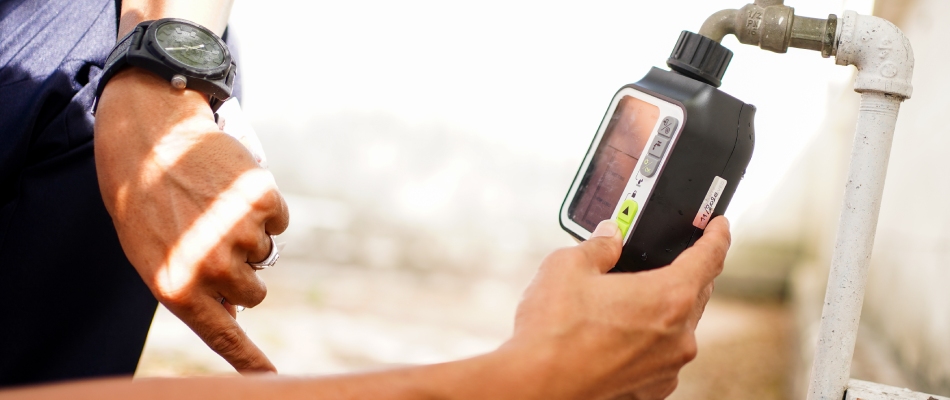 One of the most beneficial things you can do for your sprinkler system is to schedule our irrigation checkups. Our licensed technicians are familiar with every individual piece and part that goes into your system to make it function and have the well-trained eyes needed to spot problems before they balloon into headaches. Our irrigation checkup service includes:
A thorough review of zones: We'll run through each zone one by one to ensure that they're running as efficiently as possible.
Nozzle adjustments: For any sprinkler heads that are out of alignment, our team will adjust them to get them back into optimal position
Controller setting: Often, a maladjusted controller is the cause of lackluster irrigation. We'll help properly calibrate your controller, allotting the appropriate amount of watering time for each zone so they're suitably hydrated.
With our team on the case, you can be confident that any lurking issues will come to light during our checkup service so that they can be addressed ASAP by professionals. If a large problem jumps out at us at the start, like a faulty valve or leaking pipe, we may need to repair that before we can review your system as a whole. We'll be sure to cross our T's and dot our I's to get the full picture of your sprinkler system so that we know we're turning the system back to you in nothing but peak operating condition!
---
Irrigation Repair
We can repair any irrigation system's pipes, sprinkler heads, valves, timers, pumps, and more!
Our technicians are highly trained and experienced in a wide variety of irrigation systems – they've seen it all! No matter what part is acting up in your system, we know how to tackle the issue and get it resolved ASAP so that your landscape isn't going without hydration for long. We can repair:
Pipes
Sprinkler heads and nozzles
Valves
Controllers
Timers
Pumps
Backflow preventers
Rain sensors
Pipe fittings
...and more!
We are expert troubleshooters that can hone in on the problem area and quickly diagnose and create a solution for the issue at hand. We can even help locate cut cables with our wire locators for simple repairs! We're so confident in our ability to restore your sprinkler system to working order that we provide a full one-year warranty on all our parts and labor so you can feel secure in knowing that no matter what, with CitiTurf, you're covered.
Installing a pool? Our team can help reroute your irrigation system to accommodate your new summer hangout spot!
---
Irrigation Upgrade
Our team can redesign your sprinkler system to achieve efficiency and reduce water waste.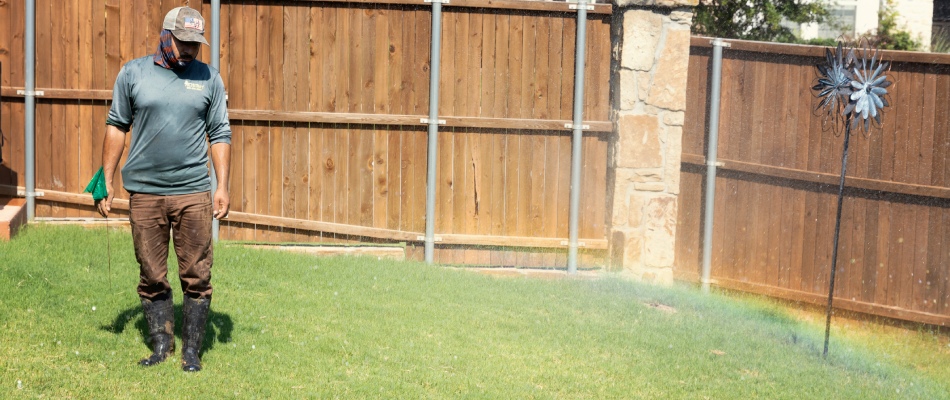 We've all seen the tragic sight of a lawn and landscape scorched by the Texas summer heat. This can even happen with a sprinkler system in place due to poor coverage and design – but you can prevent this from happening to your property with our irrigation redesign service!
Our experts will comb through all the details of your sprinkler system and the lawn and landscape it serves to come up with a meticulous hydration plan. We will ensure that each stem, leaf, and root receives every drop of water they need to thrive! We place an emphasis on providing balanced precipitation rates across all your sprinkler heads so no one nozzle is throwing out more or less than the others. We also account for all the moisture your soil may get throughout the year, ensuring that no water is wasted but that your plants never go without. It's this mindset that allows us to reduce water waste and provide highly efficient watering that will give your lawn and landscape complete coverage to protect against the summer heat.
We can also install a smart controller in your sprinkler system with a Wi-Fi connection. Our smart controllers will give you the ability to tinker and adjust your irrigation system right from your phone. A sudden change in the weather, but you're out on the town with family? No problem! Our smart controllers allow you to conveniently adjust your watering schedule on the go so that you never have to worry.
---
Ready to get started? Call our team today to schedule your next sprinkler repair service!
At CitiTurf, our #1 priority has remained the same throughout all 17 years that we've been in business: customer satisfaction. That's never going to change! We place customer satisfaction at the top of the totem pole simply because that's our bread and butter. We don't ever want to do work that is subpar or that doesn't produce the results that are going to spark joy. Not only do we ensure satisfaction by hiring only the best-in-the-business to service your irrigation systems, but we also make sure they understand the importance of customer service and communication so that your experience is flawless from start to finish. Our professional services are available to residential property owners in McKinney, TX and nearby cities. We'd love to optimize your watering next! Get in touch with our office by calling 972-516-0001 today and schedule your next sprinkler repair service!