Professional Mowing & Maintenance Services in McKinney, TX
Our maintenance services include lawn mowing, yard cleanups, leaf removal, mulch installation, and more!
McKinney is a gorgeous city in Texas and is the county seat of Collin County. If you are looking for things to do in McKinney, visiting Historic Downtown McKinney is an absolute must. This area features top-of-the-line restaurants, tons of places to shop, and a vibrant nightlife. If you would rather get out and enjoy nature, consider visiting the Heard Natural Science Museum & Wildlife Sanctuary. This breathtaking place features hiking trails, zip-lining, a ropes course, canoeing, and much more, allowing you to get out and soak up the natural beauty of McKinney.
Homeowners in McKinney, TX want their lawns to be just as beautiful as the city that they live in. That's where we come in! At CitiTurf, we offer lawn mowing and maintenance services that will keep your lawn looking neat and manicured throughout the year. The services we offer include lawn mowing, annual flower installations, trimming and pruning, leaf removal, yard cleanups, and mulch installation. Give us a call at 972-516-0001 to schedule any of our services for your property in McKinney today!
---
Lawn Mowing
Our lawn mowing service will keep your property looking great throughout the growing season.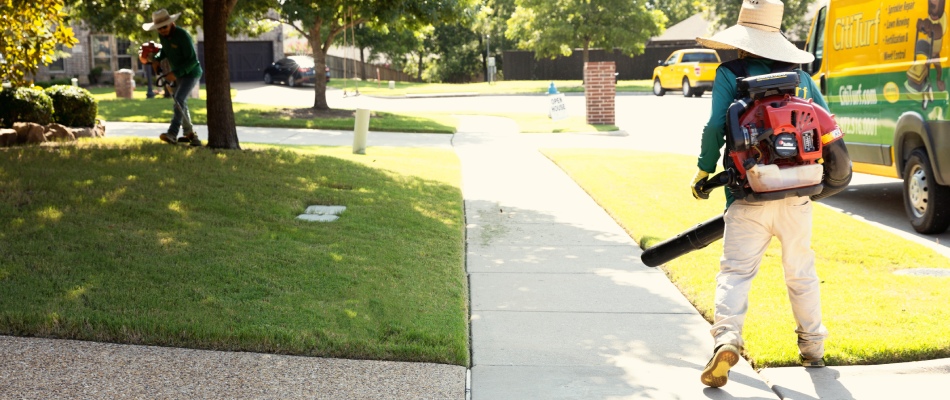 One of the most tedious, yet important lawn maintenance tasks that need to be performed throughout the year is lawn mowing. That's because a lawn that is consistently being mowed will look neat and manicured and will increase the overall curb appeal of the property. At CitiTurf, we can take this task off of your plate and put it onto ours when you sign up for our lawn mowing service. We offer our lawn mowing service starting in March and it will run until the second week of November, which is when we stop for the winter season. In March, we will mow your lawn every other week, and then increase the frequency of our mows to every week from April until mid-October as this is the prime growing season. As the weather starts to cool back down here in McKinney, TX we will switch back to bi-weekly mowing from mid-October until mid-November. In addition to just cutting your grass, our lawn mowing service also includes:
Edging - We will edge along the borders between your lawn and driveways, sidewalks, curbs, patios, and landscape beds to create a defined border that will make your lawn "pop."
String-Trimming - We will string-trim any hard-to-reach areas of your lawn including around trees, along fences, and near landscape beds to make sure that we cut every blade of grass on your property.
Blowing - We will use our blower to blow off grass clipping from your sidewalks, driveways, and any other hard surfaces to give your property a clean look.
We sharpen the blades of our lawn mowers every day to ensure that they give a nice, clean cut!
---
Annual Flowers
Add Color & Beauty to Your Landscape Beds by Signing Up for Our Annual Flower Installation Service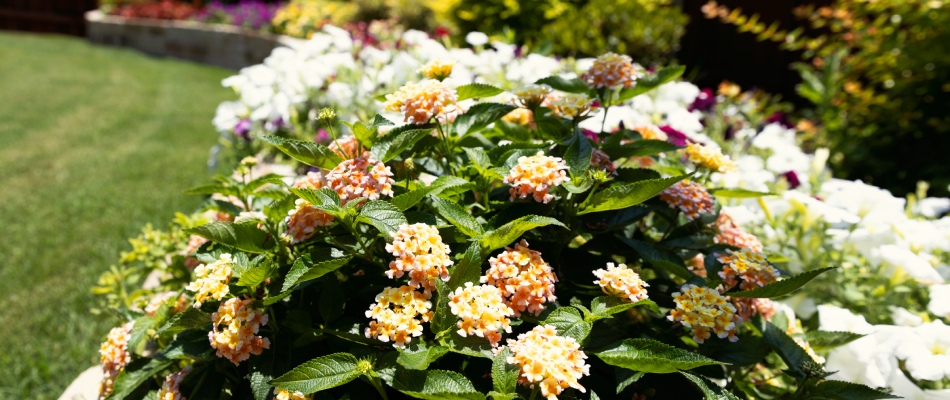 One of the best ways that you can add color and beauty to your landscape beds is by adding annual flowers to them. At CitiTurf, we offer our annual flower installation service in both the spring and fall seasons. When you give us a call, we will come out to your property to look at your existing landscape beds and help you select flowers that will complement the existing plants that you already have. We will take into consideration the amount of sunlight your new flowers will be exposed to, and help you choose flowers that will thrive in the McKinney, TX environment. We will also help you determine the placement of your flowers to create a perfect color balance and maximize the curb appeal of your landscape beds.
Some spring annuals we can install include:
Vincas
Pentas
Begonias
Zinnias
And more!
Some fall annuals we can install include:
Pansies
Dianthus
Snapdragons
Marigolds
And more!
---
Trimming & Pruning
Keep your plants healthy and looking their best with our trimming and pruning service.
Your trees and shrubs will need to be trimmed and pruned throughout the year in order to maintain their appearance and keep their health in check. At CitiTurf, we offer our trimming and pruning service to homeowners in McKinney, TX and throughout the surrounding areas. While the terms trimming and pruning are often used interchangeably, they are actually two different techniques that serve two very different purposes. Trimming is essentially a haircut for your plants. When we come out to trim your plants, our focus is to cut back any overgrowth and give them a clean and neat appearance. Pruning, on the other hand, is for health purposes. When pruning, we will take a close look at all of your plants and prune any parts that are diseased or infested with insects in order to stop the spread and preserve the health of your plants. We will only prune your plants if necessary, because pruning at the wrong time, or when your plants don't need it can be detrimental to the overall health of your plants.
Some common plants we regularly trim and prune include junipers, crepe myrtles, boxwoods, cedars, live oaks, and many more!
---
Leaf Removal
Achieve a leaf-free yard by signing up for our leaf removal service.
As beautiful as the fall season is here in McKinney, TX, it will inevitably leave your yard littered with leaves. While these leaves may look beautiful at first glance, they can potentially cause a ton of problems if they are not removed. Leaf piles can smother your grass, deprive your grass of nutrients, attract pests, and harbor mold and fungus. That's where our leaf removal service comes in. When you give us a call, we will come out to your property and collect all of the leaves and gather them at your curb. Then, we will use our vacuum truck to suck up the leaves and transport them off of your property to be disposed of. This way, you won't have to deal with any leaves or the problems that they can cause.
---
Yard Cleanups
Our yard cleanups are a great way to get your lawn looking its best!
If your lawn in McKinney, TX is littered with debris or has overgrown trees or shrubs, or if your landscape beds are filled with weeds, you'll want to schedule a yard cleanup. Our yard cleanups are designed to get your yard looking its best. When you schedule this service, we will:
Clean up any debris - When we arrive at your property, we will remove any twigs, branches, stems, and yard clippings to give your lawn a neat look.
Remove the debris we collected - We won't just collect the debris from your property and leave you to deal with removing it. Instead, we will bag it and remove it from your property, so you won't have to deal with it at all.
Trim and prune your plants - Our yard cleanups include plant trimming and pruning to improve the health and aesthetics of your trees and shrubs.
Remove weeds from your landscape beds - During our yard cleanups, we will inspect your landscape beds for any weeds and remove any that we find.
You can schedule our yard cleanups any time of the year, but the fall and spring seasons are the two most popular times to schedule!
---
Mulch Installation
Schedule our mulch installation service to enhance the aesthetics of your landscape beds and to provide your plants with protection.
Mulch plays an important role in your landscape beds for multiple reasons. For one, it increases the aesthetics of your landscape beds and can make your plants "pop." In addition to increased aesthetics, mulch also helps protect your plants by regulating soil temperature, preventing weed growth, reducing soil erosion, and more! At CitiTurf, we offer our mulch installation service to homeowners in McKinney, TX. We offer a variety of mulch types to choose from including:
Cedar
Shredded hardwood
Black mulch
Red mulch
We can install mulch in your landscape beds any time of the year, but we recommend installing it in the spring as it will help prevent springtime weeds from sprouting in your landscape beds. Over the course of the year, your mulch will start to decompose, so you'll need to replenish it once per year to ensure that it is providing all of the benefits that it should.
---
Give us a call today to schedule any of our mowing and maintenance services.
At CitiTurf, we are proud to offer our top-of-the-line mowing and maintenance services to homeowners in McKinney, TX and nearby cities including Plano, Allen, and Frisco. If you're ready to schedule any of our services, give us a call today at 972-516-0001. We look forward to working with you to help you achieve the beautiful yard that you deserve!