We offer pest control services to residential properties in The Colony, TX.
We have been providing pest control services to The Colony, TX since 2005.
The Colony, TX is a suburb of Dallas. This beautiful city is located right on Lewisville Lake, so you don't even have to leave The Colony to enjoy some incredible waterfront views. Take a stroll through the parks that are surrounded by the lake or take it up a notch and go boating and tubing on a hot summer day!
We absolutely love The Colony, TX. We are proud to serve the homeowners here with exceptional services that are backed by our warranties. We want nothing but the best for this community! We offer pest control services such as perimeter pest control, termite treatments, bed bug treatments, and more.
---
Perimeter & Interior Pest Control
We offer quarterly perimeter and interior pest control treatments.
At CitiTurf, we're passionate about helping you live completely pest-free in the comfort of your own home. Our perimeter pest control program is meant to do just that. With quarterly treatments, you can rest assured that you'll never be without protection from creepy crawlers like spiders, silverfish, and cockroaches. At each visit, our licensed pest control technicians will spray our products around the foundation of your home, creating a barrier that insects won't dare cross.
If you are experiencing an active infestation inside your home, we can help with that too. Our interior pest control treatments focus on eradicating the issue indoors while working in tandem with our perimeter pest control treatments to make sure that they don't continue coming indoors.
If you experience an issue with pests in between our quarterly visits, we'll re-treat for free.
---
Flea & Tick Control
Protect Your Home Against Fleas & Ticks
Flea and tick season here in The Colony lasts for a majority of the year. We'll keep your family and pets safe from these insects with our annual preventative treatment. All we need to do is visit one time each year and you can rest easy knowing that our treatments are doing the heavy lifting to keep your loved ones free of flea and tick bites.
We'll spray both inside your home and around your yard so that your entire property is protected. Our outdoor treatments are a liquid application while our indoor treatments are an aerosol mix that is applied to your carpets. Our flea and tick treatments come with a 30-day warranty.
---
Mosquito Control
Our mosquito control program includes monthly treatments from April to October.
As the weather starts to warm up, it's hard not to notice how the mosquito population starts to increase as well. Gone are the days of cutting the night short and heading indoors because you're tired of swatting away mosquitoes! Our mosquito control treatments will significantly reduce the mosquito population on your property so that you can enjoy the warm evenings for as long as you'd like!
Our mosquito control program starts in April and ends in October. We'll visit your property once a month to apply the treatment. Depending on the size of your property, we will either use a backpack fogger or a spray rig. If there are any heavily shaded areas on your property, we'll focus on these with our products as well as mix in an insect growth regulator. This is because these shady areas are where mosquitoes like to hang out the most! Rest assured, your entire property will be thoroughly protected.
---
Bed Bug Control
We offer thorough bed bug inspections and treatments.
Unfortunately, bed bug infestations happen from time to time. If you ever find yourself in this situation, we're here to save the day! Our experts will first conduct a thorough inspection and isolate the rooms that have been affected. Then, we'll spray our products in every nook and cranny that bed bugs tend to hide out. This includes the tiny space where your baseboard meets your carpet, around every piece of furniture like your nightstand and dresser, and under the faceplates of your electrical outlets. You can rest assured that we'll leave no spot unchecked or untreated.
After we treat the affected rooms, we'll schedule a time for us to return to check on the infestation. Typically, this is about two weeks post-treatment. At that checkup, we'll conduct another inspection. If we find more bed bugs, we will re-treat and schedule another checkup until the problem is fixed.
---
Chigger Control
Our Chigger Control Treatments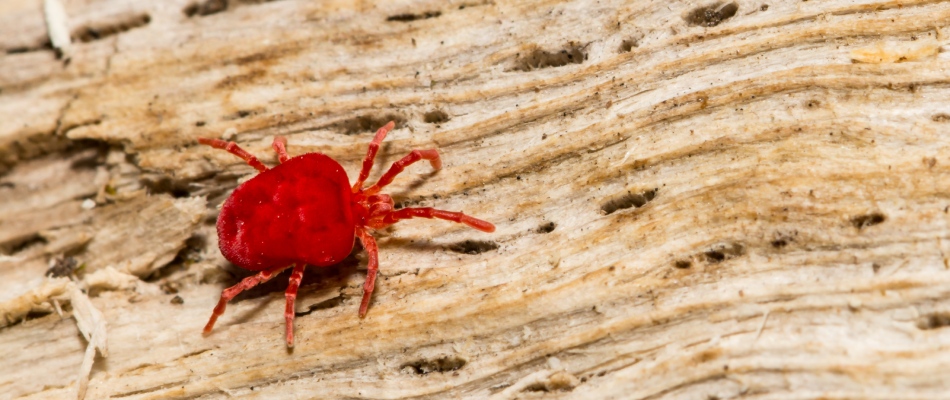 Our chigger control service includes 2 different treatment applications, 2 weeks apart. This ensures that we are able to control the chiggers on both sides of their egg cycle. Typically, we'll apply these treatments in April or May because this is typically when chiggers start to appear in our lawns here in The Colony. Once we finish up our second round of treatment, that's it! Active chiggers on your property will be taken care of and any eggs in your soil will be taken care of as well.
Our chigger control treatments come with a 30-day warranty.
---
Fire Ant Control
Our fire ant treatments are both preventative and curative.
Fire ants are extremely common in The Colony. Whether you are looking to combat an active infestation in your yard with a curative treatment or you want to get ahead of the game and prevent them before they find their way to your property, our fire ant treatment is for you.
This is an annual treatment that will handle all active fire ant mounds on your property as well as cover the rest of your yard to prevent any more mounds from forming. This treatment comes with a 1-year warranty. Give the treatment about 4-6 weeks to fully activate and then, if you see any mounds after that time period, we'll come and re-treat for free.
---
Rodent Monitoring
We use bait stations to get rid of rodents in your home.
It's no fun when a rodent finds its way inside your home. We can set up bait stations to take care of this issue for you! We'll set these bait stations up around your property, ensuring that they are secured against something like a landscape rock and locked up with a special key. This prevents non-targeted animals from having access to the bait.
We'll return either monthly or bi-monthly, depending on your preference, to check the bait stations and replace them if needed. We also offer the option to add our rodent checkups to our perimeter pest control program, in which case, we'd return quarterly.
---
Termite Control
We conduct thorough inspections with our termite treatments.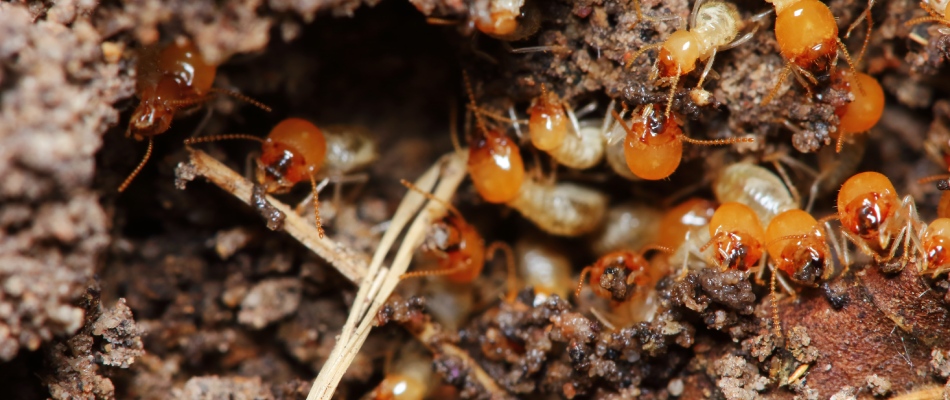 It is extremely important to stop termite damage as soon as possible. Our crew will conduct an extremely thorough inspection, both inside and outside your home. This will tell us exactly where the termites are an issue. From there, we'll treat your home. This can be an independent treatment, however, we recommend that you sign up for our yearly inspections. By doing so, you'll typically also receive a lifetime warranty on your home. If we find termites at any of our yearly inspections, we'll apply treatment for free.
---
Call us at 972-516-0001 to sign up for our pest control services for your property in The Colony, TX.
We take care of pests like spiders, termites, bed bugs, and rodents so that you don't have to. You can rest easy knowing that all of our pest treatments come with a warranty, meaning that our services are risk-free! We proudly serve The Colony, TX community. If your home is located nearby, call us today at 972-516-0001 to sign up for our pest control services.