Lawn Mowing & Maintenance Services in Sachse, TX
Our maintenance services include mowing, mulch installation, leaf removal, and much more!
Sachse is a tranquil slice of heaven in Texas, home to around 27,000 residents. Time here is spent the old-fashioned way, with good food and drink, making memories with loved ones. A perfect example is the annual Red, White & Blue Blast, where residents come together to celebrate their patriotism with live entertainment, food trucks, vendors, games, and fireworks. For a more casual day in Sachse, you can always stop by the Michael J. Felix Community Center which features a walking track, courts for pickleball and basketball, and game room activities like air hockey and ping pong!
We are honored to provide top-notch lawn mowing and maintenance services to homeowners in Sachse, TX and the surrounding cities! Our maintenance services include mowing, annual flower planting, trimming and pruning, leaf removal, yard cleanups, and mulch installation. If you're ready for your well-manicured property to be the talk of the neighborhood, call our team at 972-516-0001 today to schedule your next service!
---
Lawn Mowing
When we mow your lawn, we'll also string-trim, edge, and blow for a finished look!
Keep your lawn well-manicured without lifting a finger by enrolling in our lawn mowing program! Our crew will professionally mow your lawn, taking into consideration the season and your grass type to cut the grass at the optimal length year-round. We sharpen our blades every morning to ensure that our mowers produce only clean cuts that not only look better but are more beneficial to your grass.
Our lawn mowing service also includes:
String-trimming: We will tidy up all the areas that the mower couldn't reach, creating an even mow even around obstacles like fences, delicate plants, or tight nooks and crannies.
Edging: Our team will use a steel-bladed edger to create clean lines around sidewalks, driveways, landscape beds, and other areas that meet the lawn's perimeter.
Blowing: Once we're through, we'll blow off all the sidewalks, driveways, curbs, patios, and more to add the finishing touch!
---
Annual Flowers
Our team can spruce up your property by planting annual flowers.
If you've ever wanted to spruce up your landscape beds but didn't know where to start, our annual flower service is for you! Our white-glove service will take care of everything on your behalf, with our experts taking every detail into consideration so that you're left with nothing but a perfect result at the end.
We'll survey your property and design an annual flower arrangement that not only complements the current landscaping elements you have but is beautiful in its own right. We'll also take into account how much sunlight your landscape beds get to ensure that the plants we install will thrive! When we install your annual flowers, our crew will make certain that they're planted at the right depth in the soil. Once planted, we'll refill the holes with nutrient-packed compost to kickstart their growth!
---
Trimming & Pruning
We'll keep your trees, shrubs, and hedges in stunning condition with trimming and pruning.
Regular maintenance is just as important to your landscaping plants as it is to your lawn! Our trimming and pruning service can help keep your trees and shrubs in beautiful condition. We'll keep your plants scaled back appropriately so they don't encroach on the space of the rest of your plants while also encouraging health, beauty, and long-term vitality!
Our designated trim crews are experts in trimming and pruning. They're intimately familiar with the various shrubs, hedges, and trees in our area so that whatever your landscape features, we can handle it with ease. When we trim, we'll be maintaining the optimal size and shape of the plant. When we selectively prune, we'll focus on removing any parts of the plant that are diseased or dying. Our goal is to make your landscape look well taken care of and position it for long-term success!
---
Leaf Removal
Schedule our professional leaf removal service to cross raking off your to-do list!
While leaves may look beautiful for a time, they can pile up and cause long-term complications on your lawn. The perfect answer to this problem is scheduling our professional leaf removal service! Our team will gather up all the leaves on your property and clear them out so you can get back to enjoying a leaf-free yard. Our process varies depending on the size of your property.
For smaller properties:
Our team will clear out a designated area of your yard and place down a large tarp.
We'll blow or rake all the leaves on the property, collecting them on the tarp we laid down.
With all the leaves collected, we will use the tarp to carry them to the curb in one fell swoop.
Our vacuum truck will suck up all the leaves, leaving no trace of leaves behind!
For larger properties:
The crew will blow all your leaves into large piles on your curb.
Once done clearing the entire property, our vacuum truck will swing by and suck up the leaf piles for a mess-free cleanup.
---
Yard Cleanups
Our team can make your property pristine with our yard cleanups, involving plant trimming, landscape bed weed removal, and more.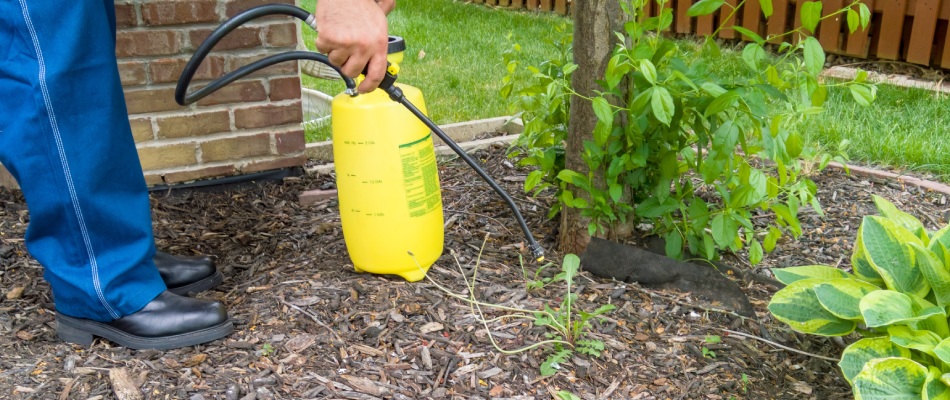 With each season comes its own set of challenges, and often that can arrive in the form of plants shedding leaves or branches, weeds growing, and other things that will require maintenance. Our yard cleanups will cover all this and more so that you don't have to!
Our cleanups include:
Plant trimming: Our crew will make sure that all your landscaping plants are well-shaped and remedy any that have become overgrown.
Plant prune: Post-trimming, we'll review small plants for any diseased or dying sections that would benefit from pruning.
Landscape bed weed removal: We'll eliminate any pesky weeds that have tried to make your landscape beds their new home!
Debris cleanup and removal: All the shedded leaves, branches, stems, and yard clippings on your property will be gathered up and disposed of by our team.
Our yard cleanups are available year-round, but the most popular times of year to schedule them are spring and fall!
---
Mulch Installation
We can install fresh mulch in your landscape beds.
We can refresh your landscape beds with mulch installation! Our team can install a variety of mulch types to suit any style preference, including cedar, shredded hardwood, black, and red mulch. Our experts will help you decide which will work best in your landscape, considering the color scheme of the plants there as well as how quickly the mulches break down, withstand sun exposure, and more.
Once we've selected the perfect mulch for your landscape beds, our team will get to work, ensuring that the thickness of the mulch is just right. The sweet spot is around two to three inches thick as that will be thick enough to improve moisture retention in the soil and choke out weeds that may be reaching for sunlight, but not thick enough to cause complications for the plants you want to thrive. We'll leave you with beautiful landscape beds and plants set up for success!
---
Call our team today to schedule your next lawn mowing or maintenance service!
At CitiTurf, we believe in customer satisfaction above all else. For that reason, not only do we strive to leave no stone unturned and produce the highest quality results possible, but we back all our services with a 100% money-back guarantee. If our work isn't spotless, we will not rest until we complete it to perfection! If we can't bring it up to our expectations and yours, we'll pay another company of your choice to fix the issue. The best thing about this guarantee is that you won't ever need to use it, because we do everything right the first time around – that's how confident we are in our services. Let us show you what that looks like! If you're a homeowner in Sachse, TX or a nearby city, call our team at 972-516-0001 today to schedule your next lawn mowing or maintenance service.