We provide lawn mowing and maintenance services for homes in Plano, TX.
We work tirelessly to maintain your lawn's neat and pristine aesthetics.
The city of Plano in Northern Texas is located below Frisco and Allen and beside Murphy. With booming and thriving cities around it, there's no doubt this city is as vibrant and prosperous. There's so much to explore here, and a great way to start is by visiting the Crayola Experience. This attraction features colorful activities that will bring out your creativeness! Oak Point Park is also a must-visit place as it boasts Go Ape, the state's first treetop adventure with exciting rope ladders, zip lines, obstacle courses, and many more. After a full day of fun here, the park features 800 acres of nature's striking beauty where you can slow down and rest for a while.
At CitiTurf, we're happy to do our part to create more aesthetically pleasing properties in Plano by helping homeowners here keep their lawns pristine and neat. Our tireless team offers exceptional lawn mowing and maintenance services like mulch installation, annual flower installation, yard cleanups, and more.
---
Lawn Mowing
Our lawn mowing service maintains the pristine look of your grass.
Keeping your lawn's pristine appearance is the goal of our lawn mowing service. Routine lawn mowing is a tough job to do under the heat in Plano, so we're here to ease your stress. We will mow your lawn in March until mid-November, making sure we adjust the mowing height depending on the season. Our team knows the ideal mowing height in the spring, summer, and fall to help keep your lawn in tip-top shape. During our mowing visits, we'll arrive at your property equipped with sharp blades on our lawn mowing equipment to prevent damaging your grass.
Our crew strives to exceed your expectations in everything we do. That's why each of our mowing visits will include weed-eating to eliminate the grass blades in hard-to-reach areas on your lawn. We'll also handle edging the borders of your lawn for a sharper look and blowing the grass clippings off your walkways and driveway.
---
Annual Flowers
Give your yard a pop of color with gorgeous annual flowers.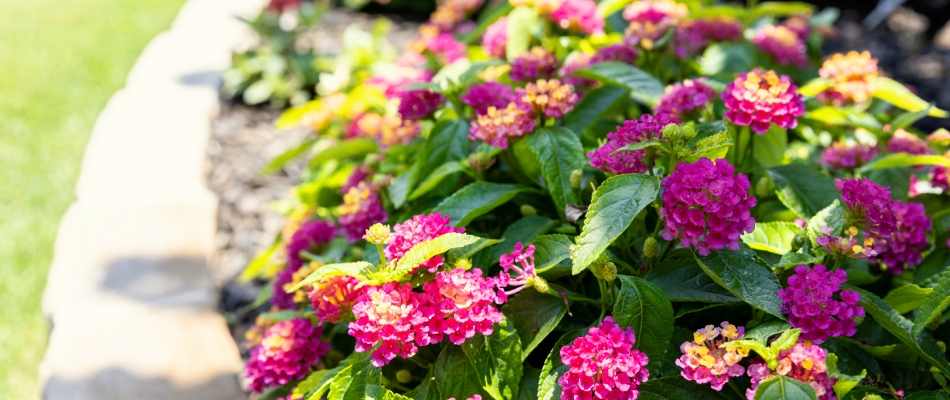 Annual flowers are an excellent addition to your property in Plano, TX. We can install them in your yard for a much-needed pop of color that makes you look forward to coming home. When we install your annual flowers, our creative experts will place them in areas where they can access the resources they need to thrive while ensuring their beauty stands out and works well with your landscape. You don't have to lift a finger when working with our crew. From picking up the flowers to arranging them and planting them on your property, we'll handle it all. Once we install your desired annual flowers, we will add a compost jam-packed with nutrients and laced with fertilizers to kickstart their growth.
Many annual flowers thrive in the Plano area, and we'll help you choose what complements your home! We install annual flowers in the spring and fall. Depending on when you schedule it, here are some of the annuals that we can plant:
Vincas
Begonias
Hibiscus
Pansies
Alyssum
---
Trimming & Pruning
Trimming & Pruning Keeps Your Plants Healthy & Neat
Aside from nourishing your plants with nutrients, routine maintenance is also necessary to keep them in tip-top shape. We can help with our trimming and pruning service. Trimming your trees, shrubs, and hedges ensures they look sharp and manicured, but it has to be done properly and precisely. At CitiTurf, our experienced trim crews pay great attention to detail when trimming your plants to ensure they look neat and well-maintained while keeping their health and vigor in mind. If your plants seem distressed, we can perform selective pruning and remove the weak branches to preserve and prolong their health.
We offer two trimming and pruning options. You can schedule it as a one-time service, and we'll dispatch our crew once to trim and prune your plants. If you want us to maintain your plants all year long, you can take advantage of our reoccurring trimming and pruning service.
Our team removes the clippings after we trim and prune your plants to keep your yard neat.
---
Leaf Removal
Our leaf removal keeps your yard free from unappealing leaf piles.
Without a doubt, the fall season in Plano is beautiful. However, this season also comes with fallen leaves that make your yard look messy. That's where our leaf removal comes in. We will remove the large leaf piles by raking them into a tarp and carrying it to the curb to be hauled away. For larger properties in Plano, our leaf blowers make the job easier and more efficient.
After raking or blowing the leaves to the curb, our vacuum trucks will suck up the leaf piles and haul them away. This way, you won't be left looking for ways to get rid of them from your property. Once we're done, there won't be any more leaves on your property that can host pests and diseases. Leaf removal also helps prepare your lawn for the winter by ensuring there are no obstructions that will hinder your grass from absorbing much-needed resources before it goes dormant.
---
Yard Cleanups
We offer our yard cleanups in the spring and fall.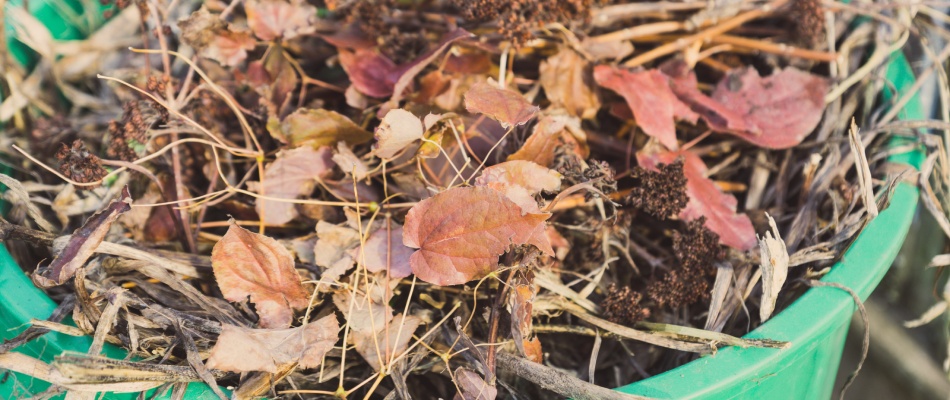 Our yard cleanups are essential for keeping your lawn and landscape in shape. The transitional periods between each season can take a toll on your yard, but we're here to ensure your yard in Plano is always at its best. We provide this service in the spring and fall to help your yard enter and bid goodbye to the growing season. When you schedule our yard cleanups, we will perform these services to maintain your yard's manicured aesthetics and tip-top health:
Clean up debris like twigs, branches, stems, and yard clippings
Remove the accumulated debris from your property
Eliminate weeds growing on your landscape beds
Trim your plants to restore their neat appearance
Inspect your plants and prune any vegetation that needs it
---
Mulch Installation
Our Mulch Installation Service Helps Protect Your Plants & Keeps Your Landscape Beds Neat
While your plants and flowers look exceptionally beautiful, moving your eyes a little lower will reveal bare dirt that looks unappealing. The answer is to cover the soil on your landscape beds with mulch for the perfect finishing touch! Our mulch installation service utilizes various mulch options to make your landscape plants stand out. When we install mulch on your landscape beds, we make sure to install a layer that is about 2 to 3 inches thick. This is the ideal thickness to prevent suffocating your plants while ensuring you get the most out of its benefits, like regulating the soil temperature to protect your plants, preventing weed growth, and reducing soil erosion.
One benefit that homeowners in Plano love about mulch is that it absorbs and retains moisture in the soil, which prevents your plants from drying out in the summer. Because of this, we recommend scheduling our mulch installation in the spring so it can retain the water and moisture during this season for longer.
We leave a 1-inch gap around the base of your plants when installing mulch so they can still access nutrients and other vital resources.
---
Call our crew today to schedule our lawn mowing and maintenance services!
Our team at CitiTurf is proud to provide homeowners in Plano, TX the lawn mowing and maintenance services they need to keep their residential property looking excellent throughout the year. More than that, we take pride in delivering reliable results to our clients since 2005. If you want your lawn taken care of by the experts, call our crew today at 972-516-0001 to schedule our lawn mowing and maintenance services.