Professional Sprinkler Repair Services in Plano, TX
We can repair pumps, timers, controllers, and much more!
Plano, TX is a vibrant city that is located in both Denton and Collin counties. Residents love this city because even though it has a population of over 280,000 people, it still has that small-town feel to it. It is also just a short 30-minute drive away from the Dallas-Fort Worth metropolitan area, which is perfect for people who want to experience all of the benefits that come along with living near a big city. If you're looking to get out and explore the outdoors in Plano, you can visit the Arbor Hills Nature Preserve. This 200-acre preserve features hiking trails, biking trails, an observation tower, a covered pavilion, and much more! This preserve is also home to an abundance of wildlife including birds, deers, coyotes, snakes, rabbits, and more.
At CitiTurf, we offer sprinkler repair services to help homeowners in Plano keep their lawns hydrated and beautiful. Our sprinkler repair services include checkups, repairs, and system redesigns. It doesn't matter what type of system you have, because we can repair any type and any brand! We also offer a 1-year warranty on any parts that we replace, as well as on our labor. Give us a call today at 972-516-0001 to schedule our sprinkler repair services.
---
Irrigation Checkup
Our licensed irrigation technicians can perform a checkup on your sprinkler system to see if any repairs are needed.
If you suspect that your system isn't functioning properly, we can perform a comprehensive checkup on your sprinkler system to determine if there are any issues with your system that need to be dealt with. We'll send out a licensed irrigation technician who will take a look at all of the zones of your system to make sure that your system is running as it should be. During this checkup, we can make small adjustments if needed such as adjusting your sprinkler nozzles or setting your system's controller so that each zone is receiving the appropriate amount of water. If we determine that your system does require some repairs during our checkup, you can feel confident that we'll be able to perform any necessary repairs to get your system working as efficiently as possible.
---
Irrigation Repair
We can repair any part of your sprinkler system.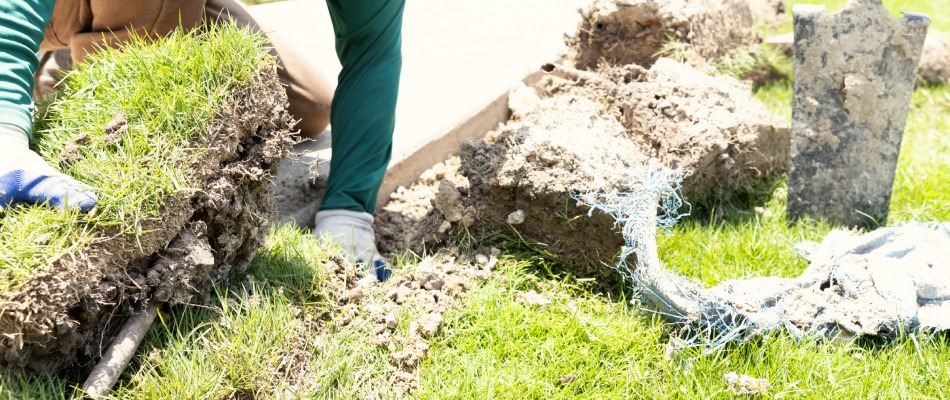 Sprinkler systems are composed of many different parts that all work together to properly hydrate your lawn. While these systems can be very complex, we have licensed irrigation technicians who understand how every component of these systems works and they can perform any repairs that are needed. When you give us a call, we'll come out to your property to troubleshoot your system to determine exactly what parts of your irrigation system are not functioning properly. Once we determine what the issue is, you can count on us to perform the necessary repair perfectly so that your system will be back up and running at 100%. Some common parts that we repair include:
Pumps
Timers
Controllers
Fittings
Backflow preventers
Rain sensors
Sprinkler heads and nozzles
And more!
In addition to just making repairs, we can also reroute your irrigation system to accommodate a pool installation and locate any cut cables.
We can install smart controllers that can be connected to WiFi, allowing you to control your sprinkler system from your phone.
---
Irrigation Upgrade
We can redesign your current sprinkler system.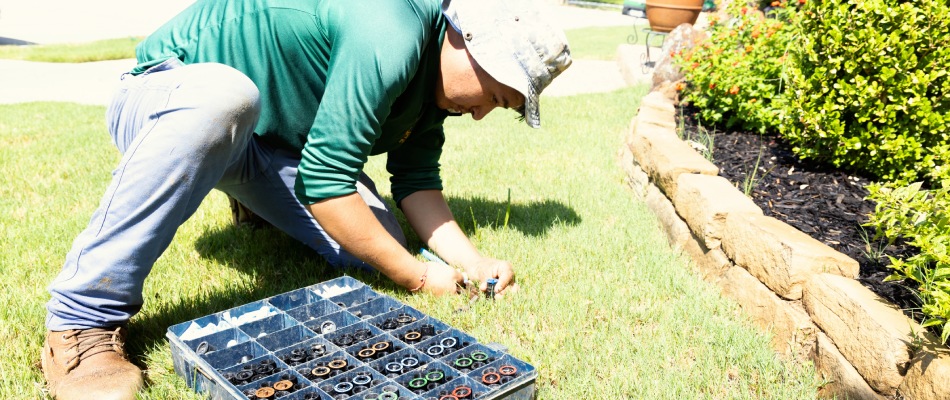 Unfortunately, over the past 17 that we've been in business, we've seen a lot of sprinkler systems that were poorly designed. If your system wasn't designed correctly, it may not be providing enough water coverage to every area of your property. When certain parts of your lawn aren't receiving the proper hydration, they can turn brown and even die with the high temperatures we experience in Plano, TX. At CitiTurf, we can redesign your current system to ensure that every part of your lawn and landscape is receiving enough hydration. Another benefit that comes along with having us redesign your irrigation system is that we will make your system operate as efficiently as possible. When your system is operating efficiently, it will reduce the amount of water that is being wasted, which can lead to lower water bills for you!
---
We can repair any sprinkler system regardless of the type or brand.
At CitiTurf, we have seen it all when it comes to sprinkler systems. We've worked on pretty much every type of sprinkler system and almost every brand as well. So, if your system needs any type of repair, you can feel confident that we'll be able to handle it. Unlike some companies that limit themselves to only working with certain types or brands, we wanted to make sure that we could help out any homeowner in Plano, TX who needed our services, so we learned to perform repairs on all types of systems.
All of our employees undergo regular training, so you can be sure that they are up to date on all of the best practices when it comes to repairing sprinklers.
---
1-Year Warranty
Our sprinkler repairs come with a 1-year warranty.
At CitiTurf, we are more than confident in our abilities to repair any component within your sprinkler system. In fact, we are so confident in our abilities, that we offer a 1-year warranty on any part that we repair or replace, in addition to the labor. That way, when you turn to us to perform any repairs, you can rest easy knowing that your system will be running perfectly for at least a year or we'll come back out to fix the issue at no additional cost. We can't warranty your entire system because we were not the company that installed it. However, our warranty does cover every part that we installed ourselves!
---
If your sprinkler system isn't running right, it's time to give us a call to schedule our sprinkler repair services.
If your sprinkler system is not running correctly, we are the company to turn to. Our licensed technicians can perform a checkup on your system and they have the ability to perform any necessary repairs regardless of the brand or type of sprinkler system you have. We also back all of our repairs with a 1-year warranty! If you live in Plano, TX or a surrounding city like Allen, Frisco, McKinney, or Murphy, our sprinkler repair services are available to you! Give us a call today at 972-516-0001 to schedule our sprinkler repair service. We look forward to working with you to get your irrigation system back up and running as efficiently as possible.