Professional Lawn Care Services in Murphy, TX
We've been helping lawns thrive since 2005!
Murphy, TX is a beautiful, family-focused city that is home-sweet-home to around 21,000 residents. With many different parks available to lay out a blanket on a Saturday for a picnic and Moonlight Movies on Friday nights featuring popular children's flicks, there are plenty of fun family activities to fill the time and make priceless memories with loved ones. Of course, there are also tons of unique shops, great restaurants, and even music festivals throughout the year!
We're proud to provide expert lawn care services to the homeowners in Murphy, TX and nearby cities. Our broad range of lawn care services includes fertilization, weed control, aeration, lawn insect control, lawn disease control, and tree and shrub care! Call our team at 972-516-0001 today to schedule your next service.
---
Lawn Fertilization
Our fertilization program will nurture your lawn with eight total visits.
We can nurture your lawn with all the nutrients it needs to thrive with our fertilization program! This plan encompasses eight total visits to your property to ensure that your lawn has full-coverage nourishment from start to finish, supporting it through the seasons! Our technicians will create a custom plan specific to your lawn's needs rather than just applying a one-size-fits-all bandaid. We have several different fertilizers in our arsenal and that's what makes such a difference in lawns cared for by us! Our fertilizers include three main nutrients that bolster your lawn's health:
Nitrogen: If you're looking to add rich green color to your lawn, nitrogen is the ticket! Our fertilizer will include this nutrient so that your grass blades can develop vibrant color that makes your lawn the talk of the neighborhood.
Phosphorus: Phosphorus will help strengthen your lawn from the ground up, encouraging the development of a strong root system that your grass can rely on in difficult times.
Potassium: This will enable your grass to have better results when absorbing water and other nutrients, making your lawn more resilient!
---
Weed Control
We can keep weeds at bay with our weed control program!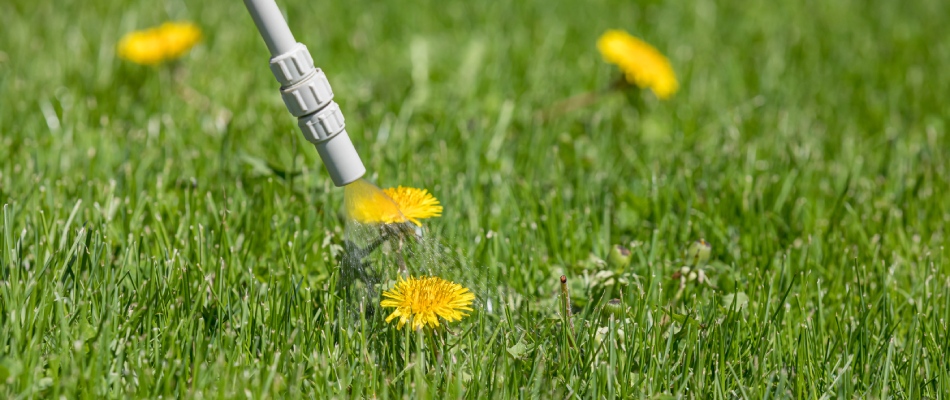 Letting weeds run rampant in your lawn is like having a permanent disadvantage on the overall success of your grass. Our weed control program will ensure that your lawn is protected against the threat of weeds that would love to steal away vital nutrients and crowd out your grass. Our program includes eight total visits to your property with three pre-emergent treatments that are going to do the heavy lifting of weed prevention. The vast majority of weeds will never even see the light of day with these pre-emergent treatments in place! For any that do sneak on by, our subsequent visits will snuff out their attempts at a takeover before they even get a foothold in your lawn.
---
Core Aeration
Our Core Aeration Service
Our team can perform core aeration to rejuvenate your lawn's foundation! Soil can become compacted over time and start to stifle growth in your lawn, but the mechanical process of core aeration is the swift remedy for compacted soil. We'll pull cores out of your lawn, effectively loosening the soil and creating new roadways for air, water, and nutrients to reach the deep roots of your grass. The end result of this service is a stronger root system, which rewards your lawn in dividends with enhanced vigor, top growth, and more!
---
Lawn Insect Control
We can defend your lawn against grubs, chinch bugs, armyworms, and more.
Prevent grubs from feeding on the roots of your grass with our preventative treatment, applied in late spring/early summer. If you missed the time slot for grub prevention and start to see some signs of grub damage, we also have curative treatments to protect your lawn from further damage. Additionally, we offer highly effective curative treatments to combat other common pests that torment lawns in our area, including:
Chinch Bugs
Bermuda Mites
Armyworms
and more!
Our lawn insect control is comprehensive, taking the legs out from under pest infestations and breaking their repopulation cycle so that your grass can take a breather. Our defense will get the infestation under control so your lawn can focus on recovery rather than survival!
---
Lawn Disease Control
Our Lawn Disease Control Services
We want to help protect your lawn from all health threats, and that extends to lawn diseases. As soon as you spot a problem, we'll be at the ready to tackle the issue head-on with our control services and prevent the lawn disease from doing further harm to your grass. We commonly see brown patch in the fall, gray leaf spot and dollar spot over the summer months, and take-all root rot around late spring – so no matter the time of year, our experts are tuned in to the seasonal challenges that lawns are facing in our area. We will quickly assess and identify the fungus at hand to deliver a targeted, thorough treatment of fungicide that knocks out disease!
---
Tree & Shrub Care
Our professional tree and shrub care includes fertilization, disease treatments, insect control, and more.
Your lawn isn't the only plant on your property that needs some TLC! We can unlock the full potential of your trees and shrubs with our extensive care plans made just for them. Our tree and shrub fertilization package includes a deep root treatment that will deliver key resources directly to the deep roots of your landscaping plant. From there, the nutrients will be distributed throughout the rest of the plant, feeding each stem, branch, and leaf. We'll return twice more to your property to check in on the status of your landscaping plants, ensuring that any health concerns are addressed early and efficiently.
If our technicians notice there is an issue with any tree and shrub diseases or insects, they won't hesitate to alert you and take action. Basic treatments with a backpack sprayer are covered in your plan, but we also offer additional in-depth treatments so that no matter the situation, you can count on us to get it under control. We can help battle bagworms, spider mites, emerald ash borers, crepe myrtle bark scale, and more!
Our iron treatments can also help reinvigorate a tree or shrub that is looking lackluster! Iron deficiency usually presents as yellowing leaves with green veins, so if you're seeing this on your trees or shrubs, don't hesitate to schedule our service. We'll give your tree an iron supplement to help balance its iron stores so it can thrive!
---
Call our team today to schedule any of our expert lawn care services!
At CitiTurf, we believe the strong foundation of high-quality results lies in the knowledge of our professionals. We provide in-depth training to our new employees and ongoing training to ensure that they are not only knowledgable about all the basics, but up-to-date on the latest industry news and trends. Our team members can leverage this extensive understanding to better assess the unique needs of your lawn, producing optimal results! Our services are available to residential property owners in Murphy, TX and surrounding areas. If you're ready to see your lawn reach its full potential, get in touch with our office by calling 972-516-0001 today to schedule any of our lawn care services!