Sprinkler Repair Services in Murphy, TX
Our technicians are fully licensed and insured so you can be confident in our services!
A beautiful suburban city outside Dallas, Murphy, TX is home to around 21,000 people that enjoy the city for its plentiful parks, outdoor activities, and restaurants. One of the most iconic festivals in the city is the annual Murphy Maize Days celebration which features live music, great food, unique vendors, a specialty zone for kids to play, and more. With other kid-friendly annual events like Daddy Daughter Date Night, Mother-Son Extravaganza, and Christmas in the Park, Murphy is the perfect place to raise a family!
Our team provides expert sprinkler repair services to the homeowners in Murphy, TX to help them achieve the well-hydrated lawns and landscapes they deserve. Our sprinkler repair service has many faces to suit your needs, whether that's a general irrigation checkup, repair of a specific part in the system, or a complete redesign to optimize your watering – we can do it all! Call our team at 972-516-0001 today to schedule!
---
Irrigation Checkup
We can perform a comprehensive irrigation checkup to optimize your sprinkler system's efficiency.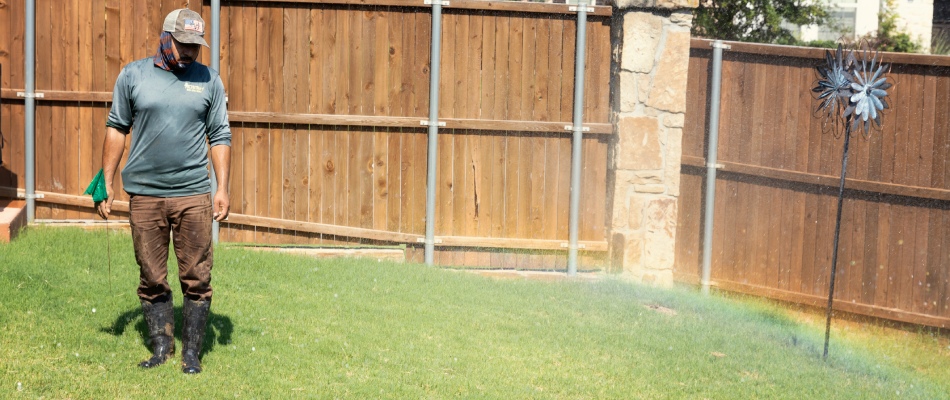 Don't let your sprinkler system go unchecked – that can result in small issues and easy fixes evolving into big problems and headaches! Our irrigation checkup service will ensure that your system is not only in perfect working order, but that it fulfills all the needs of your lawn and landscape. Our licensed irrigation technicians will survey your system in its entirety, leaving no stone unturned. To make sure we have a clear view of every element, we may need to make larger repairs first like a faulty valve or leaking pipe so that we can see what's going on underneath the surface issues.
Our team will run through each irrigation zone on your property and analyze the coverage of the zone and water optimization. For any nozzles or sprinkler heads that have come out of alignment, we'll readjust to achieve perfect placement and efficacy. We'll also review your controller settings to make sure they're properly calibrated with the necessary watering time each zone needs to thrive.
With a full assessment conducted on your system, our team – and now, you – will have a finger on the pulse of your sprinkler system's operation. If there are any problems that we see or parts that need to be replaced, we'll let you know and provide you with the next steps so that your sprinkler system is optimized for maximum efficiency and efficacy!
---
Irrigation Repair
What parts can we repair in your sprinkler system?
With so many different irrigation systems, brands, and parts out there, you may be nervous that we aren't able to help yours. Never fear! Our professionals can work with any type of sprinkler system and can repair just about any part that could possibly develop an issue. For systems that have an issue with the parts, we're experts at troubleshooting and sniffing out the source of an issue so we can develop a targeted repair plan that gets your system back up and running in no time. We are well-versed in all types of issues with pipes, sprinkler heads and nozzles, valves, timers, rain sensors, controllers, backflow preventers, and about anything else you can think of.
In short, if your sprinkler system has an issue, we're the ones to call! Even if you're installing a new pool for some wonderful summer fun, we can reroute your irrigation system to accommodate the space for it. We'll ensure that your sprinklers are in peak operating condition after the rerouting so that your lawn and landscape are hydrated and thriving, setting the perfect backdrop for that new pool! We want you to feel as confident in our abilities as we do, so we back all our parts and labor with a full one-year warranty.
Our team can locate cut cables underground with our wire locators for a swift repair!
---
Irrigation Upgrade
Our professional team can redesign your current sprinkler system to create balanced precipitation rates, efficient watering, and more.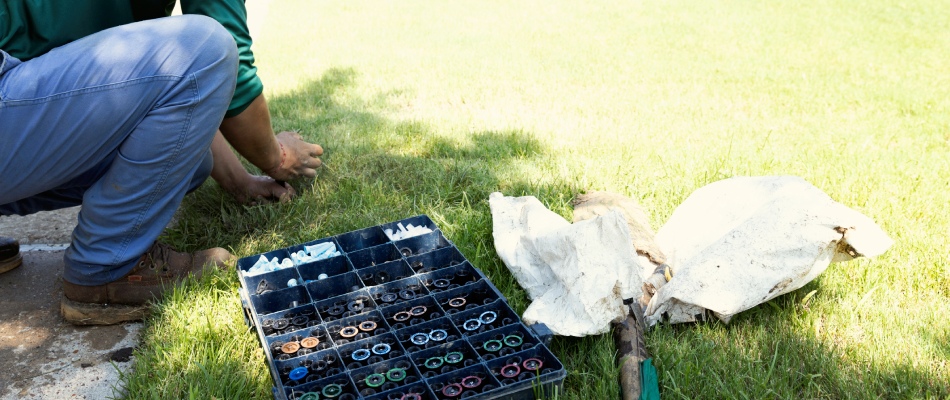 Irrigation design is a precarious science, and oftentimes we see properties suffering from improper design and poor coverage. Our sprinkler system redesigns can get these systems back into shape and operating flawlessly! We have a deep understanding of the unique hydration needs in our area, especially as our lawns and landscapes face the brutal summer heat. A poorly designed irrigation system can not only be ineffective in this time but borderline harmful in and of itself if it is overwatering areas! We'll make sure your property is never a victim of this by focusing on the following core elements of irrigation design:
Balanced precipitation rates: Our team will ensure that each nozzle and sprinkler head is throwing out the same amount of water over time, creating a balanced rate of precipitation across your lawn and landscape.
Efficient watering: We'll consider natural moisture in your soil to make sure that your sprinkler system is adjusted accordingly, not watering too much or too little.
Reduced water waste: With your lawn and landscape getting just the right amount of hydration from our calibrations, we'll reduce water waste by not watering needlessly!
Complete coverage: Our technicians will ensure that each area of your lawn and landscape is receiving proper coverage so that you never have to worry about underwatering again.
We can also maximize the convenience of your irrigation system by installing a smart controller! These smart controllers connect to Wi-Fi so that you can control several aspects of your watering conveniently from your phone. Whether you're out of town on vacation or just away from home temporarily, if you need to make an adjustment to your watering schedule, you can!
---
Call our team today to schedule your sprinkler repair service and get your sprinkler system in perfect working order!
At CitiTurf, we set out to provide not just good results, but exceptional. We hold ourselves to the highest possible standard in order to secure the best outcome so you never have to worry about the quality of our work. No matter how big or small the job, you can rely on us to produce consistent, top-quality results! Our management team keeps a close eye on all the work our teams put out, performing random daily checks to assure we're pulling through on our promises. Our services are available to residential property owners in the communities in and around Murphy, TX. If you're ready to see what great service is like, call our team today at 972-516-0001 and schedule your sprinkler system repair!