We offer sprinkler repair services to residential properties in Garland, TX.
Our sprinkler repair services include irrigation checkups, repairs, and upgrades.
Garland, TX, is a city that is primarily located in Dallas County and is just a stone's throw away from Dallas. More than 242,000 people are lucky to call this gorgeous place home, with Garland offering exceptional attractions and activities! In Garland, you can go fishing at Lake Ray Hubbard by renting a boat at Captain's Cove Marina. You can also explore the lively and vibrant downtown area, which offers a variety of shopping, dining, and recreational options.
Here at CitiTurf, we offer professional and reliable sprinkler repair services to residential properties in Garland, TX. Our crew has the skills, experience, and equipment to maintain the flawless condition of your irrigation system with our irrigation checkups, repairs, and upgrades. We can thoroughly go through each zone of your irrigation system to check its status, fix all sorts of issues like broken pipes and timers, and improve the design of your irrigation system for more efficient watering. If your irrigation system has a need, our team of experts can address it!
---
Irrigation System Checkup
We'll meticulously inspect your irrigation system to pinpoint issues and ensure everything works correctly.
Our team offers comprehensive irrigation system checkups that ensure your irrigation system and sprinklers are in perfect shape to deliver the water that your grass and plants in Garland need. With our 17 years of experience, our licensed irrigation technicians have gained in-depth knowledge of the working parts and pieces of irrigation systems. Our team starts our irrigation checkups by running through all the zones of your irrigation system so we can have a complete picture of your system's condition and pinpoint areas where there might be issues.
If your sprinkler nozzles are out of place, you can rest assured we'll adjust them so that they hit the right spots on your lawn and landscape and deliver water where it is much needed. Our crew will also review and adjust your irrigation system's controller, so each zone on your property gets enough water at the appropriate time. There's no better way to keep tabs on the overall health of your irrigation system than by taking advantage of our irrigation checkup service!
---
Irrigation Repair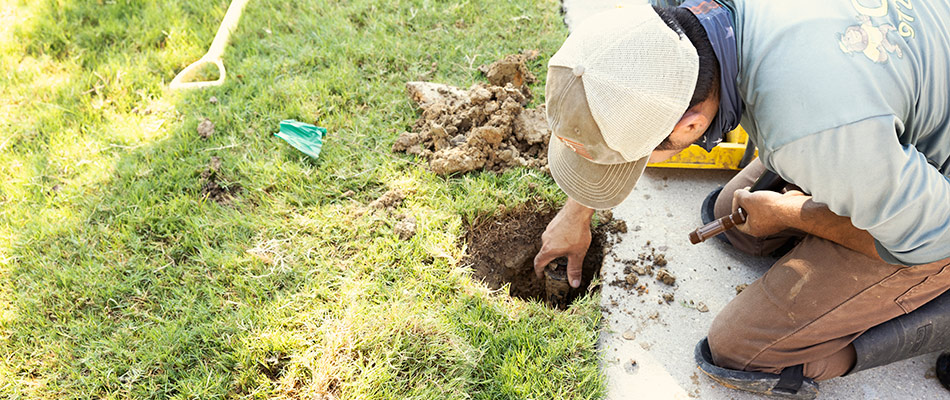 We fix and repair broken pipes, sprinkler heads, nozzles, timers, pumps, valves, rain sensors, and more.
If your irrigation system is acting up, we can help! Our team provides an irrigation repair service that can address any issue your irrigation system experiences. With all the intricate parts that work harmoniously to make your irrigation system function properly, it can be tough to detect the root of the problem and perform the necessary repair to get your irrigation system running smoothly again. Don't fret! Our team at CitiTurf is adept at performing any and all types of irrigation repairs, including:
Pipe Repair: Leaky pipes mean your irrigation system is wasting water unnecessarily, which drains money out of your pocket! Our team has the skills and equipment to fix a leaky or burst pipe to restore it to peak working condition and help you reduce waste.
Sprinkler Head & Nozzle Repair: Your sprinkler heads and nozzles are one of the most vulnerable parts of your irrigation system, as they often encounter issues like clogging and impact damage. Whether these parts have an obstruction or need replacement, we can get them working again!
Valve Repair: Faulty valves can affect the water pressure of your irrigation system, resulting in either overwatering or underwatering. If we determine that your irrigation system has broken valves, we have the proper skills and knowledge to get them back in tip-top shape.
Timer Repair: Our team can fix malfunctioning sprinkler timers so that you can rest easy knowing your irrigation system is watering your lawn and landscape on the proper schedule.
Rain Sensor Repair: We'll ensure your rain sensors are in flawless condition so they can detect how much rain your grass and plants have received and adjust the amount of water your irrigation system will use to keep your vegetation sufficiently hydrated.
We can also locate cut cables and retrofit WiFi-connected smart controllers for easier and more optimized watering. If your irrigation system also has broken pumps, backflow preventers, fittings, and more, we're the team to call to get them in perfect condition again!
If you're planning to install a swimming pool on your property in Garland, TX, we can reroute your irrigation system to make way for your new outdoor feature.
---
Irrigation Upgrade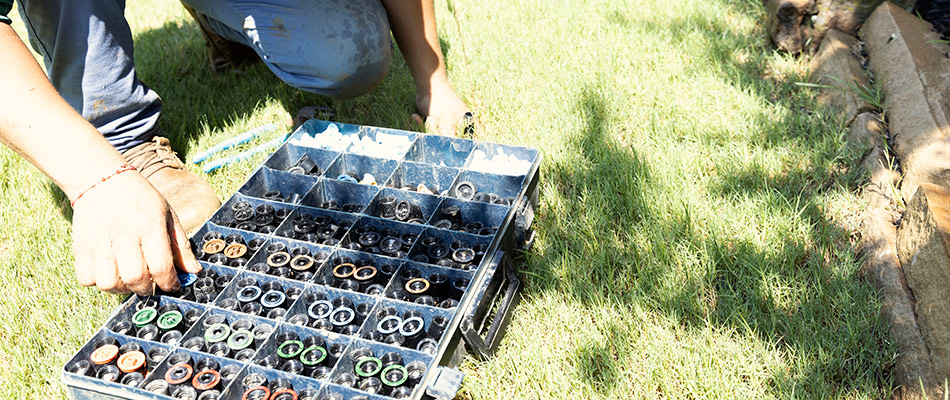 Our crew can upgrade your irrigation system by improving its design and ensuring it meets the needs of your vegetation.
A poorly designed irrigation system can cause your lawn and landscape to suffer from the scorching heat in the Garland, TX, area. With our irrigation experts on your side, this doesn't have to happen to you! Our team can turn your poorly designed irrigation system into an efficient, well-oiled machine that meets all the intricate needs of your lawn and plants with our irrigation upgrade service. When we design and upgrade your irrigation system, we aim to give you an irrigation system that provides balanced precipitation across your entire property, maximizes water usage, reduces water waste, and minimizes the impact on your water bill.
---
Our sprinkler repair services will keep your irrigation system in tip-top shape. Call us today to sign up!
Proper hydration is crucial to keeping your grass and plants in excellent health. The key to providing them with ample water is by ensuring your irrigation system works efficiently. Here at CitiTurf, we offer our sprinkler repair services to residential properties in Garland, TX. Our team has been maintaining irrigation systems in and around Garland since 2005, and you can count on us to keep your system in tip-top shape. Give us a call today at 972-516-0001 to sign up for any of our outstanding sprinkler repair services!