Professional Pest Control Services for Residential Properties in Garland, TX
We offer treatments for fleas, ticks, bed bugs, chiggers, and other pests!
Everything's bigger in Texas, and Garland is one of the cities that lives up to that saying. Garland is a suburb in the Dallas-Fort Worth metroplex with a staggering population of over 242,000. While it's a major manufacturing city, it also emulates Texas charm and boasts a diverse culture and nature hot spots that make it a popular place to live. Whether you want to hike at Spring Creek Forest Preserve and Duck Creek Greenbelt Trail or have a fun-filled day at Hawaiian Falls Garland, there's something to do for everyone.
Here at CitiTurf, we offer professional pest control services to residential property owners in Garland, TX. We'll handle the pest population so that you don't have to, treating everything from fleas and ticks to bed bugs, chiggers, and much more. With us, you can say hello to a pest-free home in no time!
---
Perimeter Pest Control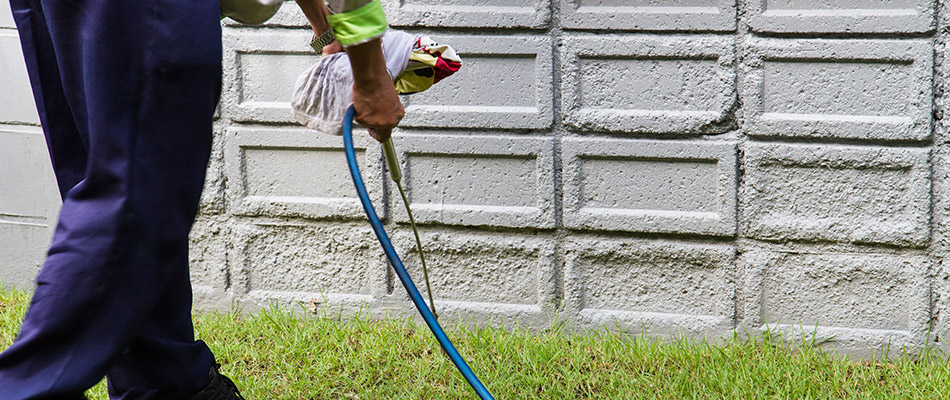 We'll apply our perimeter pest control treatments four times throughout the year for consistent protection.
The last thing you want is pests taking up residence inside your home in Garland, TX. Fortunately, we offer a perimeter pest control service to ensure consistent protection from unwanted visitors all year! This service includes four treatments a year, with 3-month intervals between each. We'll apply them 3 feet up the exterior wall and 5-10 feet out onto your lawn to create a defensive barrier that pests can't penetrate, including spiders, ants, cockroaches, and more!
If you continue to notice pest activity inside your home 7-10 days after our initial perimeter pest control application, we'll return to retreat it at no additional cost!
---
Interior Pest Control
Our interior pest control treatments will exterminate existing pests inside your home.
If you have pests inside your home, don't worry - our interior pest control service is just what you need to exterminate existing pests and reclaim your space! We'll begin by inspecting your home for activity before applying our treatments to areas pests like to hide, including the baseboards and under the sinks and kitchen appliances. Before long, it'll be as if there were no insects in the first place!
---
Bed Bug Control
We'll eliminate a bed bug infestation so you can get a good night's sleep again.
Bed bugs are a nuisance, invading the most intimate space in your home - your bedroom. However, we offer a bed bug control service to help you get a good night's sleep again. Upon signing up, we'll inspect every room inside your home in Garland, TX. Once we pinpoint the ones with the most activity, we'll apply our effective bed bug control treatments along the baseboards, behind the faceplates of light switches, and around your nightstands and dressers. We'll also treat the surrounding rooms to cover all the bases and eliminate the infestation.
While we treat your home for bed bugs, we'll have you remove any blankets, pillowcases, and other soft items from the room and put them in the dryer at high heat; this will kill any that have attached to these items. Then, we'll return two weeks after the initial application for a follow-up inspection.
---
Chigger Control
We'll apply our chigger control treatments twice to send pesky chiggers packing off your property.
Chiggers are common lawn insects here in Garland, especially as we transition into the spring season. So, we offer a chigger control service to tackle these biting pests and send them packing off your property. We'll apply our treatments twice, with two weeks between each, to cover both sides of their egg cycle. Not only will we treat the outside of your home, but the inside too! That way, you can rest easy knowing pesky chiggers have nowhere to hide.
---
Flea & Tick Control
We'll treat the inside and outside of your home in Garland, TX, for fleas and ticks.
Don't let fleas and ticks torment you and your furry friends - take advantage of our flea and tick control service! We'll apply our treatments inside and outside your home in Garland, TX. While our outdoor application will remain effective for 3-4 months, our inside one will protect you for the rest of flea and tick season. We offer this service all year long, though we commonly treat these pests from April to October.
---
Fire Ant Control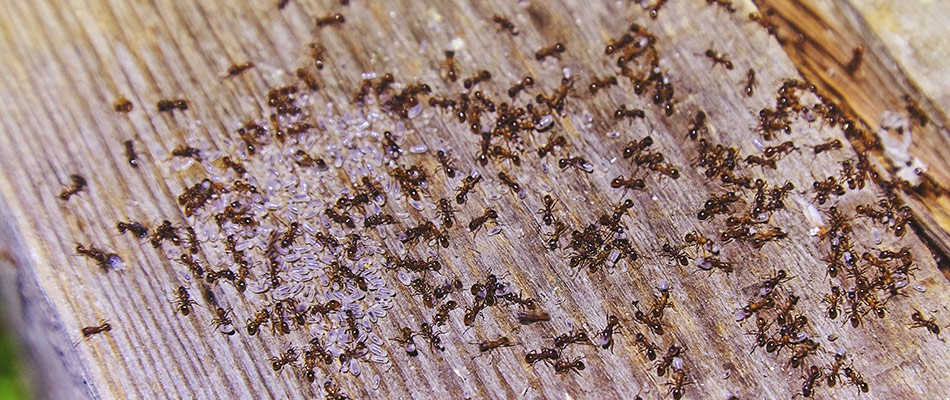 Our fire ant control treatment will keep fire ants off your property for an entire year!
Nothing's worse than stepping on a fire ant mound and enduring their fiery bites, so we offer a fire ant control service to make that a problem of the past. We'll apply our preventative treatment to your lawn and landscape bedsto keep fire ants off your property for an entire year! We'll also administer curative treatments to eliminate any existing mounds.
---
Mosquito Control
We can drastically reduce the mosquito population and repel any more from harboring on your property.
Stop mosquitoes from sucking the fun out of the outdoors with our mosquito control service! This service includes monthly treatments from April until October, which we'll apply to heavily shaded areas to drastically reduce the mosquito population and repel any more from harboring on your property.
Depending on the size of your property, we'll administer our mosquito control treatments via a fogger or hose.
---
Rodent Monitoring
We use various baits and liquids to tackle a rodent infestation.
At CitiTurf, we offer a rodent monitoring service to tackle these furry pests and ensure they have no place on your property in Garland, TX. Depending on your needs and the severity of the infestation, you can also choose to have us monitor for rodents during our quarterly home pest control service or as part of our monthly or bi-monthly package service. During these visits, we'll set up bait stations and use various liquids and baits to attract them, replacing them as needed.
---
Termite Control
We'll thoroughly inspect your home for termites before applying our treatment to eliminate them.
Termites will eat through your home's foundation if left untreated, but we won't let that happen. We offer a termite control service where we'll thoroughly inspect your home for signs of an infestation. Then, we'll apply our one-time treatment into the ground around the foundation to eliminate these wood-boring pests. You can also opt for yearly inspections to ensure your home in Garland remains termite-free.
---
Call to schedule our pest control services today.
At CitiTurf, we offer pest control services to homeowners in Garland, TX, including perimeter and interior pest control, bed bug control, chigger control, and even rodent monitoring! We've been tackling all kinds of pests for 17 years, and you can trust that we'll do whatever it takes to keep your property free of them. Call us at 972-516-0001 to schedule today!