One of the worst enemies your lawn in Texas can have is bermudagrass mites. These lawn insects are microscopic pests with worm-like, white/cream-colored bodies that suck out plant fluids from the stems and inject their toxic saliva. As a result, they cause stunted growth and the unappealing witch's broom effect, where the stems shorten and the leaf sheaths swell. If your lawn is showing these symptoms, you'll want to hire pros immediately so they can get rid of the infestation. Once the bermudagrass mites have been eliminated, the next thing you need to focus on is helping your grass recover. Scheduling lawn care services like fertilization and aeration will provide it with the support it needs to regain its strength and get back on track to growing robust and vibrant.
---
What are bermudagrass mites?
Bermudagrass mites are tiny lawn insects that look like worms but are actually arachnids and feed exclusively on bermudagrass. They have white/cream-colored bodies, mouthparts, and two pairs of legs, and they are so small that you can only see them with a magnifying lens, making them extremely hard to detect. Because of their microscopic bodies, they can cause significant lawn damage without being seen!
An entire generation of bermudagrass mites from the egg to the adult stage takes about 7 to 10 days to complete in the summer when conditions are ideal. This lawn insect feeds on the stems of your grass blades, sucking out plant fluids and introducing their toxic saliva as they do. They start feeding in the spring as bermudagrass comes out of dormancy and continue until cool weather in the fall slows them down.
---
Symptoms of a Bermudagrass Mite Infestation on Your Lawn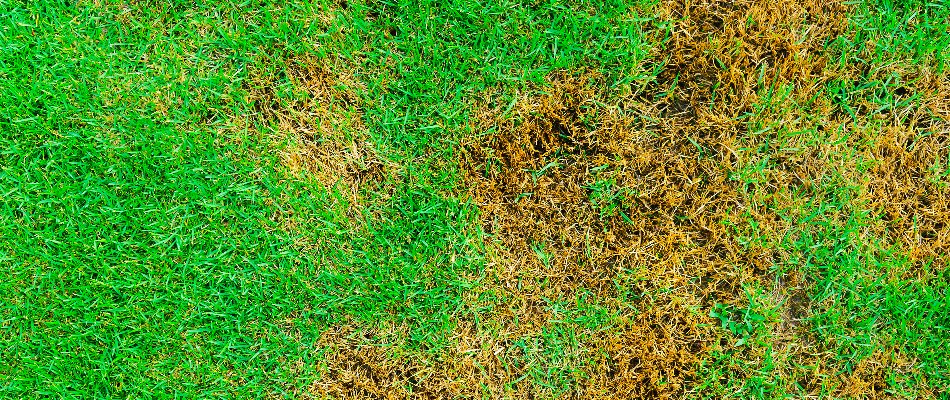 Since bermudagrass mites can damage your lawn like a thief in the night, you need to know what symptoms to look out for. This way, you can act swiftly at the first sign of damage before they cause any more trouble. Here are the tell-tale signs of a bermudagrass mite infestation:
Yellow, slow-growing grass: An infested lawn will lose its vigor and grow slowly as the bermudagrass mites feed under the grass blades and inject their toxic saliva. As the infestation progresses, it eventually causes patches of brown, dead grass.
Witch's broom effect: The witch's broom effect is a surefire way to detect bermudagrass mites. When you inspect your lawn, you'll notice the grass stems are shortened and the leaf sheaths are swollen, resembling a tufted witch's broom. In severe infestations, the stems and stolons of your lawn may die.
Symptoms of bermudagrass mites can appear on your lawn as early as spring but are more often noticeable in the summer when they become more active.
---
Hire pros to eliminate bermudagrass mites and schedule lawn care services to help your lawn recover.
If your lawn is showing signs of a bermudagrass mite infestation, don't wait - reach out to professionals immediately. Lawn care pros are equipped with the right curative treatment to eliminate bermudagrass mites and stop them from causing more damage. They'll also follow best practices when administering the treatment to ensure it works effectively.
Once the bermudagrass mite infestation is taken care of, you should focus on helping your lawn recover from the damage. Scheduling lawn care services like fertilization and aeration will help facilitate your turf's healing process! Fertilizing your grass provides it with the nutrients it needs to recover and become healthy and lush again. Meanwhile, aeration ensures vital resources like nutrients, water, air, and sunlight can penetrate the soil and reach the roots of your grass where they are most needed.
---
Give us a call today to schedule our lawn insect control service!
If you've seen signs that your grass is suffering from bermudagrass mites, it's time to call our pros at CitiTurf. We offer a lawn insect control service that includes treatments against bermudagrass mites and other lawn pests like chinch bugs and armyworms. Our team offers this service to residential properties in Plano, Allen, Frisco, McKinney, TX, and nearby areas. You can schedule our lawn insect control treatments as part of our home pest control, fertilization and weed control, tree and shrub care, or mosquito control services. Give us a call today at 972-516-0001 to schedule this service!