If you have a lawn in Texas, you may be wondering what kind of fertilizer is best to use — granular or liquid. Well, both of these types of fertilizers are great options, so it comes down to what your lawn needs at a particular time. If your lawn could use a quick boost of nutrients right away, liquid fertilizer is the better option. However, if your lawn isn't in need of a quick boost, granular fertilizer may be the way to go, as it's designed to provide it with a steady supply of nutrients over an extended period of time. Continue reading this blog to learn more about liquid and granular fertilizers.
---
What is the difference between liquid and granular fertilizers?
Granular and liquid fertilizers are the two types used to nourish lawns and promote healthy growth. While both types of fertilizers can be effective, there are some key differences to consider when deciding which type to use on your lawn. For one, granular fertilizers come in small granules that are spread across your turf and then watered in. They release nutrients slowly over time, providing your grass with a steady supply of nourishment. On the other hand, liquid fertilizers are sprayed across your lawn and are fast-release, meaning they immediately begin absorbing into the soil and supplying nutrients to its roots.
Another difference between granular and liquid fertilizers is the ease of application. Granular fertilizers can be applied either by hand or with a spreader, while liquid ones require a sprayer or watering can. Some granular fertilizers may also require less frequent applications than liquid because of their slow-release formula.
---
When is liquid fertilizer the better option for your lawn?
Liquid fertilizer is an excellent option to use when your lawn needs nutrients right away. After all, there are certain times when it is under more stress than usual or is looking dull, so a quick pick-me-up from liquid fertilizer is just what it needs. That way, it can begin utilizing that nourishment to rebuild its strength and bolster healthy, verdant grass growth.
---
When is granular fertilizer the better option for your lawn?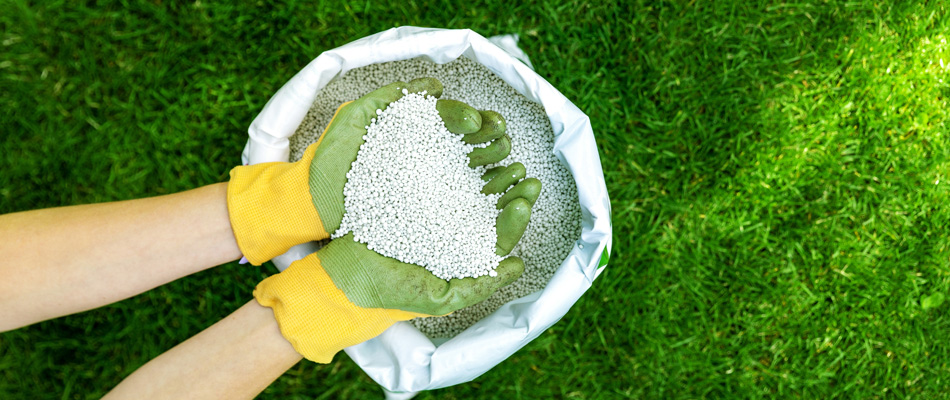 Granular fertilizer is a great choice when your lawn isn't in need of a quick boost of nutrients and would benefit more from a steady supply over an extended period of time. These fertilizers will provide a consistent supply of nourishment to the roots, which is beneficial when it goes long periods without another application or needs this to survive throughout a stressful time. Granular is also highly efficient at promoting a steady rate of healthy growth for your grass while eliminating the risk of fertilizer burn, which can happen with a fast-release product.
Most fertilizers are filled with the nutrients that your lawn needs to thrive, such as nitrogen, phosphorus, and potassium!
---
Give us a call today to schedule our lawn fertilization service.
At CitiTurf, we can provide your lawn with the nutrients that it needs to grow strong, develop deep roots, and resist stressors via our lawn fertilization service. When you schedule this service, we will fertilize your lawn multiple times, using both granular and liquid depending on the time of year, to ensure it is always supplied with the nutrients that it needs to flourish throughout the growing season. What's more, it also includes weed control treatments to ensure pesky weeds don't steal that precious nourishment from your grass!
We offer our lawn fertilization service to residential property owners in Plano, Allen, Frisco, McKinney, Murphy, and surrounding areas in Texas. To sign up for this service, give us a call today at 972-516-0001. We look forward to working with you soon to help you achieve a healthy, nutrient-rich lawn!