If you have ash trees on your property, they are at risk of getting damaged by emerald ash borers. These aggressive and invasive wood-boring pests feed on the inner bark of ash trees, and if left untreated, they can kill your ash trees. EABs will attack your ash tree whether it is struggling or healthy. That is why you must be proactive in scheduling preventative treatments every two years to protect your ash trees from the deadly damage of emerald ash borers.
If you haven't opted to take prevention measures and notice signs of EAB damage like dead branches near the top of the tree or bark splits, it's best to call for professional help immediately. Continue reading to learn more about how you can prevent emerald ash borer damage.
---
What are emerald ash borers, and what trees do they target?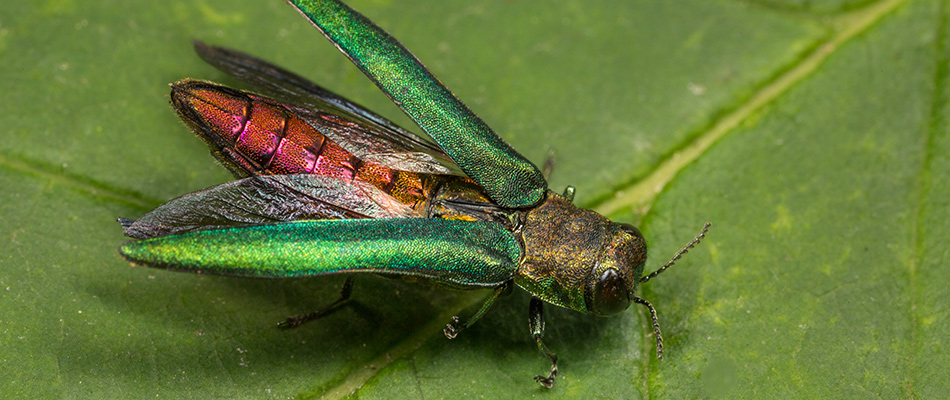 Emerald ash borers are invasive wood-boring beetles discovered in Michigan in 2002. Believed to be transported from Asia through wood packing materials in cargo, these metallic green beetles target all 16 native species of ash trees in the US. These insects tunnel under the bark of ash trees and feed on the part of the tree that moves water and sugars up and down the trunk.
Since they have been detected in the country, emerald ash borers have already killed millions of ash trees, which means you need to keep a watchful eye out for them if you have any ash trees on your property. They have also spread to 35 states in the US, including Texas.
Ash trees infested with emerald ash borers can die within 2 to 3 years.
---
Be proactive and schedule preventative treatments regularly to prevent emerald ash borer damage.
If you have ash trees on your property, you must be aware that protecting them from emerald ash borers is crucial because of their detrimental impact. The best way to prevent emerald ash borers from destroying your ash trees is to be proactive and keep up with regular preventative treatments. Effective treatments against emerald ash borers involve systemic insecticides applied directly to the trunk of ash trees. This method helps the product move within the tree, meaning these aggressive pests will ingest the chemical when they feed on the tree's inner bark.
Aside from using the right product to prevent emerald ash borer infestations, consistency is also crucial. Protection from preventative treatments typically lasts for 2 years, which means you will have to reschedule it once every two years.
---
Contact a professional immediately as soon as you see signs of EAB damage.
If it's not enough that emerald ash borer damage is deadly, visible damage won't usually show until it's too late! Ash trees with a low emerald ash borer population won't immediately exhibit signs of damage within the first 2 years, making it more dangerous for your tree. Here is what EAB damage looks like:
Dead branches near the top of the tree
Leafy shoots sprouting from the trunk
Bark splits exposing larval galleries
Increased woodpecker activity
D-shaped exit holes
Thinning canopy
As soon as you see these signs of damage, it's imperative that you contact a professional immediately. If you wait too long, the damage may be irreversible. If your tree is beyond repair, you will have to remove it before the infestation spreads across the rest of your landscape.
---
Protect your ash trees from EAB damage. Call us today!
At CitiTurf, we can help protect your ash trees with our emerald ash borer control service. We apply the treatments through trunk injection to provide your ash trees with effective protection against these aggressive wood-boring pests. Our emerald ash borer control is available to residential properties in Plano, Allen, Frisco, McKinney, TX, and nearby areas. Call us today at 972-516-0001 to schedule.