Professional Lawn Care Services in Allen, TX
All of our lawn care work is backed by our 100%, iron-clad, money-back guarantee!
Featuring more than 250 delicious dining options, over 70 miles of parks and trails, millions of square feet dedicated to shopping, and much more, Allen, TX truly has it all. Its bustling population of around 104,000 can create unique memories by playing paintball at Giant Party Sports or becoming one with nature at the Connemara Nature Preserve. Allen is also home to one of the state's largest outdoor skate parks if that's more up your alley!
We are proud to be part of the community in Allen, TX, providing top-notch lawn care solutions to homeowners here and in surrounding areas so they can come home to a lawn as beautiful as their city. Our services include lawn fertilization, weed control, tree and shrub care, and much more. Get in touch with our office by calling 972-516-0001 today to receive a quote on your next service!
---
Lawn Fertilization
We utilize both liquid and granular fertilizer treatments to nourish your lawn.
To ensure that the grass in your lawn has all the tools it needs to develop into a lush, green lawn, our fertilization program is essential. Our team will visit your property eight times a year, pouring out all the care your lawn needs to thrive. We use premium, slow-release fertilizer treatments that continuously nourish your grass until the next time we visit so that it never has to go without.
We don't believe in a one-size-fits-all solution. Unlike other companies that use one type of fertilizer all year for every lawn, we equip our technicians with a variety of both granular and liquid fertilizers in their arsenal so they can customize care to your lawn's unique needs and your goals. Most importantly, our technicians will never promise results we can't deliver – if we promise something to you, we'll make it happen!
---
Weed Control
Combat weeds with our comprehensive weed control program.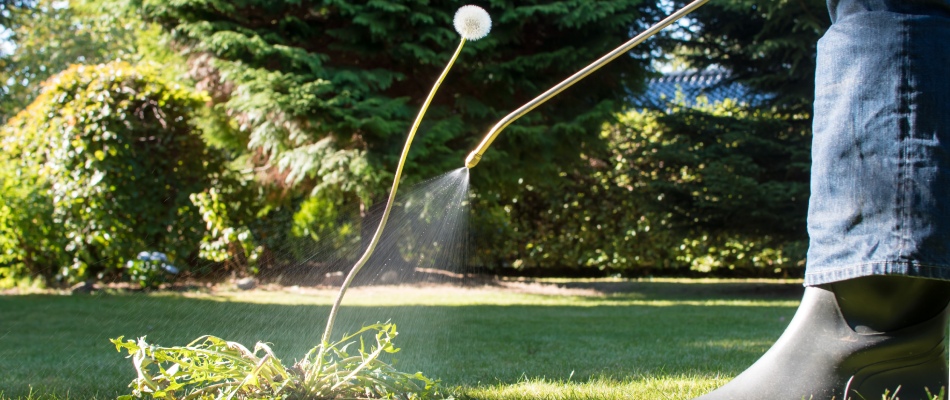 We'll fortify your lawn's defenses against nutrient-thieving weeds with our comprehensive weed control program. With eight total visits to your property per year, we'll knock out most weeds before they even sprout by incorporating three pre-emergent applications. Our treatments will create a barrier that keeps germinated weed seeds from breaching the soil's surface, preventing them from ever becoming a problem!
We treat for any and all turf weeds – including nutgrass, dallisgrass, and Poa annua!
Our treatments are spaced out around every one to two months to ensure that your lawn is never without protection long enough for weeds to take hold. We're well-versed in all types of lawns and all types of weeds, so we'll use different methods to apply treatments based on the size of your lawn to ensure maximum efficiency. Our technicians will keep your property weed-free year-round so your grass will have all the precious space and nutrients to itself!
---
Lawn Aeration
Our core aeration service facilitates the passage of resources to the deep roots of your lawn.
As experts in the industry, we understand that a healthy and thriving lawn begins not with the grass alone, but with the soil it's planted in. Our core aeration service is the remedy to many lawn issues! Compacted soil can stunt the growth of your lawn and reduce the effectiveness of other treatments like fertilization. With our core aeration service, compacted soil will be a problem of the past. We'll pull up plugs from your lawn, breaking up compacted soil and creating pathways in the soil that lead to the deep roots of your grass.
By creating these paths with core aeration, we facilitate the passage of essential resources to the deep roots of your grass including nitrogen, potassium, phosphorus, oxygen, and water, resulting in enhanced vigor and top growth of your grass blades. We recommend scheduling core aeration annually to keep your soil in the best condition possible!
---
Grubs & Lawn Insects
We offer lawn insect control for grubs, chinch bugs, Bermuda mites, and more!
We commonly see lawns struggling against lawn insects like grubs, chinch bugs, Bermuda mites, and armyworms – so we developed curative treatments for all of them as well as other lawn insects you may encounter! Our highly effective curative treatment will stop these pests in their tracks, preventing them from repopulating and wreaking more havoc on your lawn. The sooner we can put a hard stop to their spread, the better, as your lawn will be able to more easily recover from minor damage than a full-fledged infestation.
Our technicians can also offer preventative protection against grubs with our grub control program. This program will allow you to get ahead of grubs before they can ever get a foothold in your lawn, saving your lawn the trouble of rebounding after an infestation. Our premium insecticide will penetrate the soil in your lawn and eliminate any grub eggs it comes in contact with before they even hatch!
---
Lawn Diseases
Eradicate brown patch, gray leaf spot, take-all root rot, and more with our lawn disease treatments.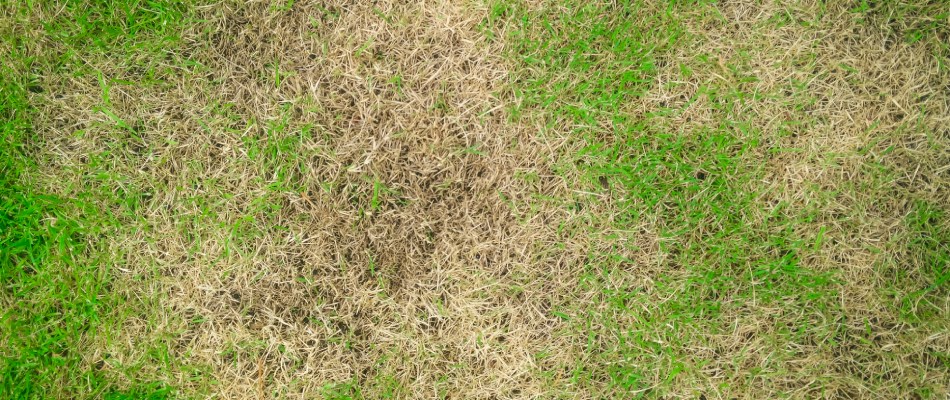 If your lawn ever falls victim to diseases like brown patch, gray leaf spot, dollar spot, take-all root rot, or any other disease, you know who to call. Our curative lawn disease treatments will bring the disease to a standstill so no further harm comes to your grass. Our technicians are knowledgeable in identifying lawn diseases of all kinds and will be able to thoroughly assess your lawn, pinpoint the disease, and create a custom plan to tackle it. With us on the case, you can rest easy knowing that your lawn is in good hands!
---
Tree & Shrub Care
We can help protect and nurture your trees and shrubs with our expert programs.
To show your trees and shrubs as much TLC as your lawn, we've created several programs to address their specific challenges and needs. Our tree and shrub fertilization program nurtures your landscaping plants with an annual deep root treatment, giving them a huge boost of nutrients they can utilize to foster new growth, recover from stress, or something else. If you have palm trees, we also offer deep root or trunk injection fertilization as an added service to keep your slice of tropical paradise happy and healthy!
Housed within the tree and shrub fertilization program, our expert disease and insect control services will ensure that not only are our technicians vigilantly monitoring for health issues but that they're getting on top of the problems ASAP. We can protect your trees and shrubs from bagworms, crepe myrtle bark scale, emerald ash borers, spider mites, webworms, and more!
Yellow, wilting trees are begging for our iron treatments to restore their iron levels, and we're happy to oblige! Once you schedule this treatment, we'll use either a trunk injection or soil probe to deliver the liquid iron your tree or shrub needs directly to its vascular system or its roots, respectively. Once absorbed, the iron will spread gradually throughout the rest of the tree and replenish the iron reserves so it can thrive once more.
---
Call us today to schedule any of our professional lawn care services!
At CitiTurf, we are proud to provide top-of-the-line lawn care solutions that nourish and protect the lawns and landscapes we have the honor to serve. Our priority is in providing unfailingly consistent results that aren't just good, but exceptional. We're always working to improve our processes and results beyond the industry standard, and for every success, we raise the bar that much higher, ensuring that all our clients can expect nothing but the best every time we arrive. Our professional lawn care services are available in Allen, TX and in nearby cities. Call our team at 972-516-0001 today to schedule your next service!