We offer lawn mowing and maintenance services for properties in Murphy, TX.
We mow lawns, trim plants, install mulch, and much more!
Murphy is a city located in Collin County, Texas. Living in Murphy gives you that small-town feel, however, when you're looking for a little more hustle-and-bustle, bigger cities like Plano and Garland are just a short drive away. We know first-hand how amazing Murphy, TX really is. In fact, our office is located here! We are passionate about taking care of the lawns and landscapes throughout Murphy with our maintenance services.
Our lawn and landscape maintenance services include mowing, plant trimming and pruning, leaf removal, yard cleanups, mulch installation, and annual flower installation. Call us at 972-516-0001 to schedule any of our services!
---
Our lawn mowing program focuses on the appearance and health of your grass.
Our lawn mowing program starts in March. We'll come by every other week to ease your lawn into the growing season by not cutting it every week. Once your grass has some time to gain its strength back after the winter season, we'll change our mowing schedule to weekly. This is typically in April. We'll carry on with our weekly schedule for about 6 months and then, in October, we'll switch back to bi-weekly mowing. This mowing schedule is specifically tailored to the lawns in the Murphy, TX area and how fast they grow at certain times of the year.
At each visit, our crew will mow your lawn, string-trim around the areas that our mowers can't reach, and edge along the lawn to create crisp, clean lines. Lastly, before we head out for the day, we'll take our blower and clean off your sidewalk, walkways, and driveway to ensure that grass clippings and other debris are not left behind after we service your property.
Not only was our lawn mowing program created with the appearance of your property in mind, but also the health of your property's grass.
Here are a few things that our lawn mowing professionals do to help keep your grass as healthy as can be:
We'll adjust our mower deck height to make sure we never cut your grass too short and leave it susceptible to issues like lawn disease or an insect infestation
We sharpen our mower blades every single day so that your grass blades are never ripped by a dull blade
We will never mow in the same direction two visits in a row. We use a calendar to keep track of the direction that we mowed during our previous visit so that we never lose track
---
We can install both spring and fall annual flowers in your landscape beds.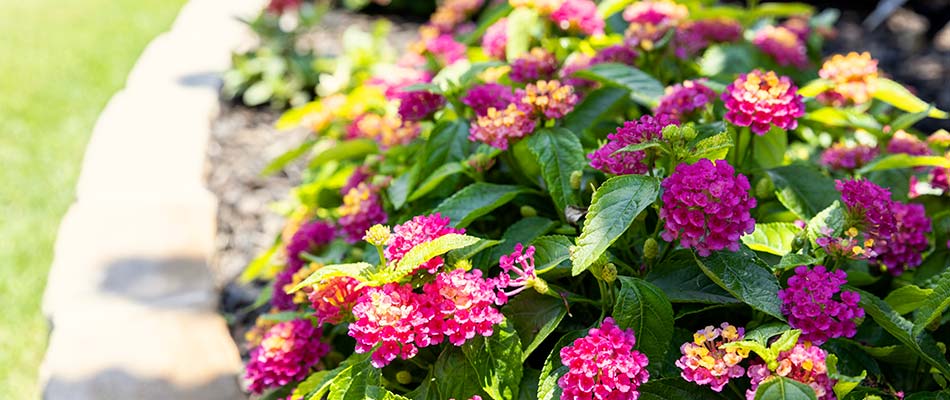 Our team loves installing annual flowers for the residential properties in Murphy, TX. We can do both spring and fall annual flowers, and we'll help you choose the best flowers based on your style preferences and the growing conditions on your property, including sun exposure and soil health.
When our team installs your new annual flowers, we'll lay some compost in the landscape beds. This compost has a little fertilizer in it and will give your annual flowers a great jump-start. Lastly, our crew will send you information on how to properly care for the annual flowers that you purchased. This way, you can enjoy their blooms for as long as possible!
---
We can trim and prune your plants to keep them healthy year-round.
Our trimming and pruning service is critical for the appearance and health of your trees and shrubs. Trimming will help manage their growth and keep them looking nice and tidy. During our selective pruning process, we'll remove any branches that look like they are struggling with a disease or an insect infestation. Removing these branches will help prevent the issue from spreading.
Our crew is extremely knowledgeable about the different trees and shrubs in the Murphy area and when they should be trimmed and when they shouldn't. We will never put your plants at risk by trimming or pruning them at the wrong time of the year.
We offer plant trimming and pruning as a one-time service to give your curb appeal a little boost, or you can sign up for our reoccurring trimming and pruning program. Regardless of which one you choose, our crew will do the following at our trimming and pruning visits:
Clean up all debris and weeds from your flower beds
Trim your shrubs and trees
Search for any struggling branches and prune them if necessary
Thoroughly clean up the property, leaving no clippings behind
---
Our leaf removal process includes hauling away the leaves with a vacuum truck!
Our team is well-equipt to handle the leaves that fall on our lawns each year here in the Murphy area. The size of your property and the amount of leaves will determine our process when removing leaves from your property. We have tarps, leaf blowers, rakes, and more to help us get the job done.
Perhaps our clients' favorite part about our leaf removal service is that we also have a vacuum truck. That's right - no leaves will be left on your curb when our crew is finished removing them from your lawn. When our job is done, it will be like the leaves were never there!
---
Our yard cleanups include debris removal, plant trimming, pruning, and more.
Hire our team to give your property the makeover it needs. Our yard cleanups can be scheduled at any time throughout the year. We can handle situations from a yard that just needs a little sprucing up to a major detailed cleanup. Typically, our yard cleanups include the following:
Debris cleanup and removal - We'll gather and remove twigs, branches, stems, yard clippings, and more. Removing debris from your lawn and landscape beds prevents your grass and plants from being smothered!
Landscape bed weed removal - Our team will glance through your landscape beds and remove any existing weeds. This helps your plants flourish because they will no longer have to compete with the weeds for essential resources.
Plant trimming - We'll spruce up your property's appearance by trimming back overgrown shrubs and small trees.
Plant pruning - During our visit, we'll keep a lookout for any branches that look like they might be dying or already dead. Removing these branches helps prevent the issue from spreading.
Give us a call at 972-516-0001 if you'd like to add on any of our other services. Typically, our clients like to add annual flower installation, mulch installation, and leaf removal to this service.
---
Protect your plants with our professional mulch installation service.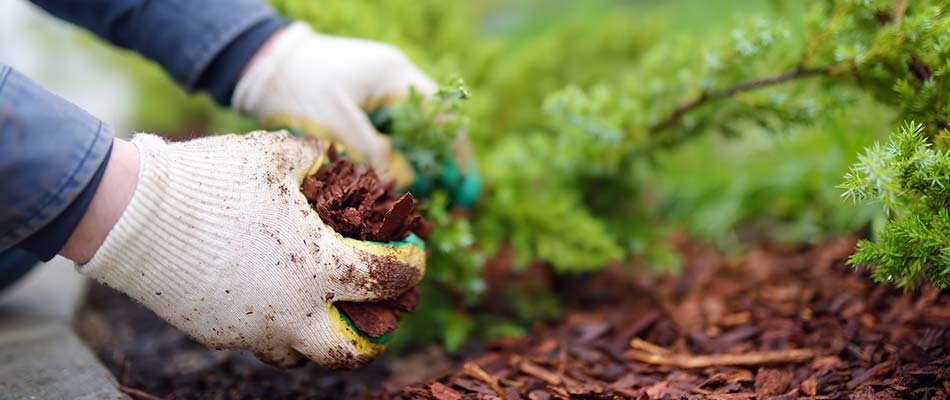 Mulch is needed to keep the plants in your landscape beds healthy and thriving. Our team offers many different types of mulch options, including cedar, shredded hardwood, black, and red. The type you choose is all dependent on your style preferences!
When our crew installs the mulch, we will remove any existing debris and weeds that are in the way. Then, we will install your mulch by hand. This gives us control over where the mulch is placed, thus, helping us keep your plants healthy. We will leave about an inch of space surrounding each plant base to ensure that they can still breathe and have access to essential resources like water and air. Additionally, we will always make sure that the layer of mulch is about 2-3 inches thick - never more, and never less! This particular thickness allows your plants to receive the most benefits from the mulch.
Schedule our mulch installation service annually to ensure your plants are always fully protected.
---
Call us today to sign up for our lawn mowing and maintenance services.
If your property is located in the Murphy, TX area and you are searching for a lawn maintenance company that goes above and beyond for its customers, you've come to the right place. Our company offers a 100% iron-clad, risk-free, money-back guarantee. You are guaranteed to get great results when you hire our team! To sign up for our lawn mowing program or any of our other lawn and landscape maintenance services, give us a call at 972-516-0001!