We offer irrigation repair service to residential properties in Allen, TX.
Our licensed technicians ensure your irrigation system's pumps, timers, controllers, and other parts are working perfectly.
The thriving city of Allen, TX in Collin County is home to about 102,000 people. This city is named after the then-attorney general of Texas, Ebenezer Allen, a huge supporter of the Houston and Texas Central Railroad. This railroad paved the way for the establishment of Allen, TX. If you want to walk through time and learn about this city's rich history, there are various attractions in Allen where you can do so. One of these places is the Old Stone Dam which was the water source of the railroad's steam locomotives. The Allen Station Park has beautiful paths that provide a beautiful spot overlooking the dam.
Our team at CitiTurf services residential properties in Allen with our professional irrigation repair service. We have licensed technicians on staff who work tirelessly to ensure your irrigation system's parts, like pumps, timers, controllers, valves, nozzles, and more, work perfectly to keep your lawn and plants well-hydrated. If you sign up for this service, you can rest assured that the labor and parts we provide are all backed by a 1-year full warranty!
---
Irrigation System Checkup
Our Irrigation Repair Starts With A Thorough Irrigation System Checkup
The first step to fixing your irrigation system is to inspect it and detect where the error began. At CitiTurf, that's what our expert irrigation technicians will do. We will perform a thorough checkup on your irrigation system in Allen, so our crew can pinpoint what and where the issue is. You've got nothing to worry about when you partner with our team because we can handle any kind of irrigation system.
Our irrigation system checkup includes running through all the zones on your property. This step helps our team determine if there are certain zones that are not being watered efficiently. If there is a zone that is not receiving enough water, we'll take a look at the nozzles and adjust them as needed. As we thoroughly inspect your irrigation system, we'll keep our eye out for worn or broken parts that need to be repaired or replaced. We like to be as thorough as possible so that we don't miss anything when inspecting your irrigation system. Sometimes, we may need to do an initial repair, like fixing leaking pipes, before we inspect your irrigation system. This way, we can be more accurate at determining what parts of your irrigation system need repair while ensuring water is not leaking and draining your hard-earned money.
That's not all! Before we finish up, our licensed technicians will also help you set up your irrigation system's controllers so it waters your lawn and plants at the right time with the right amount of water. When we leave, your irrigation system will be completely set up to effectively water your lawn and gardens.
---
Irrigation Repair
We can repair any part of your irrigation system.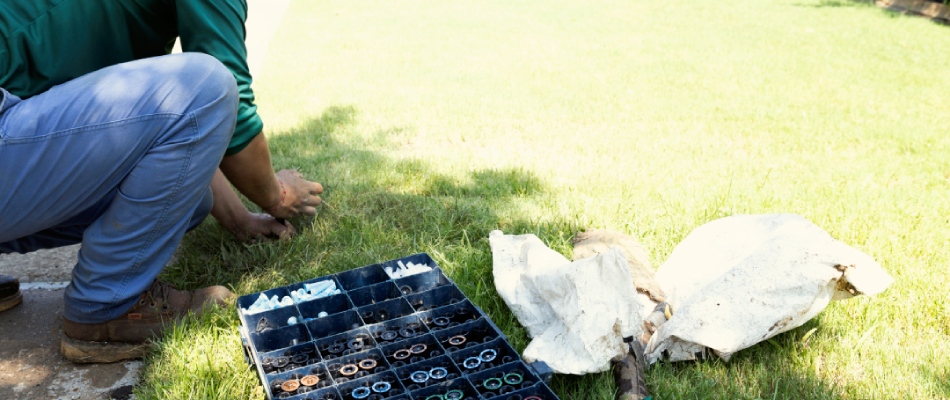 Fixing faulty parts of your irrigation system is not a simple task. That's because irrigation systems are made up of tiny, intricate parts that work in harmony to keep your grass and plants hydrated and healthy. You need our experts. We have been servicing irrigation systems in Allen since 2005, which means we have the experience and skills to repair almost any part of your irrigation system and get it running again. Below are the parts of irrigation systems that we typically repair:
Pumps
Controllers
Valves
Nozzles
Timers
Backflow Preventers
Rain Sensors
Sprinkler Heads
And many more!
If you're planning to install a pool on your property in Allen, we can also help you reroute your irrigation system to make way for your new outdoor feature. Our crew is also equipped with wire locators to detect cut cables on your irrigation system that needs replacing. No matter what your irrigation system needs, we are experts at it.
Our irrigators and technicians at CitiTurf are licensed by the state of Texas.
---
Irrigation Upgrade
Redesign Your Irrigation System in Allen, TX For More Efficient Watering
Allen, TX experiences extreme heat for most parts of the year. This means your grass is at greater risk of drying out if your irrigation system is not working efficiently. To help ensure your lawn and plants receive enough water to grow strong, we can redesign your existing irrigation system for efficient watering and full coverage so that all of your vegetation is getting adequately hydrated. In the end, you can enjoy lush, vibrant, and strong grass, trees, and shrubs! Irrigation systems that work efficiently result in healthy plants and decreasing water bills.
Our team can also install smart controllers connected to WiFi on your irrigation system! Smart controllers allow you to control your irrigation system from your phone. Given the fluctuating hot weather in Allen, TX, you can easily adjust how much water your lawn and plants receive.
---
1-Year Warranty
Enjoy peace of mind as our irrigation repair service comes with a 1-year warranty.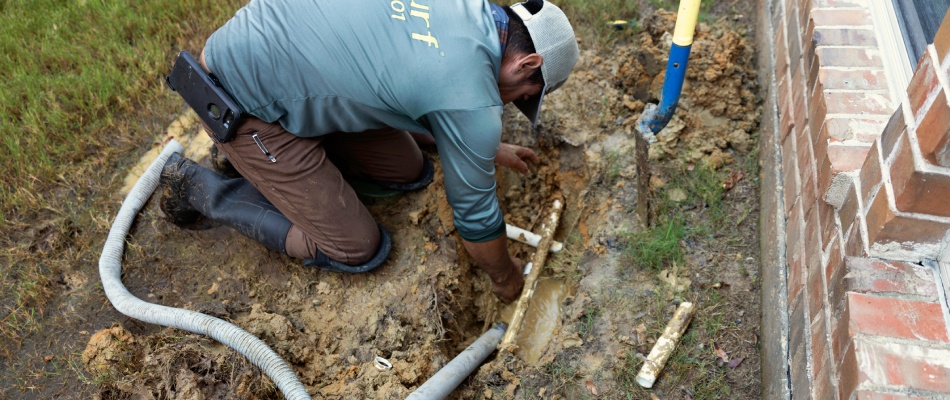 At CitiTurf, we aim to give you peace of mind with our service. That's why we provide a 1-year full warranty on our irrigation services! This means every part of your irrigation system that we add or replace comes with a warranty. The same goes for our labor! Our crew will fix any issues on your irrigation system for free if it malfunctions within one year after we perform our irrigation repair service.
---
Call our expert irrigation technicians to schedule our irrigation repair service!
Your irrigation system plays a significant role in the health of your lawn and plants, which is why you need to ensure it is running perfectly at all times. At CitiTurf, we help residential property owners in Allen, TX keep their irrigation systems in tip-top condition with our irrigation repair service! With 17 years of experience, you can count on our expert irrigation technicians to pinpoint what repair your irrigation system needs and fix it immediately! Call our team today at 972-516-0001 to schedule!